Danger level
:

6
Type:
Adware
Common infection symptoms:
Installs itself without permissions
Shows commercial adverts
Slow internet connection
Annoying Pop-up's
Infection Video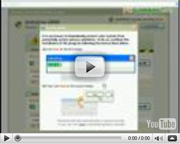 Fake Flash Player Ads
If you are spammed with pop-up ads no matter which website you visit, you are most probably infected with Fake Flash Player Ads adware. This potentially dangerous program is installed by a fake flash player that is currently being distributed via Google Docs. Users are often tricked into installing this program, because the installer file seems like a genuine Flash Player installation file. Nevertheless, once installed, the adware affects Google Chrome and Mozilla Firefox browsers, and you automatically get exposed to malware infections. Remove Fake Flash Player Ads from your computer right now and then invest in a powerful antimalware tool that will protect your PC from harm.
Luckily, Safari browser is no longer susceptible to this infection, and Internet Explorer could not be affected by Fake Flash Player Ads to begin with. Therefore, only users of Google Chrome and Mozilla Firefox should be wary of this adware infection. The problem is that, the pop-up ads and other type of advertisement displayed by this program are by no means related to the websites you are visiting. Even if you are visiting an absolutely safe website and you are infected with Fake Flash Player Ads, you could get displayed a series of pornographic adverts, urging you to visit various unfamiliar websites.
Naturally, Fake Flash Player Ads does not display adult content ads only. It makes use of a variety of ad networks in order to display various advertisements, including spns.rotatemya.com, jmm.sitescoutadserver.com, imgads.night-haw.net and others. The main reason why Fake Flash Player Ads infects your computer is money. Each time you click on an infected ad, you help cyber criminals generate site "views", increasing their traffic, and allowing them to make use of the pay-per-click system.
If you are wondering why Fake Flash Player Ads is on your computer, then perhaps you should check all the lately installed freeware applications, because random shareware programs often come bundled with applications you neither need nor want. Some of them might as well be as dangerous as Fake Flash Player Ads.
It is possible to remove Fake Flash Player Ads from your browser manually, and you can do it, if you follow the instructions below:
How to remove Fake Flash Player Ads
Mozilla Firefox
Click Firefox button and go to Add-ons.
Remove Flash Player 11 from Extensions and restart browser.
Google Chrome
Press Alt+F and navigate to Tools.
Click Extensions and remove Flash Player 11 from the list.
After manual removal you need to run a full system scan with SpyHunter free scanner. It is more than likely that there are other dangerous programs installed on your PC, and you simply are not aware it. DO all it takes to safeguard your system against dangerous threats.