Danger level
:

9
Type:
Rogue Anti-Spyware
Common infection symptoms:
Installs itself without permissions
Connects to the internet without permission
Slow internet connection
System crashes
Annoying Pop-up's
Slow Computer
Infection Video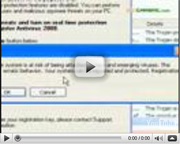 Antivirus Security 2013 Virus
It seems that cyber criminals are very eager to obtain money in unlawful ways with the help of fraudulent tools such as Antivirus Security 2013 Virus, which is the latest masterpiece of the cyber criminals that produce rogue antivirus programs. The bogus tool does not different from legitimate applications, and this characteristic helps the criminals to achieve their goals easily and more quickly. Unfortunately, this fraudulent tool cannot detect any piece of malware, because its ultimate aim is to present as many bogus infections as possible to push you into buying its fake full version, which is the cause of most problems.
If do not remove Antivirus Security 2013 Virus but activate it, it means that your personal information and money go to the criminals in the background of the rogue. Your credit card number, CVV2 number, home and email address and other information may be used to purchase goods online or access your bank account. Moreover, you will not retrieve your money back, because the criminals have not been unmasked yet; as a result, there is no chance to get the paid money back. After you activate the cunning program, it does not display misleading information any longer to make you think that it has removed malware; however, the computer is still infected with the very rogue, which you should not hesitate to remove as soon as you find it messing around your PC.
If you truly want to check whether the computer is infected or not, remove Antivirus Security 2013 Virus and use a reputable antivirus or spyware removal tool which is powerful enough to fight malware off. The program will safeguard your data on the PC and inform about any malware's attempts to invade the computer.