Danger level
:

9
Type:
Rogue Anti-Spyware
Common infection symptoms:
Installs itself without permissions
Connects to the internet without permission
System crashes
Annoying Pop-up's
Slow Computer
Infection Video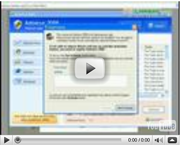 Win7 Defender
It is important to tell a fake antivirus program apart from a real one the moment you are exposed to it. Win7 Defender is one of those fake antivirus applications that should not be allowed to stay on your computer no matter what. It is a variant of XP Defender and Vista Defender, and these three rogues are actually one and the same infection. The reason why they have different names is that they target computer running on different operating systems. Other than that, the infection implications are all the same.
The sooner you remove Win7 Defender from your computer the better, because this infection will not cease sending fake security notifications with intention to push you into paying for a product that cannot deliver. It is probable that you got infected with Win7 Defender while browsing insecure websites, or perhaps you clicked on an outgoing link sent to you by a spambot. Either way, it is important to ignore Win7 Defender altogether, because this fake AV cannot offer you anything good.
Win7 Defender will slow down your system performance and induce infection symptoms similar to those of Trojan and worm attacks. It does so to make you think that you are really infected with malware and you need to acquire Win7 Defender to remove these threats. Unfortunately, if you try to purchase the full version of this program, you will only give away your financial details to cyber criminals and they will be able to steal your money in no time.
Close Win7 Defender immediately and remove it from your computer. If you are not an experienced computer user, we highly recommend deleting Win7 Defender with a powerful antimalware tool that will protect your computer against similar infections as well. Also, it is advisable to perform a full system scan after the removal as well, to check for regenerated files and other possible threats.

How to manually remove Win7 Defender
Files associated with Win7 Defender infection:
%CommonStartMenu%\Programs\Win 7 Defender\Win 7 Defender.lnk
%CommonStartMenu%\Programs\Win 7 Defender\Win 7 Defender Help and Support.lnk
%CommonStartMenu%\Programs\Win 7 Defender\Remove Win 7 Defender.lnk
%CommonStartMenu%\Programs\Win 7 Defender\
%CommonAppData%\pcdfdata\vl.bin
%CommonAppData%\pcdfdata\uninst.ico
%CommonAppData%\pcdfdata\support.ico
%CommonAppData%\pcdfdata\defs.bin
%CommonAppData%\pcdfdata\config.bin
%CommonAppData%\pcdfdata\app.ico
%CommonAppData%\pcdfdata\[Random].exe
%CommonAppData%\pcdfdata\
%AllUsersProfile%\Desktop\Win 7 Defender.lnk
Win7 Defender processes to kill:
%CommonAppData%\pcdfdata\[Random].exe
Remove Win7 Defender registry entries:
HKEY_CLASSES_ROOT\.exe "(Default)" = "[Random]"
HKEY_CURRENT_USER\Software\Classes\.exe\shell\open\command "(Default)" = ""%CommonAppData%\pcdfdata\[Random].exe" /ex "%1" %*"
HKEY_CURRENT_USER\Software\Microsoft\Windows\CurrentVersion\Run "pcdfsvc" = "%CommonAppData%\pcdfdata\[Random].exe /min"
HKEY_LOCAL_MACHINE\SOFTWARE\Microsoft\Windows\CurrentVersion\Uninstall\pcdfdata