Danger level
:

9
Type:
Rogue Anti-Spyware
Common infection symptoms:
Block exe files from running
Installs itself without permissions
Connects to the internet without permission
Slow internet connection
System crashes
Annoying Pop-up's
Slow Computer
Infection Video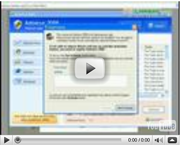 PC Defender Plus
If you take a look at PC Defender Plus's name or its interface and decide that this program can protect your system, guard your data against malware invasions, or delete infections when they do appear, you are very mistaken, and that is all that schemers need to make you pay for a licensed version of their fake and worthless antispyware program. The application is completely bogus and has only been designed to deceive you, so you should act smart and delete PC Defender Plus, especially since this fictitious program cannot find or delete malware and can only cause you and your system detriment.
Infected USB drives, social engineering/black hat SEO scams, bundled/encrypted downloads, malvertisement, fictitious online scanners and active Trojans are some of the most popular security loopholes which could be used to slither PC Defender Plus and other malicious programs into your operating Windows system. Unfortunately, fictitious computer scanner and notifications could take all of your attention away from other dangerous threats that could be harming your PC simultaneously with the rogue antispyware. There is no reason why you should focus and these fictitious attributes, because they can only present you with fake information, and can only push you to remove fake malware. If you do not want your identity stolen, you are recommended to stop all malicious activity and remove PC Defender Plus from your computer straight away.
Both automatic and manual PC Defender Plus removal options require precision and attention; however, if you choose to delete the virus using legitimate security software, instead of going after the threat yourself, you will remove the infection much quicker. What is more, manual removal could be unsuccessful to those, who do not have enough knowledge and skills.
PC Defender Plus will display different alert messages that either inform the user about the fake infections or push him/her to acquire the full version of the program. As every single warning contains false information, it is essential to pay no attention to their content. Below you will find how those simulated notifications look like:
ALERT! System scan for spyware, adware, Trojans and viruses was finished. PC Defender Plus detected 99 critical system objects. These security breaches ay be exploited and lead to the following
A registered copy of PC Defender Plus offers a full range of features to keep your system clean and protected. Check the list of benefits and opportunities here below.
Unknown program is scanning your system registry right now! Identity theft detected!
It is also important to keep in mind that no money transfers should be made in order to avoid identity theft. For example, the rogue may record your data input and collect such personal information as your card number, its CVV2 number, your name and even home address. Do not trust PC Defender Plus but remove it from the computer without delay.
Even though it is possible to remove PC Defender Plus manually by finding the location of every malicious component associated with the infection, there is a better option for getting rid of it. It is enough to download and install a reliable and powerful spyware removal tool, which will delete the threat for you without your interference. All that you need to do is to run a system scan after which PC Defender Plus will be removed.

How to manually remove PC Defender Plus
Files associated with PC Defender Plus infection:
%CommonStartMenu%\Programs\PC Defender Plus\Remove PC Defender Plus.lnk
%CommonStartMenu%\Programs\PC Defender Plus\PC Defender Plus.lnk
%CommonStartMenu%\Programs\PC Defender Plus\PC Defender Plus Help and Support.lnk
%CommonStartMenu%\Programs\PC Defender Plus\
%CommonAppData%\pcdfdata\vl.bin
%CommonAppData%\pcdfdata\uninst.ico
%CommonAppData%\pcdfdata\support.ico
%CommonAppData%\pcdfdata\[Random].exe
%CommonAppData%\pcdfdata\defs.bin
%CommonAppData%\pcdfdata\config.bin
%CommonAppData%\pcdfdata\app.ico
%CommonAppData%\pcdfdata\
%AllUsersProfile%\Desktop\PC Defender Plus.lnk
PC Defender Plus processes to kill:
%CommonAppData%\pcdfdata\[Random].exe
Remove PC Defender Plus registry entries:
HKEY_CLASSES_ROOT\.exe "(Default)" = "[Random]"
HKEY_CURRENT_USER\Software\Classes\.exe\shell\open\command "(Default)" = ""%CommonAppData%\pcdfdata\[Random].exe" /ex "%1" %*"
HKEY_CURRENT_USER\Software\Microsoft\Windows\CurrentVersion\Run "pcdfsvc" = "%CommonAppData%\pcdfdata\[Random].exe /min"
HKEY_LOCAL_MACHINE\SOFTWARE\Microsoft\Windows\CurrentVersion\Uninstall\pcdfdata