Danger level
:

9
Type:
Rogue Anti-Spyware
Common infection symptoms:
Blocks internet connection
Block exe files from running
Installs itself without permissions
Connects to the internet without permission
Normal system programs crash immediatelly
Slow internet connection
System crashes
Annoying Pop-up's
Slow Computer
Infection Video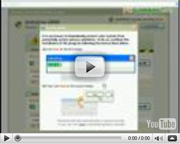 XP Defender 2013
XP Defender 2013 is a cunning computer infection, which should be ignored and removed in order to protect personal data and money, because this is the ultimate goal of the program. After infecting the computer and the Registry with its malicious components, the bogus security tool pretends that it is a powerful tool to safeguard your PC against computer threats. However, the fact that the malicious program is created by cyber criminals means that it should not be trusted.
Cyber criminals launched this fake anti-virus program to replace XP Guardian and its clones and to deceive as many people as possible. The rogue looks attractive, and contains some design elements to suggest that it has been created by Microsoft. The truth is that Microsoft is not related to this fraudulent application, so please do not think that such a powerful company may try to gain more profit by getting involved in the production of rogue products.
Moreover, ignore the fact that XP Defender 2013 resembles a legitimate security program, because the scans and information presented do not show what infections are actually present in the system. For example, if XP Defender 2013 is on your PC, you will get these and many other fake security alerts:
Privacy threat!
Spyware intrusion detected. Your system is infected. System integrity is at risk. Private data can be stolen by third parties, including credit card
details and passwords. Click here to perform a security repair
Click Register to register your copy of XP Defender 2013 and perform threat removal on your system. The list of infections
and vulnerabilities detected will become available after registration
As you can see, the messages promote the full version of the program, which, unfortunately, will not change much, because after the registration your computer will remain infected with the cunning program. Additionally, you do not need to spend your money on the registration key and expose your data to criminals, because the key is already provided below:
Registration key: 3425-814615-3990
If you enter this code into an appropriate field and activate the program, you will find that it stops displaying messages and presenting bogus threats as if the infection were deleted. The only infection possible infection that is damaging your PC is XP Defender 2013 and you should remove it from the computer after completing the registration.
Our advice on the removal is to use a reputable anti-spyware program, because only specialized tool are able to deal with malware infections effectively. For example, SpyHunter, a powerful spyware removal program, will remove XP Defender 2013 in no time and protect the computer against various computer threats.

How to renew your internet connection:
This rogue antispyware blocks your Internet connection to prevent you from removing the rogue application. To enable the Internet connection, please follow these instructions:
Open Internet Explorer and go to >Tools< select >Internet Options<

Select >Connections<

Select >LAN Settings<

Now you need to uncheck the checkbox labeled >Use a proxy server for your LAN< in Proxy Server section. Then press the >OK< button to close this screen and press the >OK< button to close the Internet Options screen.

Now you can download the SpyHunter scanner and remove the infection.

How to manually remove XP Defender 2013
Files associated with XP Defender 2013 infection:
%AppData%\[Random].exe
XP Defender 2013 processes to kill:
%AppData%\[Random].exe