Danger level
:

9
Type:
Rogue Anti-Spyware
Common infection symptoms:
Blocks internet connection
Block exe files from running
Installs itself without permissions
Connects to the internet without permission
Slow internet connection
System crashes
Annoying Pop-up's
Slow Computer
Infection Video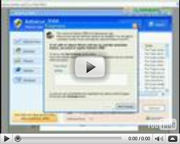 Vista Defender 2013
Vista Defender 2013 is a computer infection that tries to look and behave like an antivirus program. Basically, it is the same rogue as Win 7 Defender 2013 and XP Defender 2013. The main difference is that Vista Defender 2013 appears in computers that run on Windows Vista. We have seen this group of chameleon rogues before. The same cyber criminals have released Win 7 Antivirus 2012, Vista Total Security 2012 more than half a year ago. Now, they seem to be back again.
Although Vista Defender 2013 looks like a constituent part of the operating system, it is a dangerous infection that has to be removed immediately. If this rogue is not removed on time, sooner or later Vista Defender 2013 blocks various programs installed on your computer and the Internet browser is not an exception. Usually, this rogue blocks you from accessing various websites by displaying a message that says your browser is infected with malware. Naturally, these allegations are not true and you should pay no attention to them. Your primary concern is to get rid of Vista Defender 2013.
Aside from blocking executable programs, Vista Defender 2013 also displays a lot of annoying security notifications that may include:
System hijack!
System security threat was detected. Viruses and/or spyware may be damaging your system now. Prevent infection and data loss or stealing by running a free security scan
Computer security is at risk! Your PC is still under malware attack. Dangerous programs were found to be running in the background. System
crash and identity theft are likely. Remove malware now and get real time intrusion protection?
Privacy threat!
Spyware intrusion detected. Your system is infected. System integrity is at risk. Private data can be stolen by third parties, including credit card
details and passwords. Click here to perform a security repair
Security breach!
Beware! Spyware infection was found. Your system security is at risk. Private information may get stolen, and your PC activity may get monitored. Click for an anti-spyware scan
You have to ignore these messages and get rid of Vista Defender 2013 as soon as possible. You can put the rogue to sleep, figuratively speaking, by registering it with the following activation key:
3425-814615-3990
This way Vista Defender 2013 will unlock your Internet browser and stop sending fake alerts for a time being. Use it to acquire a powerful computer security tool and remove Vista Defender 2013 from your system once and for all.

How to renew your internet connection:
This rogue antispyware blocks your Internet connection to prevent you from removing the rogue application. To enable the Internet connection, please follow these instructions:
Open Internet Explorer and go to >Tools< select >Internet Options<

Select >Connections<

Select >LAN Settings<

Now you need to uncheck the checkbox labeled >Use a proxy server for your LAN< in Proxy Server section. Then press the >OK< button to close this screen and press the >OK< button to close the Internet Options screen.

Now you can download the SpyHunter scanner and remove the infection.

How to manually remove Vista Defender 2013
Files associated with Vista Defender 2013 infection:
%AppData%\[Random].exe
Vista Defender 2013 processes to kill:
%AppData%\[Random].exe