Danger level
:

9
Type:
Rogue Anti-Spyware
Common infection symptoms:
Blocks internet connection
Block exe files from running
Installs itself without permissions
Connects to the internet without permission
Shows commercial adverts
Slow internet connection
System crashes
Annoying Pop-up's
Slow Computer
Infection Video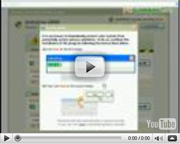 Windows Virtual Security
Thousands of Windows users are at risk of having their systems breached by the dangerous and cunning Windows Virtual Security, a fake antispyware application, which has been designed for one single mission – to generate illicit profits. It is unfortunate, but cyber criminals working behind the treacherous infection are truly experienced, and the group, which has been active for years, has produced such profitable applications as Windows Ultimate Safeguard, Windows Antivirus Machine and Windows Active Guard. Despite the fact that all rogues look and act the same, schemers do not stop succeeding at fooling thousands of Windows users all around the world. Unfortunately, many of them fall for the schemers' tricks before ever realizing that they should delete Windows Virtual Security. If you do not want to become one of the cyber criminals' victims, there are a couple of things you should know.
First of all, you should not believe bogus application's interface, because all Windows Security Center, Firewall or Antivirus attributes inside of it are mimicked and should not be paid any attention to. This deceitful interface will also present a computer scanner, supposedly detecting dangerous malware. It is hard to tell whether your system is not infected by tens of infections, but it is safe to say that this bogus computer scanner does not represent them. These bogus reports are meant to lead you into purchasing the full version of Windows Virtual Security malware removal tool, the purpose, which fake notifications have also been created for:
Recommended:
Please click "Remove all" button to erase all infected files and protect your PC
Warning! Spambot detected!
Attention! A spambot is sending viruses from your e-mail has been detected on your PC.
Yes, protect my PC and remove spambot now (Recommended)
Error
Potential malware detected.
It is recommended to activate protection and perform a thorough system scan to remove the malware.
This information is completely bogus, which is why many Windows users should realize the scam timely and decide to remove Windows Virtual Security quickly. This, however, will not be possible, because of all irritating symptoms, which will appear as soon as the virus will infiltrate inside your computer. Internet connection will be blocked, access to Task Manager and Registry Editor will be removed, and running of most executable files will become impossible. These dysfunctions will make it difficult to trace all malignant files and delete Windows Virtual Security, so if you want to start infection's removal processes, you firstly need to get rid of these irritating symptoms. If you use Internet connection renewal instructions, you will be able to download legal antimalware software in no time. And if you are thinking about manual removal, you will need to restore the functionality of the remaining components, which activated registration key will accomplish in no time: 0W000-000B0-00T00-E0020.
As all irritating symptoms will get disabled and removed, you will be free to delete Windows Virtual Security right away. We suggest you do not postpone this operation and choose a removal solution, which fits your knowledge and skills best.

How to renew your internet connection:
This rogue antispyware blocks your Internet connection to prevent you from removing the rogue application. To enable the Internet connection, please follow these instructions:
Open Internet Explorer and go to >Tools< select >Internet Options<

Select >Connections<

Select >LAN Settings<

Now you need to uncheck the checkbox labeled >Use a proxy server for your LAN< in Proxy Server section. Then press the >OK< button to close this screen and press the >OK< button to close the Internet Options screen.

Now you can download the SpyHunter scanner and remove the infection.

How to manually remove Windows Virtual Security
Files associated with Windows Virtual Security infection:
%AppData%\NPSWF32.dll
%AppData%\Protector-[Random].exe
%AppData%\result.db
%AppData%\1st$0l3th1s.cnf
%CommonStartMenu%\Programs\Windows Antivirus Release.lnk
%Desktop%\Windows Antivirus Release.lnk
Windows Virtual Security DLL's to remove:
%AppData%\NPSWF32.dll
Windows Virtual Security processes to kill:
%AppData%\Protector-[Random].exe
Remove Windows Virtual Security registry entries:
HKEY_CURRENT_USER\Software\ASProtect
HKEY_CURRENT_USER\Software\Microsoft\Windows\CurrentVersion\Settings "UID" = "otbpxlqhjd"
HKEY_LOCAL_MACHINE\SOFTWARE\Microsoft\Windows NT\CurrentVersion\Image File Execution Options\alevir.exe
HKEY_LOCAL_MACHINE\SOFTWARE\Microsoft\Windows NT\CurrentVersion\Image File Execution Options\cmdagent.exe
HKEY_LOCAL_MACHINE\SOFTWARE\Microsoft\Windows NT\CurrentVersion\Image File Execution Options\install[1].exe
HKEY_LOCAL_MACHINE\SOFTWARE\Microsoft\Windows NT\CurrentVersion\Image File Execution Options\npfmessenger.exe
HKEY_LOCAL_MACHINE\SOFTWARE\Microsoft\Windows NT\CurrentVersion\Image File Execution Options\protector.exe
HKEY_LOCAL_MACHINE\SOFTWARE\Microsoft\Windows NT\CurrentVersion\Image File Execution Options\srng.exe
HKEY_LOCAL_MACHINE\SOFTWARE\Microsoft\Windows NT\CurrentVersion\Image File Execution Options\tsadbot.exe
HKEY_LOCAL_MACHINE\SOFTWARE\Microsoft\Windows NT\CurrentVersion\Image File Execution Options\xp_antispyware.exe