Danger level
:

9
Type:
Rogue Anti-Spyware
Common infection symptoms:
Blocks internet connection
Block exe files from running
Installs itself without permissions
Connects to the internet without permission
Normal system programs crash immediatelly
Slow internet connection
System crashes
Annoying Pop-up's
Slow Computer
Infection Video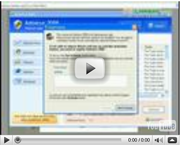 Windows Antivirus Release
If you find that your PC's performance has change and that you cannot access the Internet but only a strange security tool Windows Antivirus Release, then you should remove it from the system as soon as you can. Although the application looks like a legitimate antispyware program, it is a piece of malware created to lure you into a purchase of its worthless and non-functional full version, which does not remove "threats" but stops displaying them as soon as you active it. Moreover, this ruthless application is a part of the Rogue.VirusDoctor family that includes Windows Interactive Safety, Windows Ultimate Safeguard, Windows Antivirus Machine and other malicious programs seeking to obtain computer users money.
Installed by a Trojan, Windows Antivirus Release presents nonexistent infections, which are "removed" after the removal of the threat. The threat's stock of infections ranges from generic to concrete names of viruses, worms, Trojans and other infections. For instance, the malware displays Trojan-FakeAV, RemoveAdmin, Trojan.Win32.Agent, Trojan.Win32.Qhost and others which you should ignore, because the attempts to delete them manually are worthless.
Additionally, some of the most popular misleading pop-ups may help you to recognize the infection as malicious and unwanted:
Error
Keylogger activity detected. System information security is at risk. It is recommended to activate protection and run a full system scan.
Error
Attempt to run a potentially dangerous script detected. Full system scan is highly recommended.
Warning! Virus Detected
Threat detected: FTP Server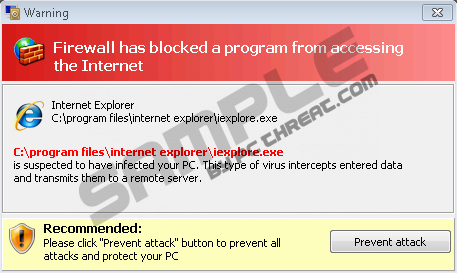 The recommendations to activate the program do not prove its legitimacy; hence, pay no attention to any text provided by this cunning program:
Recommended:
Please click "Remove all" button to erase all infected files and protect your PC
You will remove all the simulated infections if you delete Windows Antivirus Release which is also known as responsible for disabling access to the Internet, Task Manager, Registry Editor and other executable files that could be used to detect the infection. Without the Internet and the tools mentioned, you will not be able to remove Windows Antivirus Release unless you register infection with a key given below and download a spyware removal tool. After the activation, the access to the Internet, Task Manager and other applications is restored and you can delete the malware either manually or automatically. We recommend that you should use the later method, because a reliable and powerful spyware removal tool can effectively terminate Windows Antivirus Release and protect the system against further infection.
Activation key: 0W000-000B0-00T00-E0020
Please, note that you should not buy the activation key online, because its purchase means that you throw your money away and expose your identifiable information such as credit card number, CVC2, home address, etc to cyber criminals that may shamelessly violate your privacy afterwards.

How to renew your internet connection:
This rogue antispyware blocks your Internet connection to prevent you from removing the rogue application. To enable the Internet connection, please follow these instructions:
Open Internet Explorer and go to >Tools< select >Internet Options<

Select >Connections<

Select >LAN Settings<

Now you need to uncheck the checkbox labeled >Use a proxy server for your LAN< in Proxy Server section. Then press the >OK< button to close this screen and press the >OK< button to close the Internet Options screen.

Now you can download the SpyHunter scanner and remove the infection.

How to manually remove Windows Antivirus Release
Files associated with Windows Antivirus Release infection:
%Desktop%\Windows Antivirus Release.lnk
%CommonStartMenu%\Programs\Windows Antivirus Release.lnk
%AppData%\1st$0l3th1s.cnf
%AppData%\result.db
%AppData%\Protector-[Random].exe
%AppData%\NPSWF32.dll
Windows Antivirus Release DLL's to remove:
%AppData%\NPSWF32.dll
Windows Antivirus Release processes to kill:
%AppData%\Protector-[Random].exe
Remove Windows Antivirus Release registry entries:
HKEY_CURRENT_USER\Software\ASProtect
HKEY_CURRENT_USER\Software\Microsoft\Windows\CurrentVersion\Settings "UID" = "otbpxlqhjd"
HKEY_LOCAL_MACHINE\SOFTWARE\Microsoft\Windows NT\CurrentVersion\Image File Execution Options\alevir.exe
HKEY_LOCAL_MACHINE\SOFTWARE\Microsoft\Windows NT\CurrentVersion\Image File Execution Options\cmdagent.exe
HKEY_LOCAL_MACHINE\SOFTWARE\Microsoft\Windows NT\CurrentVersion\Image File Execution Options\install[1].exe
HKEY_LOCAL_MACHINE\SOFTWARE\Microsoft\Windows NT\CurrentVersion\Image File Execution Options\npfmessenger.exe
HKEY_LOCAL_MACHINE\SOFTWARE\Microsoft\Windows NT\CurrentVersion\Image File Execution Options\protector.exe
HKEY_LOCAL_MACHINE\SOFTWARE\Microsoft\Windows NT\CurrentVersion\Image File Execution Options\srng.exe
HKEY_LOCAL_MACHINE\SOFTWARE\Microsoft\Windows NT\CurrentVersion\Image File Execution Options\tsadbot.exe
HKEY_LOCAL_MACHINE\SOFTWARE\Microsoft\Windows NT\CurrentVersion\Image File Execution Options\xp_antispyware.exe