Danger level
:

9
Type:
Rogue Anti-Spyware
Common infection symptoms:
Blocks internet connection
Block exe files from running
Installs itself without permissions
Connects to the internet without permission
Slow internet connection
System crashes
Annoying Pop-up's
Slow Computer
Infection Video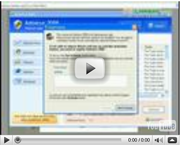 Windows Home Patron
Your life will become easier if you get rid of Windows Home Patron, which like a tumor devastates the system of your computer. This bogus software pretends that it can provide you with ultimate protection of the system, but first, according to the rogue, you have to pay for that protection which means that you have to purchase the fake full version of Windows Home Patron. The full version of the rogue as well as the trial version, which you might suddenly find on your computer, cannot detect and remove anything related to infections. The only infection is this rogue, and you should remove it in no time.
The rogue fools Windows users by presenting misleading information which does not have anything to do with reality. For example, the rogue displays annoying messages which claim that the system has been infected. Windows Home Patron also simulates scans and infection which you should not try to delete on your own. In addition, by throwing the system into disorder, the malware attempts to make you think that you have caught infections. Do not panic, because everything comes into normal when you delete Windows Home Patron.
We strongly recommend you use an antispyware tool which can remove Windows Home Patron. If you delete the infection in this way, the rogue is completely removed, because every single part of it is eliminated. Importantly, be sure that you use a legitimated and powerful tool, because only a powerful removal tool can delete the rogue effectively and protect the system.
UPDATE
As you can see from the video above, Windows Home Patron supposedly scans the system and detects different infections. Moreover, in the Advanced Process Control section, you can see how the infection supposedly monitors processes of the system and its possible changes. If you want to "update" Windows Home Patron and select its Automatic Updates, once you press the Clean Now button to remove simulated potential threats, you get such a message:
Trial version
Please purchase the full version of the software to ensure the ultimate protection.
If you go further, the malware will direct you to its purchase page, where you will be asked to enter our personal identifiable information, which you should not do if you want to avoid further problems.
Moreover, Windows Home Patron does not want to removed, so it hides Registry Editor and Task Manager; does not allow you to launch some executable files and disables your access to the Internet so that you cannot download a removal tool to terminate it (watch the video for more information). When you attempt to launch your internet browser, the cunning infection claims that:
C:\program files\internet explorer\iexplore.exe is suspected to have infected your PC. This type of virus intercepts entered data and transmits them to a remote server.
Plus, if you do not remove Windows Home Patron from the system, it can display such bogus alert messages as given below:
Error
Software without a digital signature detected. Your system files are at risk. We strongly advise you to activate your protection
Error
Attempt to run a potentially dangerous script detected. Full system scan is highly recommended.
Error
Potential malware detected.
It is recommended to activate protection and perform a thorough system scan to remove the malware.
If you activate Windows Home Patron with this key 0W000-000B0-00T00-E0020, the simulated notifications do not disturb you any longer, and you can access the Internet and download a spyware removal tool. It is highly advisable to use a legitimate antispyware tool, because if you use one, you do not have to remove Windows Home Patron manually. The automatic spyware removal tool detects and removed every single piece of the rogue, which ensures that no new infection can be recreated. Nonetheless, if you do not want to apply the activation key, watch the video and follow its instructions on how to remove Windows Home Patron effectively.

How to renew your internet connection:
This rogue antispyware blocks your Internet connection to prevent you from removing the rogue application. To enable the Internet connection, please follow these instructions:
Open Internet Explorer and go to >Tools< select >Internet Options<

Select >Connections<

Select >LAN Settings<

Now you need to uncheck the checkbox labeled >Use a proxy server for your LAN< in Proxy Server section. Then press the >OK< button to close this screen and press the >OK< button to close the Internet Options screen.

Now you can download the SpyHunter scanner and remove the infection.

How to manually remove Windows Home Patron
Files associated with Windows Home Patron infection:
%AppData%\NPSWF32.dll
%AppData%\Protector-[Random].exe
%AppData%\result.db
%AppData%\1st$0l3th1s.cnf
%CommonStartMenu%\Programs\Windows Home Patron.lnk
%Desktop%\Windows Home Patron.lnk
Windows Home Patron DLL's to remove:
%AppData%\NPSWF32.dll
Windows Home Patron processes to kill:
%AppData%\Protector-[Random].exe
Remove Windows Home Patron registry entries:
HKEY_CURRENT_USER\Software\ASProtect
HKEY_CURRENT_USER\Software\Microsoft\Windows\CurrentVersion\Settings "UID" = "otbpxlqhjd"
HKEY_LOCAL_MACHINE\SOFTWARE\Microsoft\Windows NT\CurrentVersion\Image File Execution Options\alevir.exe
HKEY_LOCAL_MACHINE\SOFTWARE\Microsoft\Windows NT\CurrentVersion\Image File Execution Options\cmdagent.exe
HKEY_LOCAL_MACHINE\SOFTWARE\Microsoft\Windows NT\CurrentVersion\Image File Execution Options\install[1].exe
HKEY_LOCAL_MACHINE\SOFTWARE\Microsoft\Windows NT\CurrentVersion\Image File Execution Options\npfmessenger.exe
HKEY_LOCAL_MACHINE\SOFTWARE\Microsoft\Windows NT\CurrentVersion\Image File Execution Options\protector.exe
HKEY_LOCAL_MACHINE\SOFTWARE\Microsoft\Windows NT\CurrentVersion\Image File Execution Options\srng.exe
HKEY_LOCAL_MACHINE\SOFTWARE\Microsoft\Windows NT\CurrentVersion\Image File Execution Options\tsadbot.exe
HKEY_LOCAL_MACHINE\SOFTWARE\Microsoft\Windows NT\CurrentVersion\Image File Execution Options\xp_antispyware.exe