Danger level
:

9
Type:
Rogue Anti-Spyware
Common infection symptoms:
Blocks internet connection
Block exe files from running
Installs itself without permissions
Connects to the internet without permission
Shows commercial adverts
Slow internet connection
System crashes
Annoying Pop-up's
Slow Computer
Infection Video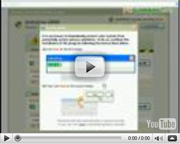 Windows Virtual Firewall
Windows Virtual Firewall cannot offer you Windows system guarding services, and it cannot give out truthful information on your computer security's state. Actually, all that this application can do is make you believe that you need to spend your earnings on a threat removal tool, which is completely useless! And it is not the only reason why you should delete Windows Virtual Firewall from your computer as fast as possible, but also because this malicious schemers' instrument can turn your system so vulnerable that any known computer infection could enter your PC at any time.
It is nearly impossible to know how Windows Virtual Firewall can infect your system, because this particular infection has many channels of infiltration that could be used to attack different Windows users. It is sure, though, that you should be aware of such security loopholes and bundled downloads, spam email attachments, fake online scanners and other sources that could be used to fool you into launching Windows Virtual Firewall onto your computer yourself! And if the treacherous infection is already inside your computer you should ignore any strange computer scanners or security notifications, rushing to delete malware, because they are closely connected to the Windows Virtual Firewall's infection. These bogus proclamations are released in order to get you attention and make you believe that your computer will be damaged gravely by the threats, which do not exist!
Windows Virtual Firewall is a terribly cunning and deceitful computer infection, which will be used to gain a maximum profit from any Windows user, and if you are not careful, it could be your turn next to pay money to the cyber crooks. If you have no wish to be associated with such illegal activities, delete Windows Virtual Firewall right away, by installing powerful security tools, or continue manually. The later is much more complex, and should only be applied by those, who have previous experience.
UPDATE
Just as mentioned above, Windows Virtual Firewall interface is highly deceitful, and you should not believe the mimicked Windows Security Center or Firewall controls, as these attributes are simply meant to push you into spending your money on the useless full version malware detection and removal tool. It is especially clear that this rogue is fictitious, because the same tricks and interface have already been seen in numerous Rogue.VirusDoctor family fictitious antispywares like Windows Premium Defender, Windows Web Combat and Windows Virtual Angel. Follow the links to these infections' removal guides.
Once activated, the rogue application sends out tens of ridiculous recommendations, which will keep pushing you to delete fictitious malware:
Error
Potential malware detected.
It is recommended to activate protection and perform a thorough system scan to remove the malware.
Recommended:
Please click "Remove all" button to erase all infected files and protect your PC
Warning! Spambot detected!
Attention! A spambot is sending viruses from your e-mail has been detected on your PC.
Yes, protect my PC and remove spambot now (Recommended)
Do not believe the bogus information and remove Windows Virtual Firewall right away. To start the processes, we advise using Internet connection renewal instructions or applying this activation code: 0W000-000B0-00T00-E0020. This combination will remove such irritating symptoms as blocked running of most executable files, removed access to Registry Editor and Task Manager, or disabled Internet connection.
Remember that if you have already purchased the useless licensed version of a tool, which will never delete any Trojans, viruses and other infections, you should inform your bank, and continue with chosen removal options. Even if symptoms may seem to be gone, malignant components are still inside, and you need to delete them all. Those with manual removal skills will find the list of files, processes and registry keys that need to be deleted below.
How to renew your internet connection:
This rogue antispyware blocks your Internet connection to prevent you from removing the rogue application. To enable the Internet connection, please follow these instructions:
Open Internet Explorer and go to >Tools< select >Internet Options<

Select >Connections<

Select >LAN Settings<

Now you need to uncheck the checkbox labeled >Use a proxy server for your LAN< in Proxy Server section. Then press the >OK< button to close this screen and press the >OK< button to close the Internet Options screen.

Now you can download the SpyHunter scanner and remove the infection.

How to manually remove Windows Virtual Firewall
Files associated with Windows Virtual Firewall infection:
%AppData%\NPSWF32.dll
%AppData%\Protector-[Random].exe
%AppData%\result.db
%AppData%\1st$0l3th1s.cnf
%CommonStartMenu%\Programs\Windows Virtual Firewall.lnk
%Desktop%\Windows Virtual Firewall.lnk
Windows Virtual Firewall DLL's to remove:
%AppData%\NPSWF32.dll
Windows Virtual Firewall processes to kill:
%AppData%\Protector-[Random].exe
Remove Windows Virtual Firewall registry entries:
HKEY_CURRENT_USER\Software\ASProtect
HKEY_CURRENT_USER\Software\Microsoft\Windows\CurrentVersion\Settings "UID" = "otbpxlqhjd"
HKEY_LOCAL_MACHINE\SOFTWARE\Microsoft\Windows NT\CurrentVersion\Image File Execution Options\alevir.exe
HKEY_LOCAL_MACHINE\SOFTWARE\Microsoft\Windows NT\CurrentVersion\Image File Execution Options\cmdagent.exe
HKEY_LOCAL_MACHINE\SOFTWARE\Microsoft\Windows NT\CurrentVersion\Image File Execution Options\install[1].exe
HKEY_LOCAL_MACHINE\SOFTWARE\Microsoft\Windows NT\CurrentVersion\Image File Execution Options\npfmessenger.exe
HKEY_LOCAL_MACHINE\SOFTWARE\Microsoft\Windows NT\CurrentVersion\Image File Execution Options\protector.exe
HKEY_LOCAL_MACHINE\SOFTWARE\Microsoft\Windows NT\CurrentVersion\Image File Execution Options\srng.exe
HKEY_LOCAL_MACHINE\SOFTWARE\Microsoft\Windows NT\CurrentVersion\Image File Execution Options\tsadbot.exe
HKEY_LOCAL_MACHINE\SOFTWARE\Microsoft\Windows NT\CurrentVersion\Image File Execution Options\xp_antispyware.exe