Danger level
:

9
Type:
Rogue Anti-Spyware
Common infection symptoms:
Blocks internet connection
Block exe files from running
Installs itself without permissions
Connects to the internet without permission
Slow internet connection
System crashes
Annoying Pop-up's
Slow Computer
Infection Video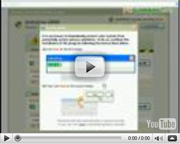 Windows Virtual Angel
Are you afraid that your computer will be attacked by malware? Then install legal security tools to guard the PC against them, simply make sure it is not Windows Virtual Angel, as this application is just another program, which has been created by cyber schemers, who have a great plan to make you spend your money on a completely worthless, fake security program. For the success of the scam, you would have to believe the illusionary infection, spend your money on a fake full version, and believe that your money are well spent on a bogus Windows Virtual Angel removal tool.
It is a must that you do not fall for any of the tricks that Windows Virtual Angel might throw your way, whether it be scary bogus computer scanner results, or never ending security alerts, misleadingly recommending to remove malware with licensed rogue's version. In the most unfortunate outcome, if you disclosed your banking details to the cyber crooks, such information, alongside your address, email or phone number details could be used to extract more of your money, or use your clean name to fool more Windows users! So, if you have already been fooled by the treacherous infection, go ahead and contact your bank's representatives, who will know how to deal with the matter. You might have to have your accounts blocked, or data changed, but it is a low price, for defending cyber criminals of your personal security!
Whether the scam has fooled you or not, it is a must to act operatively and delete Windows Virtual Angel components from your personal system quickly, because this malignant infection is known to create backdoors entrances for other malignant programs, which could do much more damage than there already is! And note that if you have never removed any dangerous applications from your computer before, you should install automatic removal tools, which will clean up your computer right away.
UPDATE
Windows Virtual Angel is a replacement for windows Profound Security, Windows Expert Series, Windows Virus Hunter and other clones that belong to the Rogue.VirusDoctor family. Once you find this malware on your computer, do not hesitate to begin the operation of the removal of the rogue.
Once you have removed Windows Virtual Angel, you will not get these bogus notifications:
Error
Potential malware detected.
It is recommended to activate protection and perform a thorough system scan to remove the malware.
Error
Software without a digital signature detected. Your system files are at risk. We strongly advise you to activate your protection.
Error
Attempt to run a potentially dangerous script detected. Full system scan is highly recommended.
Moreover, malfunctioning of the system should be also ignored as well as these bogus notifications. Windows Virtual Angel hides Task Manager and Registry Editor; does not allow users to launch some executable files and disables access to the Internet so that users cannot delete the infection easily.
Nonetheless, you can remove this infection if you find it on your computer. We suggest that you remove Windows Virtual Angel automatically, which is a removal of the rogue using an antispyware application. The infection will be deleted automatically, and no damage will be caused to the system because only harmful files are removed. To download such a tool, you need to access the Internet. If you register the malware with the activation key provided below, you will be able to use the Internet and download a removal tool. Keep in mind that you should use a legitimate and powerful application so that Windows Virtual Angel is deleted completely.
0W000-000B0-00T00-E0020

How to renew your internet connection:
This rogue antispyware blocks your Internet connection to prevent you from removing the rogue application. To enable the Internet connection, please follow these instructions:
Open Internet Explorer and go to >Tools< select >Internet Options<

Select >Connections<

Select >LAN Settings<

Now you need to uncheck the checkbox labeled >Use a proxy server for your LAN< in Proxy Server section. Then press the >OK< button to close this screen and press the >OK< button to close the Internet Options screen.

Now you can download the SpyHunter scanner and remove the infection.

How to manually remove Windows Virtual Angel
Files associated with Windows Virtual Angel infection:
%Desktop%\Windows Virtual Angel.lnk
%CommonStartMenu%\Programs\Windows Virtual Angel.lnk
%AppData%\1st$0l3th1s.cnf
%AppData%\result.db
%AppData%\Protector-[Random].exe
%AppData%\NPSWF32.dll
Windows Virtual Angel DLL's to remove:
%AppData%\NPSWF32.dll
Windows Virtual Angel processes to kill:
%AppData%\Protector-[Random].exe
Remove Windows Virtual Angel registry entries:
HKEY_CURRENT_USER\Software\ASProtect
HKEY_CURRENT_USER\Software\Microsoft\Windows\CurrentVersion\Settings "UID" = "otbpxlqhjd"
HKEY_LOCAL_MACHINE\SOFTWARE\Microsoft\Windows NT\CurrentVersion\Image File Execution Options\alevir.exe
HKEY_LOCAL_MACHINE\SOFTWARE\Microsoft\Windows NT\CurrentVersion\Image File Execution Options\cmdagent.exe
HKEY_LOCAL_MACHINE\SOFTWARE\Microsoft\Windows NT\CurrentVersion\Image File Execution Options\install[1].exe
HKEY_LOCAL_MACHINE\SOFTWARE\Microsoft\Windows NT\CurrentVersion\Image File Execution Options\npfmessenger.exe
HKEY_LOCAL_MACHINE\SOFTWARE\Microsoft\Windows NT\CurrentVersion\Image File Execution Options\protector.exe
HKEY_LOCAL_MACHINE\SOFTWARE\Microsoft\Windows NT\CurrentVersion\Image File Execution Options\srng.exe
HKEY_LOCAL_MACHINE\SOFTWARE\Microsoft\Windows NT\CurrentVersion\Image File Execution Options\tsadbot.exe
HKEY_LOCAL_MACHINE\SOFTWARE\Microsoft\Windows NT\CurrentVersion\Image File Execution Options\xp_antispyware.exe