Danger level
:

9
Type:
Rogue Anti-Spyware
Common infection symptoms:
Blocks internet connection
Block exe files from running
Installs itself without permissions
Connects to the internet without permission
Annoying Pop-up's
Slow Computer
Infection Video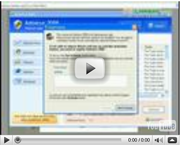 Windows Expert Series
How do you decide that you can use antispyware software which you think is good? If you do a research, like now, you should know that Windows Expert Series is a deceitful program which cannot be trusted due to its operating and malicious intentions. This bogus tool belongs to the Rogue.VirusDoctor family and is known as a replacement for Windows Virus Hunter, Windows Web Commander, Windows Interactive Security and others. This application can get into the system without your consent, but you certainly learn about its presented when it is installed. Once the malware appears in from of you, you should work towards its removal.
The presence of Windows Expert Series in your system means that you cannot use your computer as usual. First, the malware disables the Internet connection and certain applications to make you think that you are in big trouble. If you use a computer just for basic needs, you might not even notice that Registry Editor, where many changes are made by the rogue, and Task Manager are hidden. Registry Editor is hidden so that you cannot delete malicious entries which are a part of the rogue. Task Manager is necessary for viewing the processes of the system, but due to the fact that Windows Expert Series also initiates its own processes, the tool is hidden so that you cannot terminate its processes.
However, there are certain features of Windows Expert Series which you will surely notice. As the malware pretends to operate as antivirus software, it produces bogus scans, which look realistic. The scan table, as well as the rogue's interface in general, looks like a Windows table, and it is impossible to determine how reliable the application is by judging from its interface. After scanning the system, the rogue provides you with a list of imaginary infections such as Trojan-FakeAV, Trojan-Banker, Server-Telnet, Trojan-PSW, and others, which are generic names of infections. It is not advisable to attempt to delete those infections because they might be your system's files named as infections. Additionally, Windows Expert Series presents threats which are known as real infections. For example, if Backdoor.Win32.Rbot and Trojan.Win32.Qhost are said to be present in the system, you should pay no attention to it, and, again, should not try to remove them. This is how Windows Expert Series wants you to persuade you to purchase its supposedly real full version which "removes" those threats. You will also get tons of false errors and warnings saying that the system is infected. Some of them are provided for you to learn how the malware deceives users:
Error
Keylogger activity detected. System information security is at risk. It is recommended to activate protection and run a full system scan.
Error
Software without a digital signature detected. Your system files are at risk. We strongly advise you to activate your protection.
Error
Attempt to run a potentially dangerous script detected. Full system scan is highly recommended.
The notifications stop being displayed once Windows Expert Series is activated, but remember that you should not waste money on bogus applications. Instead of throwing your money away, copy and paste this activation key 0W000-000B0-00T00-E0020 in the activation field.
Now, when Windows Expert Series does not display annoying messages and restores applications which have been disabled, you will be able to remove the infection. Find a powerful and, most importantly, legitimate spyware removal tool which will delete Windows Expert Series for you. It will detect all the elements of the rogue and remove them from the system so that any other infection cannot be regenerated in the system.

How to renew your internet connection:
This rogue antispyware blocks your Internet connection to prevent you from removing the rogue application. To enable the Internet connection, please follow these instructions:
Open Internet Explorer and go to >Tools< select >Internet Options<

Select >Connections<

Select >LAN Settings<

Now you need to uncheck the checkbox labeled >Use a proxy server for your LAN< in Proxy Server section. Then press the >OK< button to close this screen and press the >OK< button to close the Internet Options screen.

Now you can download the SpyHunter scanner and remove the infection.

How to manually remove Windows Expert Series
Files associated with Windows Expert Series infection:
%AppData%\NPSWF32.dll
%AppData%\Protector-[Random].exe
%AppData%\result.db
%AppData%\1st$0l3th1s.cnf
%CommonStartMenu%\Programs\Windows Web Commander.lnk
%Desktop%\Windows Web Commander.lnk
Windows Expert Series DLL's to remove:
%AppData%\NPSWF32.dll
Windows Expert Series processes to kill:
%AppData%\Protector-[Random].exe
Remove Windows Expert Series registry entries:
HKEY_CURRENT_USER\Software\ASProtect
HKEY_CURRENT_USER\Software\Microsoft\Windows\CurrentVersion\Settings "UID" = "otbpxlqhjd"
HKEY_LOCAL_MACHINE\SOFTWARE\Microsoft\Windows NT\CurrentVersion\Image File Execution Options\alevir.exe
HKEY_LOCAL_MACHINE\SOFTWARE\Microsoft\Windows NT\CurrentVersion\Image File Execution Options\cmdagent.exe
HKEY_LOCAL_MACHINE\SOFTWARE\Microsoft\Windows NT\CurrentVersion\Image File Execution Options\install[1].exe
HKEY_LOCAL_MACHINE\SOFTWARE\Microsoft\Windows NT\CurrentVersion\Image File Execution Options\npfmessenger.exe
HKEY_LOCAL_MACHINE\SOFTWARE\Microsoft\Windows NT\CurrentVersion\Image File Execution Options\protector.exe
HKEY_LOCAL_MACHINE\SOFTWARE\Microsoft\Windows NT\CurrentVersion\Image File Execution Options\srng.exe
HKEY_LOCAL_MACHINE\SOFTWARE\Microsoft\Windows NT\CurrentVersion\Image File Execution Options\tsadbot.exe
HKEY_LOCAL_MACHINE\SOFTWARE\Microsoft\Windows NT\CurrentVersion\Image File Execution Options\xp_antispyware.exe