Danger level
:

9
Type:
Malware
Common infection symptoms:
Installs itself without permissions
Connects to the internet without permission
Slow internet connection
System crashes
Annoying Pop-up's
Slow Computer
Infection Video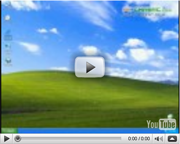 FBI Moneypak
Such scareware applications as FBI Moneypak are based upon intimidation, which is meant to force infected systems' owners to comply with all request posed by the addresser, without even thinking about its removal first. In this case it is the Federal Bureau of Investigation, which, in reality, does not have anything to do with the scam. Cyber criminals, who have released the malign application, know that their demand of $100, declared in a fictitious pop-up message, would not gain much attention, if Windows users doubted its legitimacy. FBI logo at the top of the warning is meant to make Windows users focus on the message and consider paying the alleged fine. Unfortunately this could bring misfortune, and you should delete FBI Moneypak, if you notice this alert on your screen:
ATTENTION!
Location: United States
IPS: GTS Central Europe

Your PC is blocked due to at least one of the specified reasons below.
You have been violating Copyright and Related Right Live (Videos, Music, Software) and illegally using or distributing copyrighted content, thus infringing Article 1, Section B, Clause B, also known as the Criminal Code of United States of America […]
To unlock the computer, you must pay the fine through MoneyPak of 100$ […]
When you pay the fine, your PC will get unlocked in 1 to 48 hours after the money is put into the State's account.
In case an error occurs, you'll have to send the code by email […]
Even though the warning may seem to be authentic, and it appears to be written in an official manner, it is not real and should be ignored completely. Nonetheless, even if you start doubting the source, you might be blocked from having the warning and FBI Moneypak removed from your system, because it will be "locked", waiting for the ransom to be paid. Even if you think that $100 is not a big price to be paid for regained control over the operating system, you should not give your money or disclose personal information to cyber criminals behind the attack, as it could be collected and used in further schemes. All that you have do is remove the cunning infection right away!
You should not postpone having FBI Moneypak deleted, and we recommend trusting automatic removal tools to convey the operation, because manual option could lead you to further system's disruption, if you have not dealt or deleted ransomware before.
Removal instructions:
1. Restart your system and press F8 to load Safe Mode with Networking.
2. When Safe Mode with Networking loads, access the Internet and download SpyHunter from http://www.pcthreat.com/download-sph
3. Install SpyHunter and launch the program in Safe Mode with Networking to remove FBI Moneypak from your computer.
For Windows XP users:
1. Follow the first two steps described above.
2. When SpyHunter is downloaded, open Start Menu and launch RUN.
3. Type "msconfig" and press Enter to open System Configuration Menu.
4. When menu loads, click the Startup tab and uncheck all the programs in the list. Click OK.
5. Restart computer in Normal mode, install SpyHunter and remove FBI Moneypak.