Danger level
:

9
Type:
Rogue Anti-Spyware
Common infection symptoms:
Blocks internet connection
Block exe files from running
Installs itself without permissions
Connects to the internet without permission
Annoying Pop-up's
Slow Computer
Infection Video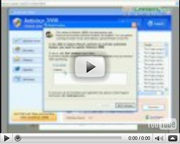 Windows Interactive Security
Why is it useful to check whether a computer application is worthwhile to use or not? The answer is – you might install an implication such as Windows Interactive Security which is a fake computer tool that pretends to be antivirus software. There are many bogus applications created by poor cyber criminals who want to get easy money, and this malware is one of them. It is a replacement for Windows Proprietary Advisor, Windows Privacy Extension and other fraudulent applications which are attributed to the Rogue.VirusDoctor family. Do not hesitate to remove Windows Interactive Security even if it its Windows-like interface and professional-look messages are appealing to you.
As the primary aim of Windows Interactive Security is get your money, it employs various techniques to scare you into believing that the system infected and that you definitely need its imaginary full version. One of the ways to deceive you is to produce imaginary scans and infections. First, Windows Interactive Security simulates scans and presents imaginary infections such as Backdoor.Win32.Rbot and Rootkit.Win32.KernelBot of which you should not be afraid. Even if they are dangerous in reality, they are not present in the system when presented by the malware. Hence, do not try to delete these bogus infections on your own, because you may damage your system by deleting original components of the system during the process of removal. The only thing which you should delete is Windows Interactive Security, andthe removal of the rogue will be discussed later. The second thing which is known as a characteristic of this malware is misleading warnings and errors. The rogue presents bogus security notifications which are intended to scare you into purchasing the full version of Windows Interactive Security. Some of the bogus notifications are presented to you below to learn how this mean invader might scare you:
Error
Keylogger activity detected. System information security is at risk. It is recommended to activate protection and run a full system scan.
Error
Software without a digital signature detected. Your system files are at risk. We strongly advise you to activate your protection.
Error
Potential malware detected.
It is recommended to activate protection and perform a thorough system scan to remove the malware.
In addition to bogus warning messages, Windows Interactive Security disturbs the system's performance by disabling certain application and the Internet. The purpose of doing this is obvious – to persuade you to purchase its fake full version. Windows Interactive Security hides Task Manager and Registry Editor so that you cannot check what processes are running and cannot delete malicious registry entries which disable particular executable files which could detect the infection. More importantly, the rogue disables connection to the Internet, and you cannot download a removal tool or just find information about this type of problem. Luckily, the rogue can be tricked and removed from the system.
If you want to terminate Windows Interactive Security without being disturbed by its bogus messages and scans, use this activation key 0W000-000B0-00T00-E0020. This key is free of charge, and you do not need to make any payments. The only positive thing about this key is that it disables annoying pop-ups and restores the Internet, Registry Editor, and other tools. Once you activate the rogue, you can process with the removal of Windows Interactive Security.
We strongly advise you to use a legitimate antispyware tool to delete the rogue, because this way of removal is by far the safest and the most convenient. All that you need to do is find a certified removal application which can remove Windows Interactive Security and protect the system. The only interference of yours in the removal process is installation of the software so that it can scan the system and detect the infection. The rogue is removed, and you do not have to bother yourself with the rogue's components, which have to be deleted, because everything is done for you automatically.

How to renew your internet connection:
This rogue antispyware blocks your Internet connection to prevent you from removing the rogue application. To enable the Internet connection, please follow these instructions:
Open Internet Explorer and go to >Tools< select >Internet Options<

Select >Connections<

Select >LAN Settings<

Now you need to uncheck the checkbox labeled >Use a proxy server for your LAN< in Proxy Server section. Then press the >OK< button to close this screen and press the >OK< button to close the Internet Options screen.

Now you can download the SpyHunter scanner and remove the infection.

How to manually remove Windows Interactive Security
Files associated with Windows Interactive Security infection (Win7, Vista):
%AppData%\NPSWF32.dll
%AppData%\Protector-[Random].exe
%AppData%\result.db
%AppData%\1st$0l3th1s.cnf
%CommonStartMenu%\Programs\Windows Premium Console.lnk
%Desktop%\Windows Premium Console.lnk
Windows Interactive Security DLL's to remove:
%AppData%\NPSWF32.dll
Windows Interactive Security processes to kill:
%AppData%\Protector-[Random].exe
Remove Windows Interactive Security registry entries:
HKEY_CURRENT_USER\Software\ASProtect
HKEY_CURRENT_USER\Software\Microsoft\Windows\CurrentVersion\Settings "UID" = "otbpxlqhjd"
HKEY_LOCAL_MACHINE\SOFTWARE\Microsoft\Windows NT\CurrentVersion\Image File Execution Options\alevir.exe
HKEY_LOCAL_MACHINE\SOFTWARE\Microsoft\Windows NT\CurrentVersion\Image File Execution Options\cmdagent.exe
HKEY_LOCAL_MACHINE\SOFTWARE\Microsoft\Windows NT\CurrentVersion\Image File Execution Options\install[1].exe
HKEY_LOCAL_MACHINE\SOFTWARE\Microsoft\Windows NT\CurrentVersion\Image File Execution Options\npfmessenger.exe
HKEY_LOCAL_MACHINE\SOFTWARE\Microsoft\Windows NT\CurrentVersion\Image File Execution Options\protector.exe
HKEY_LOCAL_MACHINE\SOFTWARE\Microsoft\Windows NT\CurrentVersion\Image File Execution Options\srng.exe
HKEY_LOCAL_MACHINE\SOFTWARE\Microsoft\Windows NT\CurrentVersion\Image File Execution Options\tsadbot.exe
HKEY_LOCAL_MACHINE\SOFTWARE\Microsoft\Windows NT\CurrentVersion\Image File Execution Options\xp_antispyware.exe