Danger level
:

9
Type:
Rogue Anti-Spyware
Common infection symptoms:
Blocks internet connection
Block exe files from running
Installs itself without permissions
Connects to the internet without permission
Annoying Pop-up's
Slow Computer
Infection Video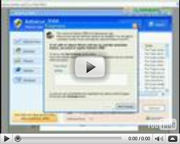 Windows Proprietary Advisor
Got a suspicion that the application you want to use is not reliable? If you are thinking about Windows Proprietary Advisor, you should know that this application is not real antivirus software but a piece of malware which is designed to trick you into believing that your system is infected. This malware replaces such bogus applications as Windows Privacy Extension, Windows Custom Management and others which compose the Rogue.VirusDoctor family. Windows Proprietary Advisor is absolutely unworthy; hence, do not hesitate to remove it from the system as soon as you find it on your computer, or if you want to install it, forget about it.
Windows Proprietary Advisor is a shark trying to swindle you out of your money by presenting misleading information. The rogue supposedly examines your computer's system and presents imaginary infections which you should not try to delete on your own because they do not exist in the system. The infections presented might be regular files of the system, and by deleting them, you might throw your system into disorder. Therefore, remove Windows Proprietary Advisor itself but not the infections presented.
Additionally, you should ignore bogus warnings and errors which pop up out of Task Bar:
Error
Potential malware detected.
It is recommended to activate protection and perform a thorough system scan to remove the malware.
Error
Attempt to run a potentially dangerous script detected. Full system scan is highly recommended.
Error
Software without a digital signature detected. Your system files are at risk. We strongly advise you to activate your protection.
As the imaginary infections might be insufficient to scare the daylights out of you, Windows Proprietary Advisor introduced particular impairments which are expected to be regarded as a consequence of the presence of infections. For example, the Internet loses its function, because the connection is disabled by the rogue. Registry Editor and Task Manager which are necessary for manual removal of Windows Proprietary Advisor are disabled as well as certain executable files. Therefore, the system might be operating not as fast as it used to do. The impairments are eliminated as soon as the infection is removed.
To remove Windows Proprietary Advisor, you should first activate the rogue with this activation key which is provided for you below. The activation disables pop-up messages and allows you to open Registry Editor, and you can delete the rogue manually.
0W000-000B0-00T00-E0020
Although you can terminate Windows Proprietary Advisor manually, we recommend you delete it with an antispyware tool, because the rogue is removed without damaging the system. Only the constituents of the rogue are deleted so that no infection is regenerated in the system afterwards.

How to renew your internet connection:
This rogue antispyware blocks your Internet connection to prevent you from removing the rogue application. To enable the Internet connection, please follow these instructions:
Open Internet Explorer and go to >Tools< select >Internet Options<

Select >Connections<

Select >LAN Settings<

Now you need to uncheck the checkbox labeled >Use a proxy server for your LAN< in Proxy Server section. Then press the >OK< button to close this screen and press the >OK< button to close the Internet Options screen.

Now you can download the SpyHunter scanner and remove the infection.

How to manually remove Windows Proprietary Advisor
Files associated with Windows Proprietary Advisor infection:
%Desktop%\Windows Proprietary Advisor.lnk
%CommonStartMenu%\Programs\Windows Proprietary Advisor.lnk
%AppData%\1st$0l3th1s.cnf
%AppData%\result.db
%AppData%\Protector-[Random].exe
%AppData%\NPSWF32.dll
Windows Proprietary Advisor DLL's to remove:
%AppData%\NPSWF32.dll
Windows Proprietary Advisor processes to kill:
%AppData%\Protector-[Random].exe
Remove Windows Proprietary Advisor registry entries:
HKEY_CURRENT_USER\Software\ASProtect
HKEY_CURRENT_USER\Software\Microsoft\Windows\CurrentVersion\Settings "UID" = "otbpxlqhjd"
HKEY_LOCAL_MACHINE\SOFTWARE\Microsoft\Windows NT\CurrentVersion\Image File Execution Options\alevir.exe
HKEY_LOCAL_MACHINE\SOFTWARE\Microsoft\Windows NT\CurrentVersion\Image File Execution Options\cmdagent.exe
HKEY_LOCAL_MACHINE\SOFTWARE\Microsoft\Windows NT\CurrentVersion\Image File Execution Options\install[1].exe
HKEY_LOCAL_MACHINE\SOFTWARE\Microsoft\Windows NT\CurrentVersion\Image File Execution Options\npfmessenger.exe
HKEY_LOCAL_MACHINE\SOFTWARE\Microsoft\Windows NT\CurrentVersion\Image File Execution Options\protector.exe
HKEY_LOCAL_MACHINE\SOFTWARE\Microsoft\Windows NT\CurrentVersion\Image File Execution Options\srng.exe
HKEY_LOCAL_MACHINE\SOFTWARE\Microsoft\Windows NT\CurrentVersion\Image File Execution Options\tsadbot.exe
HKEY_LOCAL_MACHINE\SOFTWARE\Microsoft\Windows NT\CurrentVersion\Image File Execution Options\xp_antispyware.exe