Danger level
:

9
Type:
Rogue Anti-Spyware
Common infection symptoms:
Blocks internet connection
Block exe files from running
Installs itself without permissions
Connects to the internet without permission
Strange toolbar installed without Your permission
Slow internet connection
System crashes
Cant change my homepage
Annoying Pop-up's
Slow Computer
Infection Video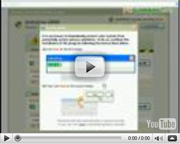 Windows Custom Management
Fake antispywares like Windows Custom Management are high-risk malicious Windows programs, which have been created to make you give up your money for something completely useless and ineffective. Such latent applications have various tricks to make you believe the most ridiculous proclamations, so if you notice a strange computer scanner with the name Windows Custom Management, remove this program immediately from your computer. If you do not hurry up the operation, the consequences will not be to your advantage, and your Windows system could go through irreparable changes.
If you do not remove Windows Custom Management, your computer will slow down more and more each time you turn it on, and it could become completely unresponsive, if you continue this for a long time! Moreover, the rogue could tamper with your Internet connection, Windows privileges, and other important system's components, which could assist you at having the malicious tool detected and removed. Alongside these technical issues, various pop-up notifications and computer scanner reports will continue intimidating you with a bogus infection, until you delete Windows Custom Management from your PC. By all means, you should not care one bit for these false proclamations, as no threats, except for the rogue antispyware itself, are harming your system, and all of this is showed off in the hopes of you spending your money on something you will not be able to use appropriately!
Automatic and manual Windows Custom Management removals are the two options you should consider to get rid of the rogue, and we stress you not to use the manual one, if you have never deleted malicious computer programs in the past. You should leave this complicated operation to the Windows experts, and hurry up to install legal security software, which could remove Windows Custom Management swiftly.
UPDATE
Windows Custom Management is a clone of Windows Pro Defence, Windows Control Series, Windows Advanced Toolkit and other bogus applications which are members of the Rogue.VirusDoctor family. Once a member of this family is noticed on the system, it should be removed immediately.
As Windows Custom Manager pretends to detect various threats, the infections, which you should ignored, are presented in the form of false warning and errors. Some of them are listed below to help you recognize the infection:
Error
Potential malware detected.
It is recommended to activate protection and perform a thorough system scan to remove the malware.
Error
Keylogger activity detected. System information security is at risk. It is recommended to activate protection and run a full system scan.
Error
Attempt to run a potentially dangerous script detected. Full system scan is highly recommended.
Remember, that the viruses presented by the rogue are not present in the system, and you should not try to delete them. The only infection which should be removed is Windows Custom Management, and you should not delay doing so.
Even if Windows Custom Management can be removed manually, we recommend you delete the infection with an automatic removal tool. As the malware disables the Internet, you can restore it and download antispyware software if you disable the rogue with this registration key 0W000-000B0-00T00-E0020. Not only does the rogue restore the Internet, but also Task Manager, Registry Editor, which is necessary for the manual removal of the rogue, and certain executable files.
Find and use a legitimate automatic spyware removal tool, because only a reputable application will fix the problem. If the removal tool is powerful enough to remove Windows Custom Management, it will detect and kill all the elements of the malware, and the only task of yours will be to check the system regularly whether there are no new possible infections trying to get in your system.

How to renew your internet connection:
This rogue antispyware blocks your Internet connection to prevent you from removing the rogue application. To enable the Internet connection, please follow these instructions:
Open Internet Explorer and go to >Tools< select >Internet Options<

Select >Connections<

Select >LAN Settings<

Now you need to uncheck the checkbox labeled >Use a proxy server for your LAN< in Proxy Server section. Then press the >OK< button to close this screen and press the >OK< button to close the Internet Options screen.

Now you can download the SpyHunter scanner and remove the infection.

How to manually remove Windows Custom Management
Files associated with Windows Custom Management infection:
%Desktop%\Windows Proactive Safety.lnk
%CommonStartMenu%\Programs\Windows Proactive Safety.lnk
%AppData%\1st$0l3th1s.cnf
%AppData%\result.db
%AppData%\Protector-[Random].exe
%AppData%\NPSWF32.dll
Windows Custom Management DLL's to remove:
%AppData%\NPSWF32.dll
Windows Custom Management processes to kill:
%AppData%\Protector-[Random].exe
Remove Windows Custom Management registry entries:
HKEY_CURRENT_USER\Software\ASProtect
HKEY_CURRENT_USER\Software\Microsoft\Windows\CurrentVersion\Settings "UID" = "otbpxlqhjd"
HKEY_LOCAL_MACHINE\SOFTWARE\Microsoft\Windows NT\CurrentVersion\Image File Execution Options\alevir.exe
HKEY_LOCAL_MACHINE\SOFTWARE\Microsoft\Windows NT\CurrentVersion\Image File Execution Options\cmdagent.exe
HKEY_LOCAL_MACHINE\SOFTWARE\Microsoft\Windows NT\CurrentVersion\Image File Execution Options\install[1].exe
HKEY_LOCAL_MACHINE\SOFTWARE\Microsoft\Windows NT\CurrentVersion\Image File Execution Options\npfmessenger.exe
HKEY_LOCAL_MACHINE\SOFTWARE\Microsoft\Windows NT\CurrentVersion\Image File Execution Options\protector.exe
HKEY_LOCAL_MACHINE\SOFTWARE\Microsoft\Windows NT\CurrentVersion\Image File Execution Options\srng.exe
HKEY_LOCAL_MACHINE\SOFTWARE\Microsoft\Windows NT\CurrentVersion\Image File Execution Options\tsadbot.exe
HKEY_LOCAL_MACHINE\SOFTWARE\Microsoft\Windows NT\CurrentVersion\Image File Execution Options\xp_antispyware.exe