Danger level
:

9
Type:
Rogue Anti-Spyware
Common infection symptoms:
Blocks internet connection
Block exe files from running
Installs itself without permissions
Connects to the internet without permission
Shows commercial adverts
Slow internet connection
System crashes
Annoying Pop-up's
Slow Computer
Infection Video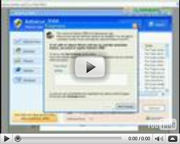 Windows Premium Console
Do not be fooled by the malicious Windows Premium Console infection, because if you do, you will lose your good money, and your personal banking information will be disclosed to dangerous cyber crooks! This could be achieved if you decide to purchase licensed virus' version, allegedly capacitated to remove various Windows system infections. Unfortunately, this full version could not delete Windows Premium Console itself, which is a real hazard to the health of your operating system.
Making its way through any of the security backdoors, Windows Premium Console can cause various computer disturbances, from overall decreased PC's performance and Internet connection issues, to an avalanche of irritating security messages and recommendations to remove existing malware from your computer. Of course, if you are attracted by any of these bogus and misleading warnings, soon enough you will find yourself in a purchase page, where you will be offered fake system protection and malware removal tool's full version. Whatever you do, do not spend any of your money for this ridiculous product, because with this measure, only fake symptoms will be removed, and the infection will remain in your computer!
To remove Windows Premium Console we strongly recommend automatic removal tools, because only this solution can guarantee that all real infections are deleted and your Windows system is protected. If you do not want to invest your money into necessary security software, and manual removal is your option, continue so only if you have previous experience at succeeding. Also, make sure you remove all Windows Premium Console components, because if you do not, the infection could regenerate, and remaining files could assist the invasion of additional malware.
Note: if you have made a money transaction to purchase Windows Premium Console's full version, report the fraud to the bank and make sure that all of your accounts are secured appropriately.
UPDATE
Note fictitious Windows Premium Console notifications:
Warning!
Application cannot be executed. The file notepad.exe is infected.
Please activate your antivirus software.
Recommended:
Please click "Remove all" button to erase all infected files and protect your PC
Error
Potential malware detected.
It is recommended to activate protection and perform a thorough system scan to remove the malware.
Error
Keylogger activity detected. System information security is at risk.
It is recommended to activate protection and run a full system scan.
The same, bogus security alerts have been previously recorded in predecessor virus clones Windows Pro Defence, Windows Control Series, Windows Advanced Toolkit, and tens of others. All of these clones share the same symptoms, which are blocked Internet connection, disabled running of most executable files and removed access to Registry Editor and Task Manager tools. Without these system's attributes in tact, you will not be able to detect and delete Windows Premium Console, so you should make sure that these irritating dysfunctions are removed. You can do so with Internet renewal instructions and application of a special activation code.
Activation code: 0W000-000B0-00T00-E0020

How to renew your internet connection:
This rogue antispyware blocks your Internet connection to prevent you from removing the rogue application. To enable the Internet connection, please follow these instructions:
Open Internet Explorer and go to >Tools< select >Internet Options<

Select >Connections<

Select >LAN Settings<

Now you need to uncheck the checkbox labeled >Use a proxy server for your LAN< in Proxy Server section. Then press the >OK< button to close this screen and press the >OK< button to close the Internet Options screen.

Now you can download the SpyHunter scanner and remove the infection.

How to manually remove Windows Premium Console
Files associated with Windows Premium Console infection:
%Desktop%\Windows Premium Console.lnk
%CommonStartMenu%\Programs\Windows Premium Console.lnk
%AppData%\1st$0l3th1s.cnf
%AppData%\result.db
%AppData%\Protector-[Random].exe
%AppData%\NPSWF32.dll
Windows Premium Console DLL's to remove:
%AppData%\NPSWF32.dll
Windows Premium Console processes to kill:
%AppData%\Protector-[Random].exe
Remove Windows Premium Console registry entries:
HKEY_CURRENT_USER\Software\ASProtect
HKEY_CURRENT_USER\Software\Microsoft\Windows\CurrentVersion\Settings "UID" = "otbpxlqhjd"
HKEY_LOCAL_MACHINE\SOFTWARE\Microsoft\Windows NT\CurrentVersion\Image File Execution Options\alevir.exe
HKEY_LOCAL_MACHINE\SOFTWARE\Microsoft\Windows NT\CurrentVersion\Image File Execution Options\cmdagent.exe
HKEY_LOCAL_MACHINE\SOFTWARE\Microsoft\Windows NT\CurrentVersion\Image File Execution Options\install[1].exe
HKEY_LOCAL_MACHINE\SOFTWARE\Microsoft\Windows NT\CurrentVersion\Image File Execution Options\npfmessenger.exe
HKEY_LOCAL_MACHINE\SOFTWARE\Microsoft\Windows NT\CurrentVersion\Image File Execution Options\protector.exe
HKEY_LOCAL_MACHINE\SOFTWARE\Microsoft\Windows NT\CurrentVersion\Image File Execution Options\srng.exe
HKEY_LOCAL_MACHINE\SOFTWARE\Microsoft\Windows NT\CurrentVersion\Image File Execution Options\tsadbot.exe
HKEY_LOCAL_MACHINE\SOFTWARE\Microsoft\Windows NT\CurrentVersion\Image File Execution Options\xp_antispyware.exe