Danger level
:

9
Type:
Rogue Anti-Spyware
Common infection symptoms:
Blocks internet connection
Block exe files from running
Installs itself without permissions
Connects to the internet without permission
Shows commercial adverts
Slow internet connection
System crashes
Annoying Pop-up's
Slow Computer
Infection Video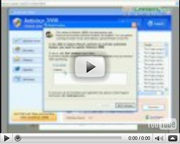 Windows Proactive Safety
Windows Maintenance Guard and Windows Secure Web Patch are only a few of the many Rogue.VirusDoctor family rogues, which are direct clones of Windows Proactive Safety, a newly released virus, which could get inside your Windows system without you even noticing it. The dangerous infection can slither inside a computer through a spam email attachment and start processing without you even knowing it, or could be installed and run by you yourself, if you get tricked by a fictitious online scanner, or any other encrypted source. Immediately after installation, the rogue will block your Internet connection, disable the running of most executable files, and will remove your control to access Task Manager and Registry Editor tools. These dysfunctions will make it impossible to detect and delete Windows Proactive Safety, which you should do right away!
Soon after activation, the rogue antispyware will present a bogus computer scanner, detecting truly non-existent infections, and a ton of fictitious security notifications, which will make you think that you should remove the bogus threats with the activated rogue's license:
Recommended:
Please click "Remove all" button to erase all infected files and protect your PC
Error
Potential malware detected.
It is recommended to activate protection and perform a thorough system scan to remove the malware.
Warning
Firewall has blocked a program from accessing the Internet
C:\program files\internet explorer\iexplore.exe
is suspected to have infected your PC. This type of virus intercepts entered data and transmits them to a remote server
You can remove these bogus notifications, alongside all disturbing symptoms with an activation of this registration code: 0W000-000B0-00T00-E0020. This action will automatically make the rogue "believe" that you have already spent your money on the rogue's full version, and all of the malfunctions will be removed at once. With restored Internet connection you will be able to download automatic removal tools that will delete Windows Proactive Safety at once, and if you think that you have enough experience with manual removal tasks, you will be able to follow through our instructions bellow.
There is no doubt that Windows Proactive Safety removal is not an easy task, and if you do not know how to detect infection's components, or even where to find them, we recommend you to have the infection deleted with the assistance of legitimate security tools. Do not experiment with your system, or leave the work half done, because this way your system will become even more vulnerable, and more infectious applications will invade. This could be highly dangerous, because other malware can be much more sinister and treacherous than this rogue antispyware. So, install automatic removal tools and keep your system guarded at all times.

How to renew your internet connection:
This rogue antispyware blocks your Internet connection to prevent you from removing the rogue application. To enable the Internet connection, please follow these instructions:
Open Internet Explorer and go to >Tools< select >Internet Options<

Select >Connections<

Select >LAN Settings<

Now you need to uncheck the checkbox labeled >Use a proxy server for your LAN< in Proxy Server section. Then press the >OK< button to close this screen and press the >OK< button to close the Internet Options screen.

Now you can download the SpyHunter scanner and remove the infection.

How to manually remove Windows Proactive Safety
Files associated with Windows Proactive Safety infection:
%AppData%\NPSWF32.dll
%AppData%\Protector-[Random].exe
%AppData%\result.db
%AppData%\1st$0l3th1s.cnf
%CommonStartMenu%\Programs\Windows Proactive Safety.lnk
%Desktop%\Windows Proactive Safety.lnk
Windows Proactive Safety DLL's to remove:
%AppData%\NPSWF32.dll
Windows Proactive Safety processes to kill:
%AppData%\Protector-[Random].exe
Remove Windows Proactive Safety registry entries:
HKEY_CURRENT_USER\Software\ASProtect
HKEY_CURRENT_USER\Software\Microsoft\Windows\CurrentVersion\Settings "UID" = "otbpxlqhjd"
HKEY_LOCAL_MACHINE\SOFTWARE\Microsoft\Windows NT\CurrentVersion\Image File Execution Options\alevir.exe
HKEY_LOCAL_MACHINE\SOFTWARE\Microsoft\Windows NT\CurrentVersion\Image File Execution Options\cmdagent.exe
HKEY_LOCAL_MACHINE\SOFTWARE\Microsoft\Windows NT\CurrentVersion\Image File Execution Options\install[1].exe
HKEY_LOCAL_MACHINE\SOFTWARE\Microsoft\Windows NT\CurrentVersion\Image File Execution Options\npfmessenger.exe
HKEY_LOCAL_MACHINE\SOFTWARE\Microsoft\Windows NT\CurrentVersion\Image File Execution Options\protector.exe
HKEY_LOCAL_MACHINE\SOFTWARE\Microsoft\Windows NT\CurrentVersion\Image File Execution Options\srng.exe
HKEY_LOCAL_MACHINE\SOFTWARE\Microsoft\Windows NT\CurrentVersion\Image File Execution Options\tsadbot.exe
HKEY_LOCAL_MACHINE\SOFTWARE\Microsoft\Windows NT\CurrentVersion\Image File Execution Options\xp_antispyware.exe