Danger level
:

9
Type:
Rogue Anti-Spyware
Common infection symptoms:
Blocks internet connection
Block exe files from running
Installs itself without permissions
Connects to the internet without permission
Shows commercial adverts
Slow internet connection
System crashes
Annoying Pop-up's
Slow Computer
Infection Video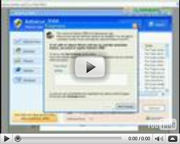 Windows Maintenance Guard
New Rogue.VirusDoctor family rogues emerge practically every day, and now old Windows Secure Web Patch is being replaced with Windows Maintenance Guard fake antispyware, which will attack all Windows systems, unprotected by reliable protection software. If such applications are not present in your computer, do not think that you can protect it from virus' infiltration, because highly knowledgeable hackers can slither it into your system via encrypted downloads, spam email attachments, fake online malware scanners, and other deceitful sources. The rogue application is as cunning as it can be, and its deceitful tricks will continue after its components are activated in the computer. To start any Windows Maintenance Guard removal processes, make sure you ignore any ridiculous rogue's proclamations and fictitious security alerts.
Fake legitimacy proof:
30 Day Money Back Guarantee
Verified by Visa
Fake security warnings:
Warning! Spambot detected!
Attention! A spambot is sending viruses from your e-mail has been detected on your PC.
Yes, protect my PC and remove spambot now (Recommended)
Error
Keylogger activity detected. System information security is at risk.
It is recommended to activate protection and run a full system scan.
Recommended:
Please click "Remove all" button to erase all infected files and protect your PC
Recommended:
Activate Windows Maintenance Guard to get ultimate protection against Identity Theft, Viruses, Malware and other threats!
You can remove the flooding security warnings and pop-ups by applying a specialized registration code: 0W000-000B0-00T00-E0020. This code will also remove such symptoms as blocked executable files' running, blocked Internet connection, and restricted access to Registry Editor, Task Manager. For Internet connection renewal we have also conducted straightforward instruction guide, which will help you, if you decide to trust automatic Windows Maintenance Guard removal applications.
And you should delete the infection straight away, because its active components could create backdoors for other malware to invade, or you could be tricked into purchasing a completely useless rogue's full version! Do delete Windows Maintenance Guard with automatic removal tools, or trust your own knowledge and experience to get rid of the infection manually. We warn you that if you have never removed such complicated Windows infections before, you should not proceed any further, because you are more likely to delete the wring files, rather than destroy the real infection.

How to manually remove Windows Maintenance Guard
Files associated with Windows Maintenance Guard infection:
%CommonStartMenu%\Programs\Windows Maintenance Guard.lnk
%Desktop%\Windows Maintenance Guard.lnk
%AppData%\1st$0l3th1s.cnf
%AppData%\result.db
%AppData%\Protector-[Random].exe
%AppData%\NPSWF32.dll
Windows Maintenance Guard DLL's to remove:
%AppData%\NPSWF32.dll
Windows Maintenance Guard processes to kill:
%AppData%\Protector-[Random].exe
Remove Windows Maintenance Guard registry entries:
HKEY_CURRENT_USER\Software\ASProtect
HKEY_CURRENT_USER\Software\Microsoft\Windows\CurrentVersion\Settings "UID" = "otbpxlqhjd"
HKEY_LOCAL_MACHINE\SOFTWARE\Microsoft\Windows NT\CurrentVersion\Image File Execution Options\alevir.exe
HKEY_LOCAL_MACHINE\SOFTWARE\Microsoft\Windows NT\CurrentVersion\Image File Execution Options\cmdagent.exe
HKEY_LOCAL_MACHINE\SOFTWARE\Microsoft\Windows NT\CurrentVersion\Image File Execution Options\install[1].exe
HKEY_LOCAL_MACHINE\SOFTWARE\Microsoft\Windows NT\CurrentVersion\Image File Execution Options\npfmessenger.exe
HKEY_LOCAL_MACHINE\SOFTWARE\Microsoft\Windows NT\CurrentVersion\Image File Execution Options\protector.exe
HKEY_LOCAL_MACHINE\SOFTWARE\Microsoft\Windows NT\CurrentVersion\Image File Execution Options\srng.exe
HKEY_LOCAL_MACHINE\SOFTWARE\Microsoft\Windows NT\CurrentVersion\Image File Execution Options\tsadbot.exe
HKEY_LOCAL_MACHINE\SOFTWARE\Microsoft\Windows NT\CurrentVersion\Image File Execution Options\xp_antispyware.exe