Danger level
:

9
Type:
Rogue Anti-Spyware
Common infection symptoms:
Blocks internet connection
Block exe files from running
Installs itself without permissions
Connects to the internet without permission
Shows commercial adverts
Slow internet connection
System crashes
Annoying Pop-up's
Slow Computer
Infection Video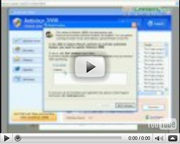 Windows Privacy Counsel
Without a single doubt, Windows Privacy Counsel cannot warn you of malware infections, because this particular application is an infection on itself! This bogus tool will not detect malignant threats, it will not delete them, and it definitely will not guard your Windows OS against any unlawful activity. Actually, what this virus will do is slither in, deceive you and make you spend your money on a bogus program's licensed product's removal tool. So, delete Windows Privacy Counsel, before this Windows Custom Safety clone fools you with its deceptive security notifications:
Warning! Spambot detected!
Attention! A spambot is sending viruses from your e-mail has been detected on your PC.
Yes, protect my PC and remove spambot now (Recommended)
Warning!
Application cannot be executed. The file notepad.exe is infected.
Please activate your antivirus software.
Error
Potential malware detected.
It is recommended to activate protection and perform a thorough system scan to remove the malware.
Bogus pop-up notifications, misleadingly coming from the Task Bar, will not be the only treacherous infection's sign, and you should also be aware of the fictitious computer scanner reports, which will be presented to you, in the hopes of making you believe in the alleged malware invasion. Overall, the interface of Windows Privacy Counsel is highly treacherous, because of all the features, which make the rogue look as if it was a legitimate Windows program. This trick has fooled hundreds, and if you do not want to become one of them, you should not panic over blocked Internet connection, removed access to Task Manager and Registry Editor, or disabled running of most executables, because all of these symptoms are created by the rogue, and could be removed when you delete Windows Privacy Counsel.
Of course, it will not be possible for you to remove the virus with all of the existing dysfunctions, which is why we recommend using Internet connection renewal instructions, or a registration key, which will get rid of all the remaining malfunctions:
0W000-000B0-00T00-E0020
Once the symptoms are removed, you will be able to track and delete Windows Privacy Counsel's malignant processes, files and registry keys, all of which can be blamed for your lost controls. However, you should be aware that manual infection's removal is not a task for inexperienced Windows users, who could simply damage their systems further. If you are one of the many, we strongly recommend using automatic removal tools. And if you have already disclosed any of your banking details to the cyber criminals behind Windows Privacy Counsel, do not forget that you should inform your bank! Additionally, even if purchased bogus license seems to have restored your Windows functionality – the infection is still in, and you should remove it immediately!

How to renew your internet connection:
This rogue antispyware blocks your Internet connection to prevent you from removing the rogue application. To enable the Internet connection, please follow these instructions:
Open Internet Explorer and go to >Tools< select >Internet Options<

Select >Connections<

Select >LAN Settings<

Now you need to uncheck the checkbox labeled >Use a proxy server for your LAN< in Proxy Server section. Then press the >OK< button to close this screen and press the >OK< button to close the Internet Options screen.

Now you can download the SpyHunter scanner and remove the infection.

How to manually remove Windows Privacy Counsel
Files associated with Windows Privacy Counsel infection:
%Desktop%\Windows Privacy Counsel.lnk
%CommonStartMenu%\Programs\Windows Privacy Counsel.lnk
%AppData%\1st$0l3th1s.cnf
%AppData%\result.db
%AppData%\Protector-[Random].exe
%AppData%\NPSWF32.dll
Windows Privacy Counsel DLL's to remove:
%AppData%\NPSWF32.dll
Windows Privacy Counsel processes to kill:
%AppData%\Protector-[Random].exe
Remove Windows Privacy Counsel registry entries:
HKEY_CURRENT_USER\Software\ASProtect
HKEY_CURRENT_USER\Software\Microsoft\Windows\CurrentVersion\Settings "UID" = "otbpxlqhjd"
HKEY_LOCAL_MACHINE\SOFTWARE\Microsoft\Windows NT\CurrentVersion\Image File Execution Options\alevir.exe
HKEY_LOCAL_MACHINE\SOFTWARE\Microsoft\Windows NT\CurrentVersion\Image File Execution Options\cmdagent.exe
HKEY_LOCAL_MACHINE\SOFTWARE\Microsoft\Windows NT\CurrentVersion\Image File Execution Options\install[1].exe
HKEY_LOCAL_MACHINE\SOFTWARE\Microsoft\Windows NT\CurrentVersion\Image File Execution Options\npfmessenger.exe
HKEY_LOCAL_MACHINE\SOFTWARE\Microsoft\Windows NT\CurrentVersion\Image File Execution Options\protector.exe
HKEY_LOCAL_MACHINE\SOFTWARE\Microsoft\Windows NT\CurrentVersion\Image File Execution Options\srng.exe
HKEY_LOCAL_MACHINE\SOFTWARE\Microsoft\Windows NT\CurrentVersion\Image File Execution Options\tsadbot.exe
HKEY_LOCAL_MACHINE\SOFTWARE\Microsoft\Windows NT\CurrentVersion\Image File Execution Options\xp_antispyware.exe