Danger level
:

9
Type:
Rogue Anti-Spyware
Common infection symptoms:
Blocks internet connection
Block exe files from running
Installs itself without permissions
Connects to the internet without permission
Shows commercial adverts
Slow internet connection
System crashes
Annoying Pop-up's
Slow Computer
Infection Video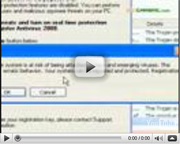 Windows Privacy Module
If your Internet connection is lost, Registry Editor and Task Manager are restricted from accessing, and most executables cannot be launched, Windows Privacy Module might be reason behind it all. Being the clone of such Rogue.VirusDoctor family rogue like Windows Maintenance Suite or Windows Malware Firewall, the obnoxious application is one of those tools, which can deceive oblivious Windows users with the bogus allusion to various Windows elements. Such include the fake imitation of the red, green, yellow, blue Windows logo, and various controls. You should not believe that this security application could work as an effective antivirus, detect or remove Windows Privacy Module scanner declared malware, because the bogus application is only capable of getting your money in an illegal kind of way!
To serve the purpose, all kind of fictitious security notifications and warnings will be sent your way, and you should ignore any of their recommendations to remove malware:
Error
Potential malware detected.
It is recommended to activate protection and perform a thorough system scan to remove the malware.
Recommended:
Please click "Remove all" button to erase all infected files and protect your PC
Warning! Spambot detected!
Attention! A spambot is sending viruses from your e-mail has been detected on your PC.
Yes, protect my PC and remove spambot now (Recommended)
If you follow any of these bogus removal recommendations, you should ignore any of such offerings:
Subscription term
6 Month $49.95
1 Year $59.95
Lifetime $79.95
+Lifetime support $19.95
Total: 99.90 USD
Windows Privacy Module is a bogus security tool, and you should remove it from your operating Windows system right away! To complete the mission, it would be best if you installed automatic removal tools, which could delete Windows Privacy Module efficiently, but would also protect you for much longer. Surely enough, it might be difficult to install or launch any removal tools, because of various infection's symptoms, which is why you should apply a special registration key (0W000-000B0-00T00-E0020) to remove any dysfunctions. If you think you can delete Windows Privacy Module manually, make sure you remove malignant files, registry entries and files, which are harming your system!

How to renew your internet connection:
This rogue antispyware blocks your Internet connection to prevent you from removing the rogue application. To enable the Internet connection, please follow these instructions:
Open Internet Explorer and go to >Tools< select >Internet Options<

Select >Connections<

Select >LAN Settings<

Now you need to uncheck the checkbox labeled >Use a proxy server for your LAN< in Proxy Server section. Then press the >OK< button to close this screen and press the >OK< button to close the Internet Options screen.

Now you can download the SpyHunter scanner and remove the infection.

How to manually remove Windows Privacy Module
Files associated with Windows Privacy Module infection:
%Desktop%\Windows Privacy Module.lnk
%CommonStartMenu%\Programs\Windows Privacy Module.lnk
%AppData%\1st$0l3th1s.cnf
%AppData%\result.db
%AppData%\Protector-[Random].exe
%AppData%\NPSWF32.dll
Windows Privacy Module DLL's to remove:
%AppData%\NPSWF32.dll
Windows Privacy Module processes to kill:
%AppData%\Protector-[Random].exe
Remove Windows Privacy Module registry entries:
HKEY_CURRENT_USER\Software\ASProtect
HKEY_CURRENT_USER\Software\Microsoft\Windows\CurrentVersion\Settings "UID" = "otbpxlqhjd"
HKEY_LOCAL_MACHINE\SOFTWARE\Microsoft\Windows NT\CurrentVersion\Image File Execution Options\alevir.exe
HKEY_LOCAL_MACHINE\SOFTWARE\Microsoft\Windows NT\CurrentVersion\Image File Execution Options\cmdagent.exe
HKEY_LOCAL_MACHINE\SOFTWARE\Microsoft\Windows NT\CurrentVersion\Image File Execution Options\install[1].exe
HKEY_LOCAL_MACHINE\SOFTWARE\Microsoft\Windows NT\CurrentVersion\Image File Execution Options\npfmessenger.exe
HKEY_LOCAL_MACHINE\SOFTWARE\Microsoft\Windows NT\CurrentVersion\Image File Execution Options\protector.exe
HKEY_LOCAL_MACHINE\SOFTWARE\Microsoft\Windows NT\CurrentVersion\Image File Execution Options\srng.exe
HKEY_LOCAL_MACHINE\SOFTWARE\Microsoft\Windows NT\CurrentVersion\Image File Execution Options\tsadbot.exe
HKEY_LOCAL_MACHINE\SOFTWARE\Microsoft\Windows NT\CurrentVersion\Image File Execution Options\xp_antispyware.exe