Danger level
:

9
Type:
Rogue Anti-Spyware
Common infection symptoms:
Blocks internet connection
Installs itself without permissions
Connects to the internet without permission
Slow internet connection
Annoying Pop-up's
Slow Computer
Block exe files from running
Shows commercial adverts
System crashes
Infection Video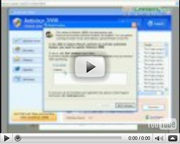 Windows Safety Wizard
There are more fictitious security applications out in the virtual world than most Windows users could count; however, you should be extra wary of Windows Safety Wizard, the newest program in the game of rogue antispywares, designed to remove you money straight out of your own hands. And even though this security tool seems to offer you various Windows system protection, or malware removal services, none of them should be trusted with your personal, sensitive data, and having Windows Safety Wizard removed from a computer would be the best idea! This is so, because everything about this application is fake and purposely generated to create an illusion that you should spend your money on a completely useless license, which, in fact, cannot remove infections, or guard you system from true malware invasions.
It is a fact that Windows Safety Wizard has been created by cyber criminals, who are equipped with enough knowledge to create a perfectly believable illusion that your Windows system is undergoing the effects of malignant infections. And this is the main purpose of various fake pop-ups, alerts, warning messages, and bogus computer scanner reports, which will intimidate you into thinking that your computer is truly assaulted by most dangerous viruses and other malicious contagions. All in all, you should not believe one removal recommendation, or one security alert sent to you, upon Windows Safety Wizard existence, because such information is highly misleading. Most importantly, do not even think of spending your money on rogue's full version, because it could lead your personal banking information straight into the hands of cyber criminals.
To have Windows Safety Wizard removed, it would be best if you invested your money into up-to-date, reliable security tools, because these would remove the infection speedily, and your overall system would be protected for time to come. This is very important if you browse and download from the Internet on a daily basis, as malicious applications could entrench upon your security at any point!
UPDATE
Just like mentioned above, the rogue antispyware is capable of paralyzing Windows systems greatly, with such symptoms as blocked Internet connection, restricted access to Registry Editor, Task Manger, and disability to launch executable files. These disastrous malfunctions are meant to make it impossible for you to download or install malware removal tools, and delete Windows Safety Wizard manually. Nonetheless, with our Internet connection renewal instructions and registration key's activation, you can turn the situation around.
Activation key 0W000-000B0-00T00-E0020 will remove all symptoms, as well as all irritating pop-up alerts:
Warning! Spambot detected!
Attention! A spambot is sending viruses from your e-mail has been detected on your PC.
Yes, protect my PC and remove spambot now (Recommended)
Warning
Firewall has blocked a program from accessing the Internet
C:\program files\internet explorer\iexplore.exe
is suspected to have infected your PC. This type of virus intercepts entered data and transmits them to a remote server.
Error
Potential malware detected.
It is recommended to activate protection and perform a thorough system scan to remove the malware.
Recommended:
Please click "Remove all" button to erase all infected files and protect your PC
Note: even if you have set your mind to follow manual removal steps, you should install legitimate antimalware software alongside, because Windows Safety Wizard comes from a large Rogue.VirusDoctor family, and many of its clones (e.g. Windows Turnkey Console) could entrench upon your security quickly enough.

How to renew your internet connection:
This rogue antispyware blocks your Internet connection to prevent you from removing the rogue application. To enable the Internet connection, please follow these instructions:
Open Internet Explorer and go to >Tools< select >Internet Options<

Select >Connections<

Select >LAN Settings<

Now you need to uncheck the checkbox labeled >Use a proxy server for your LAN< in Proxy Server section. Then press the >OK< button to close this screen and press the >OK< button to close the Internet Options screen.

Now you can download the SpyHunter scanner and remove the infection.

How to manually remove Windows Safety Wizard
Files associated with Windows Safety Wizard infection:
%Desktop%\Windows Safety Wizard.lnk
%CommonStartMenu%\Programs\Windows Safety Wizard.lnk
%AppData%\1st$0l3th1s.cnf
%AppData%\result.db
%AppData%\Protector-[Random].exe
%AppData%\NPSWF32.dll
Windows Safety Wizard DLL's to remove:
%AppData%\NPSWF32.dll
Windows Safety Wizard processes to kill:
%AppData%\Protector-[Random].exe
Remove Windows Safety Wizard registry entries:
HKEY_CURRENT_USER\Software\ASProtect
HKEY_CURRENT_USER\Software\Microsoft\Windows\CurrentVersion\Internet Settings "WarnOnHTTPSToHTTPRedirect" = 0
HKEY_CURRENT_USER\Software\Microsoft\Windows\CurrentVersion\Policies\System "DisableRegedit" = 0
HKEY_CURRENT_USER\Software\Microsoft\Windows\CurrentVersion\Policies\System "DisableRegistryTools" = 0
HKEY_CURRENT_USER\Software\Microsoft\Windows\CurrentVersion\Policies\System "DisableTaskMgr" = 0
HKEY_CURRENT_USER\Software\Microsoft\Windows\CurrentVersion\Run "Inspector"
HKEY_CURRENT_USER\Software\Microsoft\Windows\CurrentVersion\Settings "net" = "2012-6-4_7"
HKEY_CURRENT_USER\Software\Microsoft\Windows\CurrentVersion\Settings "UID" = "otbpxlqhjd"
HKEY_LOCAL_MACHINE\SOFTWARE\Microsoft\Windows NT\CurrentVersion\Image File Execution Options\alevir.exe
HKEY_LOCAL_MACHINE\SOFTWARE\Microsoft\Windows NT\CurrentVersion\Image File Execution Options\cmdagent.exe
HKEY_LOCAL_MACHINE\SOFTWARE\Microsoft\Windows NT\CurrentVersion\Image File Execution Options\install[1].exe
HKEY_LOCAL_MACHINE\SOFTWARE\Microsoft\Windows NT\CurrentVersion\Image File Execution Options\npfmessenger.exe
HKEY_LOCAL_MACHINE\SOFTWARE\Microsoft\Windows NT\CurrentVersion\Image File Execution Options\protector.exe
HKEY_LOCAL_MACHINE\SOFTWARE\Microsoft\Windows NT\CurrentVersion\Image File Execution Options\srng.exe
HKEY_LOCAL_MACHINE\SOFTWARE\Microsoft\Windows NT\CurrentVersion\Image File Execution Options\tsadbot.exe
HKEY_LOCAL_MACHINE\SOFTWARE\Microsoft\Windows NT\CurrentVersion\Image File Execution Options\xp_antispyware.exe
HKEY_LOCAL_MACHINE\SOFTWARE\Microsoft\Windows\CurrentVersion\policies\system "ConsentPromptBehaviorAdmin" = 0
HKEY_LOCAL_MACHINE\SOFTWARE\Microsoft\Windows\CurrentVersion\policies\system "ConsentPromptBehaviorUser" = 0
HKEY_LOCAL_MACHINE\SOFTWARE\Microsoft\Windows\CurrentVersion\policies\system "EnableLUA" = 0