Danger level
:

9
Type:
Rogue Anti-Spyware
Common infection symptoms:
Blocks internet connection
Block exe files from running
Installs itself without permissions
Connects to the internet without permission
Normal system programs crash immediatelly
Slow internet connection
System crashes
Annoying Pop-up's
Slow Computer
Infection Video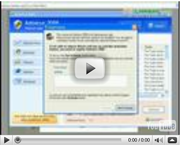 Windows Secure Surfer
Windows Secure Surfer is an evil program which tricks the PCs' users and aims to steal their money. This bogus application will run imaginary scans and inform you about "threats" which can be removed only after the activation of Windows Secure Surfer. Personal banking data is all that this program needs. The delay of the removal of Windows Secure Surfer is not advisable, because you might encounter more problems caused by this infection than you expect.
Windows Secure Surfer will try to scare you for as long as possible, and it will try to do it in various ways. You will notice impairment in the system's functioning, which are caused to trick you. Moreover, Windows Secure Surfer will display simulated analysis of the system that will show that your system is infected with a bunch of various "threats". Do not panic and do not try to get rid of those imaginary threats manually, because they do not exist in the system. The only infection that you have to remove is Windows Secure Surfer. Moreover, the pop-pups that appear in the Task Bar should be ignored because of the same reason – they are imaginary. Thus, do not activate Windows Secure Surfer because you will lose your money. The bank account number, passwords and other relevant information should not be revealed or entered in the purchase form. The only thing you should do is get rid of Windows Secure Surfer.
We recommend deleting Windows Secure Surfer automatically by using legitimate antispyware. The application will detect and remove the components of Windows Secure Surfer and prevent the system from further infections. We suggest you get rid of the infection this way, because it is the most easier and convenient method of removal. You can also remove Windows Secure Surfer manually, but it means that you will have to find all of the files of the rogue, and terminate them one by one. If you leave a malignant file in the system, there is a chance that Windows Secure Surfer can be restored again.
UPDATE
Not only does this rogue try to steal your money, it also does everything in its power to prevent you from removing it from your system. First of all, it blocks Internet browser so that you would not be able to find any means of rogue removal online. Also, if you know how to erase Windows Secure Surfer manually, the rogue takes care of that too by blocking Registry Editor and Windows Task Manager.
If that weren't enough, Windows Secure Surfer blatantly lies by saying that this erratic computer behavior is induced by various viruses that have supposedly infected your system. This claim is supported by a list of security messages that pop up every now and then:
Error
Attempt to modify Registry key entries detected.
Registry entry analysis recommended.
Error
Trojan activity detected. System data security is at risk. It is recommended to activate protection and run a full system scan.
Error
Software without a digital signature detected.
Your system files are at risk. We strongly advise you to activate your protection.
For a user who is not well-acquainted with computers this might look a real disaster, but you should know better than to believe Windows Secure Surfer's lies. The rogue would give you your system tools back if you paid for it, but you would also reveal your banking information to a third party. There's also another way to get the Internet connection back and that requires you to make use of this code:
0W000-000B0-00T00-E0020
Register this rogueware with this activation key and the rogue will act as if it has been "registered" for a while. Do not let go of this chance - while the rogue is "sleeping" invest in a reliable antimalware tool that will remove Windows Secure Surfer from your system at once. If you have no idea how to delete this parasite manually, automatic removal is your best option.

How to renew your internet connection:
This rogue antispyware blocks your Internet connection to prevent you from removing the rogue application. To enable the Internet connection, please follow these instructions:
Open Internet Explorer and go to >Tools< select >Internet Options<

Select >Connections<

Select >LAN Settings<

Now you need to uncheck the checkbox labeled >Use a proxy server for your LAN< in Proxy Server section. Then press the >OK< button to close this screen and press the >OK< button to close the Internet Options screen.

Now you can download the SpyHunter scanner and remove the infection.

How to manually remove Windows Secure Surfer
Files associated with Windows Secure Surfer infection:
%AppData%\result.db
%AppData%\Protector-[Random].exe
%AppData%\NPSWF32.dll
Windows Secure Surfer DLL's to remove:
%AppData%\NPSWF32.dll
Windows Secure Surfer processes to kill:
%AppData%\Protector-[Random].exe
Remove Windows Secure Surfer registry entries:
HKEY_CURRENT_USER\Software\ASProtect
HKEY_CURRENT_USER\Software\Microsoft\Windows\CurrentVersion\Internet Settings "WarnOnHTTPSToHTTPRedirect" = 0
HKEY_CURRENT_USER\Software\Microsoft\Windows\CurrentVersion\Policies\System "DisableRegedit" = 0
HKEY_CURRENT_USER\Software\Microsoft\Windows\CurrentVersion\Policies\System "DisableRegistryTools" = 0
HKEY_CURRENT_USER\Software\Microsoft\Windows\CurrentVersion\Policies\System "DisableTaskMgr" = 0
HKEY_CURRENT_USER\Software\Microsoft\Windows\CurrentVersion\Run "Inspector"
HKEY_CURRENT_USER\Software\Microsoft\Windows\CurrentVersion\Settings "net" = "2012-5-13_4"
HKEY_CURRENT_USER\Software\Microsoft\Windows\CurrentVersion\Settings "UID" = "hspbkebjqj"
HKEY_LOCAL_MACHINE\SOFTWARE\Microsoft\Windows NT\CurrentVersion\Image File Execution Options\AlphaAV.exe
HKEY_LOCAL_MACHINE\SOFTWARE\Microsoft\Windows NT\CurrentVersion\Image File Execution Options\avkwctl9.exe
HKEY_LOCAL_MACHINE\SOFTWARE\Microsoft\Windows NT\CurrentVersion\Image File Execution Options\cmdagent.exe
HKEY_LOCAL_MACHINE\SOFTWARE\Microsoft\Windows NT\CurrentVersion\Image File Execution Options\gator.exe
HKEY_LOCAL_MACHINE\SOFTWARE\Microsoft\Windows NT\CurrentVersion\Image File Execution Options\MalwareRemoval.exe
HKEY_LOCAL_MACHINE\SOFTWARE\Microsoft\Windows NT\CurrentVersion\Image File Execution Options\nod32.exe
HKEY_LOCAL_MACHINE\SOFTWARE\Microsoft\Windows NT\CurrentVersion\Image File Execution Options\normist.exe
HKEY_LOCAL_MACHINE\SOFTWARE\Microsoft\Windows NT\CurrentVersion\Image File Execution Options\otfix.exe
HKEY_LOCAL_MACHINE\SOFTWARE\Microsoft\Windows NT\CurrentVersion\Image File Execution Options\outpost.exe
HKEY_LOCAL_MACHINE\SOFTWARE\Microsoft\Windows NT\CurrentVersion\Image File Execution Options\ozn695m5.exe
HKEY_LOCAL_MACHINE\SOFTWARE\Microsoft\Windows NT\CurrentVersion\Image File Execution Options\padmin.exe
HKEY_LOCAL_MACHINE\SOFTWARE\Microsoft\Windows NT\CurrentVersion\Image File Execution Options\panixk.exe
HKEY_LOCAL_MACHINE\SOFTWARE\Microsoft\Windows NT\CurrentVersion\Image File Execution Options\patch.exe
HKEY_LOCAL_MACHINE\SOFTWARE\Microsoft\Windows NT\CurrentVersion\Image File Execution Options\prizesurfer.exe
HKEY_LOCAL_MACHINE\SOFTWARE\Microsoft\Windows NT\CurrentVersion\Image File Execution Options\prmt.exe
HKEY_LOCAL_MACHINE\SOFTWARE\Microsoft\Windows NT\CurrentVersion\Image File Execution Options\vsched.exe
HKEY_LOCAL_MACHINE\SOFTWARE\Microsoft\Windows\CurrentVersion\policies\system "ConsentPromptBehaviorAdmin" = 0
HKEY_LOCAL_MACHINE\SOFTWARE\Microsoft\Windows\CurrentVersion\policies\system "ConsentPromptBehaviorUser" = 0
HKEY_LOCAL_MACHINE\SOFTWARE\Microsoft\Windows\CurrentVersion\policies\system "EnableLUA" = 0