Danger level
:

9
Type:
Rogue Anti-Spyware
Common infection symptoms:
Blocks internet connection
Block exe files from running
Installs itself without permissions
Connects to the internet without permission
Slow internet connection
System crashes
Annoying Pop-up's
Slow Computer
Shows commercial adverts
Infection Video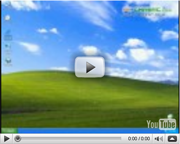 Windows ProSecurity Scanner
If you understand the concept of a fake antispyware, you will know how much trouble Windows ProSecurity Scanner could put you through! This bogus security tool may look and act like any regular, legitimate antispyware, but in reality, it is a hoax to lure oblivious Windows users into paying money for a full version security tool, which is completely fake and has been designed for a single purpose - to generate profit for immoral cyber criminals, working silently behind Windows ProSecurity Scanner. The only way to deal with this uncouth application is to remove Windows ProSecurity Scanner without questioning any further, so do not hesitate and perform this action quickly, with the help of REAL antispyware tools.
If you are wondering how Windows ProSecurity Scanner got into your computer, you will be surprised to find out that various security cracks may have been applied to help Windows ProSecurity Scanner's infiltration. And such security backdoors span from simple spam email attachments and bundled downloads, to vicious Trojans, which could be harming your computer even beyond Windows ProSecurity Scanner's activities! Whichever the way this malicious application manages to get into your computer, it will not be long before you notice various Windows dysfunctions, including possible Internet connection issues or removed privileges to some of the system's components. Do not worry, even if you notice some loss of control over your Windows OS, because all of that can be easily undone, once Windows ProSecurity Scanner is deleted from your computer!
Please use our recommendation to use legitimate security tools, to delete Windows ProSecurity Scanner from your PC, because it is the easiest way for you to remove this annoying infection. It is possible to remove Windows ProSecurity Scanner's components manually, but this can only be done by Windows professionals, and even they should have their computers protected by real antimalware! Also, do not forget that if you have already been tricked by hundreds of Windows ProSecurity Scanner notifications, full-version purchase recommendations, and have paid for this useless tool, do not just assume that Windows ProSecurity Scanner's malicious files have been removed from your computer, as the infection is still in there, waiting to be deleted.
UPDATE
Windows ProSecurity Scanner has been noted to demonstrate such fake notifications:
Recommended:
Activate Windows ProSecurity Scanner to get ultimate protection against Identity Theft, Viruses, Malware and other threats!
Warning! Spambot detected!
Attention! A spambot is sending viruses from your e-mail has been detected on your PC.
Yes, protect my PC and remove spambot now (Recommended)
Recommended:
Please click "Remove all" button to erase all infected files and protect your PC
Even though these fake security notifications rush to delete infections with Windows ProSecurity Scanner's removal tool, you should ignore them, together with purchase recommendations and other warning messages.
You can activate a registration key, which will remove these bogus notifications. This code can also help you with removal of other Windows ProSecurity Scanner caused Windows malfunctions, like blocked Internet connection, blocked running of most executables, and restricted access to Task Manager, Registry Editor.
Activation key: 0W000-000B0-00T00-E0020
To help you with the removal, we also offer you Internet renewal instructions, which will be very useful, once you are ready to install automatic Windows ProSecurity Scanner removal software. And if you want to delete the fake tool manually, use the removal guide bellow.

How to renew your internet connection:
This rogue antispyware blocks your Internet connection to prevent you from removing the rogue application. To enable the Internet connection, please follow these instructions:
Open Internet Explorer and go to >Tools< select >Internet Options<

Select >Connections<

Select >LAN Settings<

Now you need to uncheck the checkbox labeled >Use a proxy server for your LAN< in Proxy Server section. Then press the >OK< button to close this screen and press the >OK< button to close the Internet Options screen.

Now you can download the SpyHunter scanner and remove the infection.

How to manually remove Windows ProSecurity Scanner
Files associated with Windows ProSecurity Scanner infection:
Windows ProSecurity Scanner.lnk
Protector-krll.exe
Protector-pffr.exe
%Desktop%\Windows ProSecurity Scanner.lnk
%CommonStartMenu%\Programs\Windows ProSecurity Scanner.lnk
%AppData%\NPSWF32.dll
%AppData%\Protector-[Random].exe
%AppData%\W34r34mt5h21ef.dat
%AppData%\result.db
Windows ProSecurity Scanner DLL's to remove:
%AppData%\NPSWF32.dll
Windows ProSecurity Scanner processes to kill:
Protector-krll.exe
Protector-pffr.exe
%AppData%\Protector-[Random].exe
Remove Windows ProSecurity Scanner registry entries:
HKEY_CURRENT_USER\Software\ASProtect
HKEY_CURRENT_USER\Software\Microsoft\Win
HKEY_CURRENT_USER\Software\Microsoft\Windows\CurrentVersion\Settings "net" = "2012-5-6_2"
HKEY_CURRENT_USER\Software\Microsoft\Windows\CurrentVersion\Settings "UID" = "ungklgkqft"
HKEY_LOCAL_MACHINE\SOFTWARE\Microsoft\Windows NT\CurrentVersion\Image File Execution Options\alertsvc.exe
HKEY_LOCAL_MACHINE\SOFTWARE\Microsoft\Windows NT\CurrentVersion\Image File Execution Options\belt.exe
HKEY_LOCAL_MACHINE\SOFTWARE\Microsoft\Windows NT\CurrentVersion\Image File Execution Options\iface.exe
HKEY_LOCAL_MACHINE\SOFTWARE\Microsoft\Windows NT\CurrentVersion\Image File Execution Options\netspyhunter-1.2.exe
HKEY_LOCAL_MACHINE\SOFTWARE\Microsoft\Windows NT\CurrentVersion\Image File Execution Options\rscdwld.exe
HKEY_LOCAL_MACHINE\SOFTWARE\Microsoft\Windows NT\CurrentVersion\Image File Execution Options\tcm.exe
HKEY_LOCAL_MACHINE\SOFTWARE\Microsoft\Windows NT\CurrentVersion\Image File Execution Options\winstart.exe