Danger level
:

8
Type:
Rogue Anti-Spyware
Common infection symptoms:
Blocks internet connection
Block exe files from running
Installs itself without permissions
Connects to the internet without permission
Shows commercial adverts
Slow internet connection
System crashes
Annoying Pop-up's
Slow Computer
Infection Video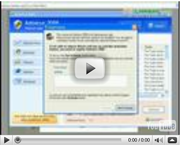 Windows Internet Booster
It is more important than ever before to have all of our Windows systems protected with legal security software, because Windows Internet Booster and similar illegal computer applications are ready to threaten the soundness of our systems and the security of our personal space. Windows Internet Booster is an accurate replica of legitimate security antispywares, and its believable presence has already fooled hundreds of clueless PC users. And many of them have been tricked into believing that Windows Internet Booster is a true helper, once their Windows systems get heavily infected with such malignant application as information stealing worms, or malware downloading Trojans. In reality, their systems, influenced by Windows Internet Booster, only seem to be invaded by non-existent sinister software, in order for the scheme to be completed and profit to be made.
It is now known that both, Windows Internet Booster and fictitious malware, which this fake antispyware claims to be able to delete, are created by the same cyber criminals, who were clever enough to understand that those intimidated PC user, who believe the fake infection, were much more likely to purchase the full Windows Internet Booster version. Despite its low price and legitimate-looking guarantees, Windows Internet Booster license is as useless as it gets, and should be ignored by all means! And even if you think it is not a big price, in exchange of returned control over your Windows system, which you might loose during Windows Internet Booster's invasion, you should not perform any money transactions to the cyber criminals, who later on could use your personal data in additional schemes, or even remove parts of your assets!
So, if you do not want to get involved with cyber crooks, and have your name associated with unlawful activity, remove Windows Internet Booster without hesitating any longer! Do so manually, if you have such experience, or confide reliable security tools to delete Windows Internet Booster's infections automatically. And remember, various malignant applications may come via spam email attachments, fake online scanners, encrypted downloads and various other security tools, so, if you do not want to have to remove Windows Internet Booster or deal with similar malware ever again, be extremely wary when in the virtual world!

How to renew your internet connection:
This rogue antispyware blocks your Internet connection to prevent you from removing the rogue application. To enable the Internet connection, please follow these instructions:
Open Internet Explorer and go to >Tools< select >Internet Options<

Select >Connections<

Select >LAN Settings<

Now you need to uncheck the checkbox labeled >Use a proxy server for your LAN< in Proxy Server section. Then press the >OK< button to close this screen and press the >OK< button to close the Internet Options screen.

Now you can download the SpyHunter scanner and remove the infection.

How to manually remove Windows Internet Booster
Files associated with Windows Internet Booster infection:
%AppData%\NPSWF32.dll
%AppData%\Protector-[Random].exe
%AppData%\W34r34mt5h21ef.dat
%AppData%\result.db
%CommonStartMenu%\Programs\Windows Internet Booster.lnk
%Desktop%\Windows Internet Booster.lnk
Windows Internet Booster DLL's to remove:
%AppData%\NPSWF32.dll
Windows Internet Booster processes to kill:
%AppData%\Protector-[Random].exe
Remove Windows Internet Booster registry entries:
HKEY_CURRENT_USER\Software\ASProtect
HKEY_CURRENT_USER\Software\Microsoft\Win
HKEY_CURRENT_USER\Software\Microsoft\Windows\CurrentVersion\Settings "net" = "2012-5-6_2"
HKEY_CURRENT_USER\Software\Microsoft\Windows\CurrentVersion\Settings "UID" = "ungklgkqft"
HKEY_LOCAL_MACHINE\SOFTWARE\Microsoft\Windows NT\CurrentVersion\Image File Execution Options\alertsvc.exe
HKEY_LOCAL_MACHINE\SOFTWARE\Microsoft\Windows NT\CurrentVersion\Image File Execution Options\belt.exe
HKEY_LOCAL_MACHINE\SOFTWARE\Microsoft\Windows NT\CurrentVersion\Image File Execution Options\iface.exe
HKEY_LOCAL_MACHINE\SOFTWARE\Microsoft\Windows NT\CurrentVersion\Image File Execution Options\netspyhunter-1.2.exe
HKEY_LOCAL_MACHINE\SOFTWARE\Microsoft\Windows NT\CurrentVersion\Image File Execution Options\rscdwld.exe
HKEY_LOCAL_MACHINE\SOFTWARE\Microsoft\Windows NT\CurrentVersion\Image File Execution Options\tcm.exe
HKEY_LOCAL_MACHINE\SOFTWARE\Microsoft\Windows NT\CurrentVersion\Image File Execution Options\winstart.exe