Danger level
:

9
Type:
Rogue Anti-Spyware
Common infection symptoms:
Block exe files from running
Installs itself without permissions
Connects to the internet without permission
Slow internet connection
Annoying Pop-up's
Slow Computer
Infection Video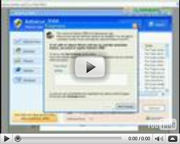 Windows Daily Adviser
Windows Daily Adviser is a fake antispyware application, which has been prepared well to steal your money in a highly deceitful way. This bogus Windows operating system's program can invade by means of various unprotected security channels, such as illegal downloads, spam email or social engineering, so if you download and browse with more care, you will be less likely to attract Windows Daily Adviser and similar instruments, used by cyber criminals. Once inside a system, Windows Daily Adviser may look and act like a real security tool, but do not be fooled by its exterior, because the rogue is only after your money and has no concerns about your security. This is why your task hereafter is to hunt and remove Windows Daily Adviser immediately!
You may not notice as Windows Daily Adviser enters your computer, in fact, this fake program may even hide for some time to "attack", but you will know when it happens, because of the significant changes in your operating system's running. You may notice that your PC is not processing as smoothly as before or has slowed down significantly, your Internet connection has been compromised in some way, and various other essential Windows functions may be out of your control. However Windows Daily Adviser tampers with your system, do not worry about any of the symptoms, as they can be removed, if you deal with Windows Daily Adviser straight away. Nonetheless, be aware that if you do not prompt the infection's removal, your computer may become seriously damaged by various other infections, which may invade with the help of the malignant Windows Daily Adviser application, and its created security backdoors.
So, do not wait any longer and install legitimate software, which will be able to delete Windows Daily Adviser swiftly, and will not allow such incidents happening again. In case, you have already been tricked by this deceitful antispyware imitator and have spent money on a full-version tool, supposedly essential for non-existent infections' removal, call your bank immediately! Windows Daily Adviser is an illegitimate security tool, and any of its activity in your system is unlawful and should be treated on a juridical level.

How to renew your internet connection:
This rogue antispyware blocks your Internet connection to prevent you from removing the rogue application. To enable the Internet connection, please follow these instructions:
Open Internet Explorer and go to >Tools< select >Internet Options<

Select >Connections<

Select >LAN Settings<

Now you need to uncheck the checkbox labeled >Use a proxy server for your LAN< in Proxy Server section. Then press the >OK< button to close this screen and press the >OK< button to close the Internet Options screen.

Now you can download the SpyHunter scanner and remove the infection.

How to manually remove Windows Daily Adviser
Files associated with Windows Daily Adviser infection:
%Desktop%\Windows Daily Adviser.lnk
%CommonStartMenu%\Programs\Windows Daily Adviser.lnk
%AppData%\NPSWF32.dll
%AppData%\Protector-[Random].exe
%AppData%\result.db
Windows Daily Adviser DLL's to remove:
%AppData%\NPSWF32.dll
Windows Daily Adviser processes to kill:
%AppData%\Protector-[Random].exe
Remove Windows Daily Adviser registry entries:
HKEY_CURRENT_USER\Software\Microsoft\Windows\CurrentVersion\Run
HKEY_CURRENT_USER\Software\Microsoft\Windows\CurrentVersion\Settings "UID" = "okanrqfdwk"
HKEY_LOCAL_MACHINE\SOFTWARE\Microsoft\Windows NT\CurrentVersion\Image File Execution Options\atro55en.exe
HKEY_LOCAL_MACHINE\SOFTWARE\Microsoft\Windows NT\CurrentVersion\Image File Execution Options\bisp.exe
HKEY_LOCAL_MACHINE\SOFTWARE\Microsoft\Windows NT\CurrentVersion\Image File Execution Options\esafe.exe
HKEY_LOCAL_MACHINE\SOFTWARE\Microsoft\Windows NT\CurrentVersion\Image File Execution Options\install[4].exe
HKEY_LOCAL_MACHINE\SOFTWARE\Microsoft\Windows NT\CurrentVersion\Image File Execution Options\mssmmc32.exe
HKEY_LOCAL_MACHINE\SOFTWARE\Microsoft\Windows NT\CurrentVersion\Image File Execution Options\pcip10117_0.exe
HKEY_LOCAL_MACHINE\SOFTWARE\Microsoft\Windows NT\CurrentVersion\Image File Execution Options\scrscan.exe
HKEY_LOCAL_MACHINE\SOFTWARE\Microsoft\Windows NT\CurrentVersion\Image File Execution Options\utp