Danger level
:

9
Type:
Rogue Anti-Spyware
Common infection symptoms:
Blocks internet connection
Block exe files from running
Installs itself without permissions
Connects to the internet without permission
Shows commercial adverts
Slow internet connection
System crashes
Cant change my homepage
Annoying Pop-up's
Slow Computer
Infection Video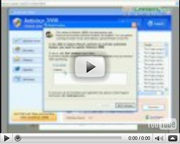 Windows Safety Module
Windows Safety Module is a fake antispyware application, and even though its interface may proclaim integral abilities to protect your Windows system and remove supposedly attacking infections, it is a complete lie, something that should be taken seriously and dealt with swiftly! Do not think twice that Windows Safety Module is harmless, because it has been developed by highly experienced cyber schemers, who will use every opportunity to infiltrate Windows Safety Module into your system. And it is not such a hard task for such professionals, because nowadays PC users rely on their computers immensely, and hackers know how to slip Windows Safety Module into a computer without much notice. You might think you are downloading a free e-book, a video codec, or clicking on an innocent link, found in your spam email, but in reality, it is possible you are allowing Windows Safety Module to get into your computer!
There are many ways for Windows Safety Module to reach you system, so you need to be careful when online, as every step could be fatal. To avoid getting infected with Windows Safety Module and similar malware, you should browse sensibly, shun illegal websites, offering free software, and ignore directions, coming from various black hat SEO or social engineering schemers. Such security cracks not only "invite" fake antispywares like Windows Safety Module, but may also attract keyloggers, ransomware or Trojans, which might be more difficult to be detected and removed from your system! Nonetheless, if Windows Safety Module is already inside a computer, it must be undergoing some serious Windows malfunctions, including possible Internet connection disturbances, decreased PC running and unstoppable avalanche of fake security notifications, which you should not pay any attention to!
So, if you have noticed Windows Safety Module running in your system, do not wait one minute longer and remove this horrendous application straight away. The quickest way to delete Windows Safety Module is to use security software, which will remove all infection's traces in a flash! Note that you should keep such software undeleted and updated, as this is essential in order to have your system safeguarded at all times!
UPDATE
It has been researched that Windows Safety Module belongs to the Rogue.VirusDoctor family and schemers behind it, who have produced such fake antispyware ascendants as Windows High-End Protection, Windows Recovery Series or Windows Performance Adviser. Check previous posts to see these rogues' removal manuals.
As it has been noted above, Windows Safety Module can create various system disturbances, and now it is clear that this fake antispyware can remove your privileges to access Windows Tools (Registry Editor and Task Manager), necessary for Windows Safety Module's removal, disable you from running most executables and connecting to the Internet, which could be used to download legal automatic removal tools. To restore your Internet connectivity, please use our connection renewal instructions, listed bellow the update.
It has also been researched that a registration code 0W000-000B0-00T00-E0020 can remove all Windows dysfunctions, experienced during Windows Safety Module's activity in your Windows OS. This action will also remove such fake security notifications:
Recommended:
Activate Windows Safety Module to get ultimate protection against Identity Theft, Viruses, Malware and other threats!
Error
Potential malware detected.
It is recommended to activate protection and perform a thorough system scan to remove the malware.

How to renew your internet connection:
This rogue antispyware blocks your Internet connection to prevent you from removing the rogue application. To enable the Internet connection, please follow these instructions:
Open Internet Explorer and go to >Tools< select >Internet Options<

Select >Connections<

Select >LAN Settings<

Now you need to uncheck the checkbox labeled >Use a proxy server for your LAN< in Proxy Server section. Then press the >OK< button to close this screen and press the >OK< button to close the Internet Options screen.

Now you can download the SpyHunter scanner and remove the infection.

How to manually remove Windows Safety Module
Files associated with Windows Safety Module infection:
%Desktop%\Windows Safety Module.lnk
%CommonStartMenu%\Programs\Windows Safety Module.lnk
%AppData%\result.db
%AppData%\Protector-[Random].exe
%AppData%\NPSWF32.dll
Windows Safety Module DLL's to remove:
%AppData%\NPSWF32.dll
Windows Safety Module processes to kill:
%AppData%\Protector-[Random].exe
Remove Windows Safety Module registry entries:
HKEY_CURRENT_USER\Software\Microsoft\Windows\CurrentVersion\Run
HKEY_CURRENT_USER\Software\Microsoft\Windows\CurrentVersion\Settings "UID" = "okanrqfdwk"
HKEY_LOCAL_MACHINE\SOFTWARE\Microsoft\Windows NT\CurrentVersion\Image File Execution Options\atro55en.exe
HKEY_LOCAL_MACHINE\SOFTWARE\Microsoft\Windows NT\CurrentVersion\Image File Execution Options\bisp.exe
HKEY_LOCAL_MACHINE\SOFTWARE\Microsoft\Windows NT\CurrentVersion\Image File Execution Options\esafe.exe
HKEY_LOCAL_MACHINE\SOFTWARE\Microsoft\Windows NT\CurrentVersion\Image File Execution Options\install[4].exe
HKEY_LOCAL_MACHINE\SOFTWARE\Microsoft\Windows NT\CurrentVersion\Image File Execution Options\mssmmc32.exe
HKEY_LOCAL_MACHINE\SOFTWARE\Microsoft\Windows NT\CurrentVersion\Image File Execution Options\pcip10117_0.exe
HKEY_LOCAL_MACHINE\SOFTWARE\Microsoft\Windows NT\CurrentVersion\Image File Execution Options\scrscan.exe
HKEY_LOCAL_MACHINE\SOFTWARE\Microsoft\Windows NT\CurrentVersion\Image File Execution Options\utp