Danger level
:

9
Type:
Rogue Anti-Spyware
Common infection symptoms:
Blocks internet connection
Block exe files from running
Installs itself without permissions
Connects to the internet without permission
Shows commercial adverts
Slow internet connection
System crashes
Cant change my homepage
Annoying Pop-up's
Slow Computer
Infection Video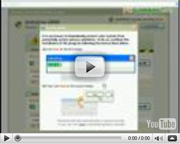 Windows Safety Checkpoint
If you know Windows Safety Checkpoint's name, then you are either a Windows expert or a miserable PC owner, who does not know what to do with this program. Well, the only thing you should do with Windows Safety Checkpoint is remove it instantaneously, because this bewildering security tool, is utterly fake, and not only cannot live up to its promises to delete infections, but cannot control the safety of your Windows OS either. So, since there is no purpose for Windows Safety Checkpoint, or any of its clones (Windows Premium Guard, Windows Safety Toolkit), belonging to Rogue.VirusDoctor family, inside your PC, take care of this rogue's removal right away.
What you need to know about Windows Safety Checkpoint is that it is a fast-moving tool, which will act in a high-speed manner just to confuse you with its real intentions! This is why, immediately after the rogue's infiltration, your access to Registry Editor, Task Manager will be restricted, and your ability to run most executables or launch Internet will be crippled. Of course, this Windows Safety Checkpoint strategy can make you think that your computer is really being corrupted by supposed malware, but what this is really supposed to do, is make it impossible to catch and delete Windows Safety Checkpoint!
Another thing that can easily confuse you about real Windows Safety Checkpoint intentions is its reliable looking exterior, which will imitate Windows programs' interface and will seem authentic because of its mimicked Firewall notifications, recommending you to remove fictitious malware right away. See a few examples:
Warning
Warning! Identity theft attempt detected
Recommended:
Activate Windows Safety Checkpoint to get ultimate protection against Identity Theft, Viruses, Malware and other threats!

Lamentably, you will not be able to get rid of any of these fake alerts or Windows dysfunctions until you remove Windows Safety Checkpoint from your personal computer. And to start this process it is highly recommended to register with the rogue. However, you should NOT reach this through purchasing a completely fake Windows Safety Checkpoint license! Simply use this number – span class="red">0W000-000B0-00T00-E0020 – and soon all of the simulated pop-ups and alerts will be removed from the system. You can also regain Internet connection by using our simple instructions bellow.
To finalize Windows Safety Checkpoint's removal, install trustworthy security applications, which will delete any infection's components in no time! If you have decided that you are capable of performing manual removal, please make sure to get rid of every single Windows Safety Checkpoint file, in order to have the system cleared of malware. Also note that even if you purchase the fake antispyware, you will still have to worry about its execution, as fake Windows Safety Checkpoint's license has no value and could "invite" additional malware, if untreated!

How to renew your internet connection:
This rogue antispyware blocks your Internet connection to prevent you from removing the rogue application. To enable the Internet connection, please follow these instructions:
Open Internet Explorer and go to >Tools< select >Internet Options<

Select >Connections<

Select >LAN Settings<

Now you need to uncheck the checkbox labeled >Use a proxy server for your LAN< in Proxy Server section. Then press the >OK< button to close this screen and press the >OK< button to close the Internet Options screen.

Now you can download the SpyHunter scanner and remove the infection.

How to manually remove Windows Safety Checkpoint
Files associated with Windows Safety Checkpoint infection:
%Desktop%\Windows Safety Checkpoint.lnk
%CommonStartMenu%\Programs\Windows Safety Checkpoint.lnk
%AppData%\result.db
%AppData%\Protector-[Random].exe
%AppData%\NPSWF32.dll
Windows Safety Checkpoint DLL's to remove:
%AppData%\NPSWF32.dll
Windows Safety Checkpoint processes to kill:
%AppData%\Protector-[Random].exe
Remove Windows Safety Checkpoint registry entries:
HKEY_CURRENT_USER\Software\Microsoft\Windows\CurrentVersion\Run
HKEY_CURRENT_USER\Software\Microsoft\Windows\CurrentVersion\Settings "UID" = "okanrqfdwk"
HKEY_LOCAL_MACHINE\SOFTWARE\Microsoft\Windows NT\CurrentVersion\Image File Execution Options\atro55en.exe
HKEY_LOCAL_MACHINE\SOFTWARE\Microsoft\Windows NT\CurrentVersion\Image File Execution Options\bisp.exe
HKEY_LOCAL_MACHINE\SOFTWARE\Microsoft\Windows NT\CurrentVersion\Image File Execution Options\esafe.exe
HKEY_LOCAL_MACHINE\SOFTWARE\Microsoft\Windows NT\CurrentVersion\Image File Execution Options\install[4].exe
HKEY_LOCAL_MACHINE\SOFTWARE\Microsoft\Windows NT\CurrentVersion\Image File Execution Options\mssmmc32.exe
HKEY_LOCAL_MACHINE\SOFTWARE\Microsoft\Windows NT\CurrentVersion\Image File Execution Options\pcip10117_0.exe
HKEY_LOCAL_MACHINE\SOFTWARE\Microsoft\Windows NT\CurrentVersion\Image File Execution Options\scrscan.exe
HKEY_LOCAL_MACHINE\SOFTWARE\Microsoft\Windows NT\CurrentVersion\Image File Execution Options\utpost.exe