Danger level
:

9
Type:
Rogue Anti-Spyware
Common infection symptoms:
Blocks internet connection
Block exe files from running
Installs itself without permissions
Connects to the internet without permission
Shows commercial adverts
Slow internet connection
System crashes
Cant change my homepage
Annoying Pop-up's
Slow Computer
Infection Video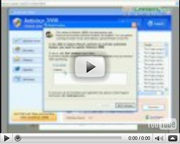 Windows Premium Guard
Sometimes we trust our systems with programs like Windows Premium Guard unconditionally, and afterwards we are the ones left to remove the mess. The reason why you should never trust Windows Premium Guard, or its clones (Windows Efficiency Accelerator, Windows Performance Advisor, etc.), is because this seemingly legitimate antispyware is completely fake, and can do more harm to your computer than good. And do not think that Windows Premium Guard cannot fool you too, because this bogus security tool has been developed to invade systems through any security crack found!

Windows Premium Guard can cause extensive damage, once it invades, and you might notice slower PC's running, removed privileges to access Task Manger and Registry Editor, inability to run most executables or connect to the Internet. This can easily cause serious difficulties to track and remove Windows Premium Guard! Moreover, these symptoms can also strengthen an illusion that your PC is infected with fictitious viruses and worms, like Net-Worm or Trojan.Win32.Agent, you need to erase instantly. None of this is true! In fact, no information, found on Windows Premium Guard's interface is right, including recommendations to activate Windows Premium Guard's full version, use it to remove infections, or warnings about your disabled Firewall or Automatic Updates. Also, do not believe any of the rogue's notifications, using such intimidating words as error, warning, severe risk, or threats detected, as all of these scary proclamations are only meant to make you act quickly, without thinking much about Windows Premium Guard's abilities to remove any of these errors and threats:
Error
Potential malware detected.
It is recommended to activate protection and perform a thorough system scan to remove the malware.
Recommended:
Please click "Remove all" button to erase all infected files and protect your PC
To begin Windows Premium Guard's removal processes, we recommend using a registration key, which will remove all infection's symptoms. This will be extremely helpful to those Windows experts, who know the tricks of manual removal, and who will use restored access to Windows Tools to get rid of all infection's components. Otherwise, simply activate legal antispyware software, which will remove Windows Premium Guard in just a few minutes. To connect to Internet, use our internet connection renewal instructions, listed bellow.
Registration key: 0W000-000B0-00T00-E0020
How to renew your internet connection:
This rogue antispyware blocks your Internet connection to prevent you from removing the rogue application. To enable the Internet connection, please follow these instructions:
Open Internet Explorer and go to >Tools< select >Internet Options<

Select >Connections<

Select >LAN Settings<

Now you need to uncheck the checkbox labeled >Use a proxy server for your LAN< in Proxy Server section. Then press the >OK< button to close this screen and press the >OK< button to close the Internet Options screen.

Now you can download the SpyHunter scanner and remove the infection.

How to manually remove Windows Premium Guard
Files associated with Windows Premium Guard infection:
%AppData%\NPSWF32.dll
%AppData%\Protector-[Random].exe
%AppData%\result.db
%CommonStartMenu%\Programs\Windows Premium Guard.lnk
%Desktop%\Windows Premium Guard.lnk
Windows Premium Guard DLL's to remove:
%AppData%\NPSWF32.dll
Windows Premium Guard processes to kill:
%AppData%\Protector-[Random].exe
Remove Windows Premium Guard registry entries:
HKEY_CURRENT_USER\Software\Microsoft\Windows\CurrentVersion\Run
HKEY_CURRENT_USER\Software\Microsoft\Windows\CurrentVersion\Settings "UID" = "okanrqfdwk"
HKEY_LOCAL_MACHINE\SOFTWARE\Microsoft\Windows NT\CurrentVersion\Image File Execution Options\atro55en.exe
HKEY_LOCAL_MACHINE\SOFTWARE\Microsoft\Windows NT\CurrentVersion\Image File Execution Options\bisp.exe
HKEY_LOCAL_MACHINE\SOFTWARE\Microsoft\Windows NT\CurrentVersion\Image File Execution Options\esafe.exe
HKEY_LOCAL_MACHINE\SOFTWARE\Microsoft\Windows NT\CurrentVersion\Image File Execution Options\install[4].exe
HKEY_LOCAL_MACHINE\SOFTWARE\Microsoft\Windows NT\CurrentVersion\Image File Execution Options\mssmmc32.exe
HKEY_LOCAL_MACHINE\SOFTWARE\Microsoft\Windows NT\CurrentVersion\Image File Execution Options\pcip10117_0.exe
HKEY_LOCAL_MACHINE\SOFTWARE\Microsoft\Windows NT\CurrentVersion\Image File Execution Options\scrscan.exe
HKEY_LOCAL_MACHINE\SOFTWARE\Microsoft\Windows NT\CurrentVersion\Image File Execution Options\utpost.exe