Danger level
:

9
Type:
Rogue Anti-Spyware
Common infection symptoms:
Blocks internet connection
Block exe files from running
Installs itself without permissions
Connects to the internet without permission
Normal system programs crash immediatelly
Slow internet connection
System crashes
Annoying Pop-up's
Slow Computer
Infection Video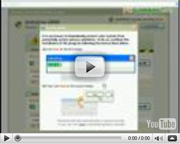 Windows Efficiency Accelerator
There is no doubt that whatever Windows Efficiency Accelerator informs you with is completely ridiculous and should be ignored in any given situation. This fake antispyware is no good news for your operating Windows system, and you can trust me, when I say that Windows Efficiency Accelerator should be removed the second it starts processing in your PC. Even though this illegitimate application acts as a real security tool, your usual antispyware, do not think that this application is real, because if you do, soon enough all of your money might be gone, and your private data collected by Windows Efficiency Accelerator's cyber criminals and third parties.
Windows Efficiency Accelerator's designers are well experienced criminals, who know many ways to trick you into believing the good intentions of their fake product. Especially, since the interface of their generated program seems legitimate and truthful, as well as various believable looking pop-ups, other security danger notifications, or other simulated Windows dysfunctions. There are even more ways to trick PC users into letting Windows Efficiency Accelerator into their computers in the first place, so if you do not want this malicious program damaging your system, be extremely careful, when in the virtual expanse. Especially, be wary of computer applications (e.g. video codecs), spam emails or online advertisements, which may appear to be fake and hide Windows Efficiency Accelerator's installation setup!
There is no question, whether Windows Efficiency Accelerator is a fake and malicious computer application, which has been created to bring profit to mischievous cyber criminals, or whether it should be removed as quickly as possible. If you act carelessly when downloading programs and clicking on suspicious links or ads, you might easily become one of the many Windows Efficiency Accelerator's victims, and if this latent application is already running in your personal computer, do not wait any longer, because with time passing by, your computer might become completely inoperable! To remove Windows Efficiency Accelerator, and continue enjoying your Windows experience, continue with manual removal, if you know what to do, or better yet, install legitimate antispyware software, which will guard your data's security against similar attacks to the ones of Windows Efficiency Accelerator.
UPDATE
Windows Efficiency Accelerator disables your Internet browser right after the program is installed on your computer. Whenever you try to launch your browser you are presented with one of these messages:
Warning
Firewall has blocked a program from accessing the Internet.
Windows Media Player Resources
C:\Windows\system32\dllcache\wmploc.dll
C:\Windows\system32\dllcache\wmploc.dll is suspected to have infected your PC. This type of virus intercepts entered data and transmits them to a remote server.
Windows Efficiency Accelerator makes it seem that your browser and other programs are infected with multiple malware, hence they have to be closed, if you do not want the infection to spread further. That would be great if that were true. Alas, Windows Efficiency tells the best tales in the world, considering that it is the only malicious program in your system (save for a few Trojans or so that could have arrived with the rogue).
What Windows Efficiency Accelerator wants is to stay in your system until you reveal your financial information to it. Even though the rogue's names change, its aim remains the same, thus Windows Efficiency Accelerator is not different from its forerunners that include Windows Crucial Scanner, Windows Foolproof Protector, Windows Antibreaking System and so on.
What you want, however, is a safe and clean computer that has no trace of malicious infections, and your financial funds completely unharmed. That can be achieved by removing Windows Efficiency Accelerator. It might be a bit of a task for you, considering that the rogue does all it can to prevent you from erasing it.
Registration key: 0W000-000B0-00T00-E0020
The registration key above is literally the key to a fast Windows Efficiency Accelerator removal. If you "register" this program, all the frustrating symptoms will be gone for a time being. Then you can easily erase Windows Efficiency Accelerator with a reliable antimalware program or on your own. Keep in mind, however, that manual removal is recommended only if you are a computer expert and if you really know what you are doing.

How to renew your internet connection:
This rogue antispyware blocks your Internet connection to prevent you from removing the rogue application. To enable the Internet connection, please follow these instructions:
Open Internet Explorer and go to >Tools< select >Internet Options<

Select >Connections<

Select >LAN Settings<

Now you need to uncheck the checkbox labeled >Use a proxy server for your LAN< in Proxy Server section. Then press the >OK< button to close this screen and press the >OK< button to close the Internet Options screen.

Now you can download the SpyHunter scanner and remove the infection.

How to manually remove Windows Efficiency Accelerator
Files associated with Windows Efficiency Accelerator infection:
Windows Efficiency Accelerator.lnk
Protector-aydv.exe
Protector-pyqj.exe
%Desktop%\Windows Efficiency Accelerator.lnk
%CommonStartMenu%\Programs\Windows Efficiency Accelerator.lnk
%AppData%\result.db
%AppData%\Protector-[Random].exe
%AppData%\NPSWF32.dll
Windows Efficiency Accelerator DLL's to remove:
%AppData%\NPSWF32.dll
Windows Efficiency Accelerator processes to kill:
Protector-aydv.exe
Protector-pyqj.exe
%AppData%\Protector-[Random].exe
Remove Windows Efficiency Accelerator registry entries:
HKEY_CURRENT_USER\Software\Microsoft\Windows\CurrentVersion\Run
HKEY_CURRENT_USER\Software\Microsoft\Windows\CurrentVersion\Settings "UID" = "okanrqfdwk"
HKEY_LOCAL_MACHINE\SOFTWARE\Microsoft\Windows NT\CurrentVersion\Image File Execution Options\atro55en.exe
HKEY_LOCAL_MACHINE\SOFTWARE\Microsoft\Windows NT\CurrentVersion\Image File Execution Options\bisp.exe
HKEY_LOCAL_MACHINE\SOFTWARE\Microsoft\Windows NT\CurrentVersion\Image File Execution Options\esafe.exe
HKEY_LOCAL_MACHINE\SOFTWARE\Microsoft\Windows NT\CurrentVersion\Image File Execution Options\install[4].exe
HKEY_LOCAL_MACHINE\SOFTWARE\Microsoft\Windows NT\CurrentVersion\Image File Execution Options\mssmmc32.exe
HKEY_LOCAL_MACHINE\SOFTWARE\Microsoft\Windows NT\CurrentVersion\Image File Execution Options\pcip10117_0.exe
HKEY_LOCAL_MACHINE\SOFTWARE\Microsoft\Windows NT\CurrentVersion\Image File Execution Options\scrscan.exe
HKEY_LOCAL_MACHINE\SOFTWARE\Microsoft\Windows NT\CurrentVersion\Image File Execution Options\utpost.exe