Danger level
:

9
Type:
Rogue Anti-Spyware
Common infection symptoms:
Blocks internet connection
Block exe files from running
Installs itself without permissions
Connects to the internet without permission
Normal system programs crash immediatelly
Slow internet connection
System crashes
Annoying Pop-up's
Slow Computer
Infection Video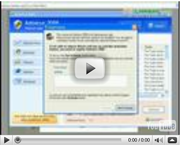 Windows Performance Adviser
It seems that computer hackers become more and more inventive every day, as they allow rogues like Windows Performance Adviser spread into the web, with utterly latent and treacherous ways. You can never know, what could be hiding in your next search result link, or your next download, as computer schemers have implemented more security cracks and backdoors than we can imagine. And the only way to prevent catching Windows Performance Adviser's infection is to stay away from illegal download sites, suspicious looking online scanners, unfamiliar senders' spam emails or various other precarious sources, which could hide fake antispyware applications. Needless to say, you need to remove Windows Performance Adviser from your Windows system as soon as you notice its existence, because this malicious program will not bring any benefits and will only make your system and your personal data vulnerable against unscrupulous schemers.
It will not be hard to realize that something is affecting your Windows system in a negative manner, and once you notice Windows Performance Adviser's computer scanner processing, you can be sure that your PC is under an attack of a vicious and highly clandestine malware. Various scan result reports, never-ending pop-ups and security warnings will not be the only infection's symptoms, and you might find that your whole PC is undergoing various malfunctions. Even though all of these symptoms are completely fictitious, you will not be able to remove them, until Windows Performance Adviser is deleted form the system. Most importantly, do not think that Windows Performance Adviser is harmless and should be ignored, because if you dismiss this computer problem, your Windows will be at high risk of other dangerous malware invasions! Moreover, whatever you do, do not think that paying for Windows Performance Adviser's fake full-version will solve any issues, because this bogus purchase will only delete all fictitious threats, but will not protect you from real malware that could attack in the future.
Computer infections can be highly dangerous both to your computer's health and your personal data's safety, so delete Windows Performance Adviser with the first chance you get. It is likely that you can remove this horrendous rogue manually, if you are an experienced Windows user; nonetheless, it is essential to have up-to-date antispyware and antivirus software protection, for both experts and inexperienced PC owners, because only such tools can guarantee that your computer will be protected from Windows Performance Adviser and similar malware.
UPDATE
Windows Performance Adviser has the ability to block your Internet browser minutes after the arrival at your computer. This feature comes as a heritage from the Rogue.VirusDoctor family and similar rogues that have been plaguing innocent users for some time now. The long list of these rogues include Windows Pro Rescuer, Windows Safety Toolkit, Windows Antivirus Care and others.
Windows Performance Adviser also shares with its predecessors a list of fake security notifications it sends to the user, because the creators of these rogues do not bother to change them:
Error
Keylogger activity detected. System information security is at risk.
It is recommended to activate protection and run a full system scan.
Error
Software without a digital signature detected.
Your system files are at risk. We strongly advise you to activate your protection.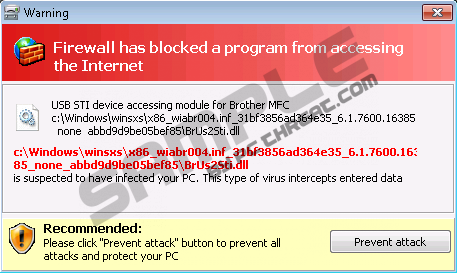 With the security notifications flooding in and your Internet browser blocked you should be more inclined on buying the full version of Windows Performance Adviser, but that would only allow the criminals behind the rogue to reach their goals. Instead, you should register Windows Performance Adviser with the following code and then proceed with the removal:
0W000-000B0-00T00-E0020
NOTE - "registration" does not REMOVE Windows Performance Adviser. The rogue is only sedated and as you can see, you can use the Internet once again. This is when you need to find yourself a powerful security tool that will erase Windows Performance Adviser without any trace.

How to renew your internet connection:
This rogue antispyware blocks your Internet connection to prevent you from removing the rogue application. To enable the Internet connection, please follow these instructions:
Open Internet Explorer and go to >Tools< select >Internet Options<

Select >Connections<

Select >LAN Settings<

Now you need to uncheck the checkbox labeled >Use a proxy server for your LAN< in Proxy Server section. Then press the >OK< button to close this screen and press the >OK< button to close the Internet Options screen.

Now you can download the SpyHunter scanner and remove the infection.

How to manually remove Windows Performance Adviser
Files associated with Windows Performance Adviser infection:
%AppData%\NPSWF32.dll
%AppData%\Protector-[Random].exe
%AppData%\result.db
%CommonStartMenu%\Programs\Windows Performance Adviser.lnk
%Desktop%\Windows Performance Adviser.lnk
Windows Performance Adviser DLL's to remove:
%AppData%\NPSWF32.dll
Windows Performance Adviser processes to kill:
%AppData%\Protector-[Random].exe
Remove Windows Performance Adviser registry entries:
HKEY_CURRENT_USER\Software\Microsoft\Windows\CurrentVersion\Run
HKEY_CURRENT_USER\Software\Microsoft\Windows\CurrentVersion\Settings "UID" = "okanrqfdwk"
HKEY_LOCAL_MACHINE\SOFTWARE\Microsoft\Windows NT\CurrentVersion\Image File Execution Options\atro55en.exe
HKEY_LOCAL_MACHINE\SOFTWARE\Microsoft\Windows NT\CurrentVersion\Image File Execution Options\bisp.exe
HKEY_LOCAL_MACHINE\SOFTWARE\Microsoft\Windows NT\CurrentVersion\Image File Execution Options\esafe.exe
HKEY_LOCAL_MACHINE\SOFTWARE\Microsoft\Windows NT\CurrentVersion\Image File Execution Options\install[4].exe
HKEY_LOCAL_MACHINE\SOFTWARE\Microsoft\Windows NT\CurrentVersion\Image File Execution Options\mssmmc32.exe
HKEY_LOCAL_MACHINE\SOFTWARE\Microsoft\Windows NT\CurrentVersion\Image File Execution Options\pcip10117_0.exe
HKEY_LOCAL_MACHINE\SOFTWARE\Microsoft\Windows NT\CurrentVersion\Image File Execution Options\scrscan.exe
HKEY_LOCAL_MACHINE\SOFTWARE\Microsoft\Windows NT\CurrentVersion\Image File Execution Options\utpost.exe