Danger level
:

9
Type:
Rogue Anti-Spyware
Common infection symptoms:
Blocks internet connection
Block exe files from running
Connects to the internet without permission
Slow internet connection
System crashes
Annoying Pop-up's
Slow Computer
Installs itself without permissions
Shows commercial adverts
Infection Video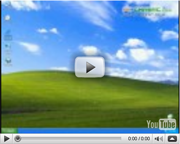 Windows Safety Toolkit
Some PC users may think they know a lot about computers and Windows security; however, once Windows Safety Toolkit invades their systems, they find out how vulnerable their PCs really are, especially if unprotected by updated security tools. One of the reasons why Windows Safety Toolkit is capable of invading and profiting from hundreds of PC users is that it mimics the looks and actions of true, effective antispywares. Nonetheless, Windows Safety Toolkit is fake, and everything it misinforms you with should be treated as lies! Do not let Windows Safety Toolkit remove your assets and delete this infection as fast as you can.
If you think that you would never allow an unlawful program run in your system, see a few examples of infected sources, Windows Safety Toolkit's schemers can use to trick you into letting the rogue running in your system, without you even realizing any danger!
• Social engineering/black hat SEO scams
• Encrypted/bundled downloads
• Spam email attachments
• Online scanners and advertisements
• Fake software (e.g. video codecs)
• Trojans
Once you get tricked by one of these deceitful paths, Windows Safety Toolkit's schemers may start their cunning tasks. The most important assignment for this fake security tool is to make you believe that your PC is being attacked by fictitious security breaching infections, and you will be fooled to believe this scam with the help of an avalanche of fake security notifications. A bogus Windows Safety Toolkit computer scanner will inform you of various infections and will recommend you to purchase its useless, full version. Whatever you do, do not believe Windows Safety Toolkit and do not spend any money on its fake full-version product, because this way you will share your highly sensitive information with true criminals!
Delete Windows Safety Toolkit from your computer and remove any chance of this rogue getting any closer to your money and personal privacy. Remember, Windows Safety Toolkit should not be ignored and should be removed with real security tools, which would be capable of performing services, Windows Safety Toolkit only falsely proclaims to administer.
UPDATE
License key: 0W000-000B0-00T00-E0020
Please use this license key to remove Windows Safety Toolkit's symptoms:
• Disabled running of most executables files
• Blocked Internet connection
• Restricted access to Registry Editor and Task Manager
Windows Safety Toolkit's license key will also help you to delete all of the fake rogue's notifications and recommendations, some of which you can see bellow.
Recommended:
Activate Windows Safety Toolkit to get ultimate protection against Identity Theft, Viruses, Malware and other threats!

Warning! Virus Detected
Threat detected: FTP Server
Infected file: C:\Windows\System32\dllcache\wmpshell.dll

Error
Keylogger activity detected. System information security is at risk.
It is recommended to activate protection and run a full system scan.

Error
Potential malware detected.
It is recommended to activate protection and perform a thorough system scan to remove the malware.
Note: it has been researched that Windows Safety Toolkit is a clone of Windows Guard Solutions, Windows Antivirus Patch, and many other alike, which hundreds of Rogue.VirusDoctor victims have already removed from their computers. All of these Windows Safety Toolkit forerunners share the same interface and unlawful purchase offering, which you should ignore like any other Windows Safety Toolkit proclamation.
6 Month $49.95
1 Year $59.95
Lifetime $79.95
+ Lifetime support $19.95
Total: 99.90USD

How to renew your internet connection:
This rogue antispyware blocks your Internet connection to prevent you from removing the rogue application. To enable the Internet connection, please follow these instructions:
Open Internet Explorer and go to >Tools< select >Internet Options<

Select >Connections<

Select >LAN Settings<

Now you need to uncheck the checkbox labeled >Use a proxy server for your LAN< in Proxy Server section. Then press the >OK< button to close this screen and press the >OK< button to close the Internet Options screen.

Now you can download the SpyHunter scanner and remove the infection.

How to manually remove Windows Safety Toolkit
Files associated with Windows Safety Toolkit infection:
Windows Safety Toolkit.lnk
Protector-cpgy.exe
Protector-itrq.exe
%Desktop%\Windows Safety Toolkit.lnk
%CommonStartMenu%\Programs\Windows Safety Toolkit.lnk
%AppData%\result.db
%AppData%\Protector-[Random].exe
%AppData%\NPSWF32.dll
Windows Safety Toolkit DLL's to remove:
%AppData%\NPSWF32.dll
Windows Safety Toolkit processes to kill:
Protector-cpgy.exe
Protector-itrq.exe
%AppData%\Protector-[Random].exe
Remove Windows Safety Toolkit registry entries:
HKEY_CURRENT_USER\Software\Microsoft\Windows\CurrentVersion\Run
HKEY_CURRENT_USER\Software\Microsoft\Windows\CurrentVersion\Settings "UID" = "okanrqfdwk"
HKEY_LOCAL_MACHINE\SOFTWARE\Microsoft\Windows NT\CurrentVersion\Image File Execution Options\atro55en.exe
HKEY_LOCAL_MACHINE\SOFTWARE\Microsoft\Windows NT\CurrentVersion\Image File Execution Options\bisp.exe
HKEY_LOCAL_MACHINE\SOFTWARE\Microsoft\Windows NT\CurrentVersion\Image File Execution Options\esafe.exe
HKEY_LOCAL_MACHINE\SOFTWARE\Microsoft\Windows NT\CurrentVersion\Image File Execution Options\install[4].exe
HKEY_LOCAL_MACHINE\SOFTWARE\Microsoft\Windows NT\CurrentVersion\Image File Execution Options\mssmmc32.exe
HKEY_LOCAL_MACHINE\SOFTWARE\Microsoft\Windows NT\CurrentVersion\Image File Execution Options\pcip10117_0.exe
HKEY_LOCAL_MACHINE\SOFTWARE\Microsoft\Windows NT\CurrentVersion\Image File Execution Options\scrscan.exe
HKEY_LOCAL_MACHINE\SOFTWARE\Microsoft\Windows NT\CurrentVersion\Image File Execution Options\utpost.exe