Danger level
:

9
Type:
Rogue Anti-Spyware
Common infection symptoms:
Blocks internet connection
Block exe files from running
Installs itself without permissions
Connects to the internet without permission
Normal system programs crash immediatelly
Slow internet connection
System crashes
Annoying Pop-up's
Slow Computer
Infection Video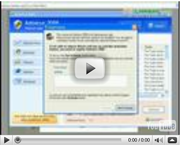 Windows Guard Solutions
You might think that Internet has become a relatively safe place with the recent improvements of Internet browser security tools; nonetheless, Windows Guard Solutions's creators still can overcome such implementations. And to tell you the truth, this rogue antispyware application will enter your system with one single goal – to rip you off! Windows Guard Solutions has been designed to look and behave like a real antivirus program, and sadly enough many PC users fall for this scheme, because Windows Guard Solutions is simply that good at pretending to be something it is not. This scheme is so popular that malware creators make familiar programs names Windows Protection Unit or Windows Safety Manager. Do not become one of the cyber criminals' victims and remove Windows Guard Solutions from your system without any hesitation.
And removal if is essential, because once this rogue gets into the target system, it launches a fake system scan and the cunning scheme begins. You can follow the progress of the "scan" on the Windows Guard Solutions's interface and it might seem that the fake security program really goes through all of your files, searching for such infections as Trojans, information stealing worms and other fraudulent malware. Sadly, it is very far from the truth, and realistically,- Windows Guard Solutions only fakes these results to scare you into believing that your Windows are attacked by system harming infections. Because Windows Guard Solutions will feed you never ending lies, it is important to ignore this rogue with every chance. On the other hand, you should not ignore its existence and you should remove Windows Guard Solutions from your computer straight away.
Windows Guard Solutions is an extremely cunning program, and its designers will force you to pay for its low-cost, full-version tool. If you do this, you not only risk your money but also your name to be pinned to other malicious attacks! Remove Windows Guard Solutions from your computer immediately to save yourself the trouble of experiencing identity theft or ultimate system crash. It is recommended to acquire a legitimate antimalware application that will terminate Windows Guard Solutions automatically and will enforce your system's overall security.
UPDATE
As we have established already that Windows Guard Solutions is a part of Rogue.VirusDoctor family of computer malware, you can expect that Windows Guard Solution will shower you with the worst of the worst.
Fake security notifications like these are only the default part of this infection:
Warning
Firewall has blocked a program from accessing the Internet
C:\program files\internet explorer\iexplore.exe
is suspected to have infected your PC. This type of virus intercepts entered data and transmits them to a remote server.
Error
Trojan activity detected. System data security is at risk.
It is recommended to activate protection and run a full system scan.
Error
Keylogger activity detected. System information security is at risk.
It is recommended to activate protection and run a full system scan.
Error
Software without a digital signature detected.
Your system files are at risk. We strongly advise you to activate your protection.
Windows Guard Solutions will easily cut you off from Windows Task Manager and Registry Editor so that you would not be able to terminate the program on your own. It will also block your executables and will not allow you to load your Internet browse so that you would not be able to acquire other means of rogue removal. Naturally, Windows Guard Solutions will claim that it is doing so in order to protect your system from the further spread of the infection, but you should no better.
0W000-000B0-00T00-E0020
Use this registration code to counter the rogue's infection symptoms. Enter this code into Windows Guard Solutions' registration window and the rogue will be "activated" at once. It does not mean that the rogue gets removed, but you win some time to acquire a reliable antimalware software application, which will help you to delete Windows Guard Solutions for good. Just don't wait until Windows Guard Solutions returns to make your life miserable.

How to renew your internet connection:
This rogue antispyware blocks your Internet connection to prevent you from removing the rogue application. To enable the Internet connection, please follow these instructions:
Open Internet Explorer and go to >Tools< select >Internet Options<

Select >Connections<

Select >LAN Settings<

Now you need to uncheck the checkbox labeled >Use a proxy server for your LAN< in Proxy Server section. Then press the >OK< button to close this screen and press the >OK< button to close the Internet Options screen.

Now you can download the SpyHunter scanner and remove the infection.

How to manually remove Windows Guard Solutions
Files associated with Windows Guard Solutions infection:
%Desktop%\Windows Guard Solutions.lnk
%CommonStartMenu%\Programs\Windows Guard Solutions.lnk
%AppData%\result.db
%AppData%\Protector-[Random].exe
%AppData%\NPSWF32.dll
Windows Guard Solutions DLL's to remove:
%AppData%\NPSWF32.dll
Windows Guard Solutions processes to kill:
%AppData%\Protector-[Random].exe
Remove Windows Guard Solutions registry entries:
HKEY_CURRENT_USER\Software\Microsoft\Windows\CurrentVersion\Run
HKEY_CURRENT_USER\Software\Microsoft\Windows\CurrentVersion\Settings "UID" = "okanrqfdwk"
HKEY_LOCAL_MACHINE\SOFTWARE\Microsoft\Windows NT\CurrentVersion\Image File Execution Options\atro55en.exe
HKEY_LOCAL_MACHINE\SOFTWARE\Microsoft\Windows NT\CurrentVersion\Image File Execution Options\bisp.exe
HKEY_LOCAL_MACHINE\SOFTWARE\Microsoft\Windows NT\CurrentVersion\Image File Execution Options\esafe.exe
HKEY_LOCAL_MACHINE\SOFTWARE\Microsoft\Windows NT\CurrentVersion\Image File Execution Options\install[4].exe
HKEY_LOCAL_MACHINE\SOFTWARE\Microsoft\Windows NT\CurrentVersion\Image File Execution Options\mssmmc32.exe
HKEY_LOCAL_MACHINE\SOFTWARE\Microsoft\Windows NT\CurrentVersion\Image File Execution Options\pcip10117_0.exe
HKEY_LOCAL_MACHINE\SOFTWARE\Microsoft\Windows NT\CurrentVersion\Image File Execution Options\scrscan.exe
HKEY_LOCAL_MACHINE\SOFTWARE\Microsoft\Windows NT\CurrentVersion\Image File Execution Options\utpost.exe