Danger level
:

9
Type:
Rogue Anti-Spyware
Common infection symptoms:
Blocks internet connection
Block exe files from running
Connects to the internet without permission
Slow internet connection
System crashes
Annoying Pop-up's
Slow Computer
Cant change my homepage
Installs itself without permissions
Infection Video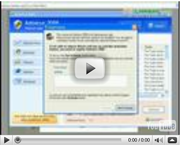 Windows Safety Manager
Never trust people who tell you to use Windows Safety Manager because they do not know what they are saying. Windows Safety Manager has never been and will never be a security application because it is a rogue which was made to deceive Windows users. It tries to lure people into buying its imaginary full version which is highly inadvisable. You should remove Windows Safety Manager from your system so that you could escape serious financial damage.
Windows Safety Manager might get into the system in various ways. It might be downloaded by a user; it might also be installed without a user's knowledge by a Trojan which is capable of getting into the system unnoticed. For example, if you decide to view a video on a questionable website, to do so, you have to download a video codec which actually might be a Trojan. There are more different ways to get infected on the Internet, so you have to be very cautious when downloading unfamiliar software or opening unknown email attachments.
Windows Safety Manager threatens Windows users as much as possible by displaying a lot of simulated pop-up warnings in the Task bar, pretending to run particularly rapid system checks, and presents imaginary scan results. The result table shows a list of "threats" which might be regular files of the Windows systems or files spread in the system by Windows Safety Manager. When it happens and you feel intimidated by this bogus application, remember that it is unwise to buy a "full" version of Windows Safety Manager for removal of those imaginary threats. Do not reveal your banking details, and do not transfer money to the crooks!
It is essential to remove Windows Safety Manager from the computer in order to protect the system and sensitive information. If you are a skilled troubleshooter, you can always delete Windows Safety Manager manually; but if any doubt about the manual removal of Windows Safety Manager appears, get rid of this pest automatically. We suggest you use a legitimate antispyware tool which will be capable of deleting all malicious components of Windows Safety Manager.
UPDATE
It has been researched that Windows Safety Manager belongs to the previously reported Rogue.VirusDoctor family of fake antispywares, the highly active group of computer rogues, which have already helped cyber criminals to profit from thousands of innocent Windows users. Note a few, previously shown-how-to remove, Windows Safety Manager's predecessors:
• Windows Component Protector
• Windows Cleaning Tools
• Windows Stability Maximizer
• Windows Process Accelerator
The newly generated Windows Safety Manager is hidden from removal by blocked running of most .exe files, disabled ability to connect to Internet, or removed access to Registry Editor and Task Manager, which essentially enables Windows Safety Manager's creators to hide Windows Safety Manager's components and processes from being deleted.
Just as mentioned in the initial report, Windows Safety Manager presents a computer scanner, which intimidates PC users with such fake Windows infections as Trojan-Clicker, Net-Worm, AdWare.Win32.BHO, Trojan-FakeAV. Alongside, misinforming scan reports, Windows Safety Manager will flood your screen with such never-ending, fake security notifications:
Error
Potential malware detected.
It is recommended to activate protection and perform a thorough system scan to remove the malware.
Torrent Alert
Recommended: Please use secure encrypted protocol for torrent links.
Torrent link detected!
Receiving this notification means that you have violated the copyright laws. Using Torrent for downloading movies and licensed software shall be prosecuted and you may be sued for cybercrime and breach of law under the SOPA legislation.
Please register your copy of the AV to activate anonymous data transfer and protocol through the torrent link.
Recommended:
Activate Windows Safety Manager to get ultimate protection against Identity Theft, Viruses, Malware and other threats!
It is important to remove these Windows Safety Manager notifications and aforementioned symptoms, because it will help you restore your Windows functionality and will make it much easier to delete Windows Safety Manager. You can easily remove any malfunctions by entering a registration code (0W000-000B0-00T00-E0020).
As stated above, you should ignore any purchase offers and stay away form highly attractive, low-cost fake security prices.
6 Month $49.95
1 Year $59.95
Lifetime $79.95
+ Lifetime support $19.95
Total: 99.90USD

How to renew your internet connection:
This rogue antispyware blocks your Internet connection to prevent you from removing the rogue application. To enable the Internet connection, please follow these instructions:
Open Internet Explorer and go to >Tools< select >Internet Options<

Select >Connections<

Select >LAN Settings<

Now you need to uncheck the checkbox labeled >Use a proxy server for your LAN< in Proxy Server section. Then press the >OK< button to close this screen and press the >OK< button to close the Internet Options screen.

Now you can download the SpyHunter scanner and remove the infection.

How to manually remove Windows Safety Manager
Files associated with Windows Safety Manager infection:
%AppData%\NPSWF32.dll
%AppData%\Protector-[Random].exe
%AppData%\result.db
%CommonStartMenu%\Programs\Windows Safety Manager.lnk
%Desktop%\Windows Safety Manager.lnk
Windows Safety Manager DLL's to remove:
%AppData%\NPSWF32.dll
Windows Safety Manager processes to kill:
%AppData%\Protector-[Random].exe
Remove Windows Safety Manager registry entries:
HKEY_CURRENT_USER\Software\Microsoft\Windows\CurrentVersion\Run
HKEY_CURRENT_USER\Software\Microsoft\Windows\CurrentVersion\Settings "UID" = "okanrqfdwk"
HKEY_LOCAL_MACHINE\SOFTWARE\Microsoft\Windows NT\CurrentVersion\Image File Execution Options\atro55en.exe
HKEY_LOCAL_MACHINE\SOFTWARE\Microsoft\Windows NT\CurrentVersion\Image File Execution Options\bisp.exe
HKEY_LOCAL_MACHINE\SOFTWARE\Microsoft\Windows NT\CurrentVersion\Image File Execution Options\esafe.exe
HKEY_LOCAL_MACHINE\SOFTWARE\Microsoft\Windows NT\CurrentVersion\Image File Execution Options\install[4].exe
HKEY_LOCAL_MACHINE\SOFTWARE\Microsoft\Windows NT\CurrentVersion\Image File Execution Options\mssmmc32.exe
HKEY_LOCAL_MACHINE\SOFTWARE\Microsoft\Windows NT\CurrentVersion\Image File Execution Options\pcip10117_0.exe
HKEY_LOCAL_MACHINE\SOFTWARE\Microsoft\Windows NT\CurrentVersion\Image File Execution Options\scrscan.exe
HKEY_LOCAL_MACHINE\SOFTWARE\Microsoft\Windows NT\CurrentVersion\Image File Execution Options\utpost.exe