Danger level
:

9
Type:
Rogue Anti-Spyware
Common infection symptoms:
Blocks internet connection
Block exe files from running
Installs itself without permissions
Slow internet connection
System crashes
Annoying Pop-up's
Slow Computer
Cant change my homepage
Connects to the internet without permission
Infection Video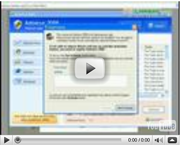 Windows Antivirus Patch
If Windows Antivirus Patch keeps threatening you that your PC's system is under threat, keep in mind that everything it tells is a lie, and you should remove it as soon as possible. Cyber criminals have created Windows Antivirus Patch in order to gather financial information from users and to steal their money afterwards.
Windows Antivirus Patch does its best to make you think that you are at risk. For example, it constantly "checks" your system and displays imaginary scan results showing that the system is vulnerable to such fake threats as malware, Trojans, and unknown viruses. Moreover, the task bar pops up bogus warnings reminding you about supposed risks. You might get more intimidating malfunctions of the system, and all this is done to make you buy a fake Windows Antivirus Patch's full version which supposedly deletes all "infections". You should ignore Windows Antivirus Patch's lies and remove it from the system immediately.
Windows Antivirus Patch can be deleted either manually or automatically. Do not overestimate your abilities to remove Windows Antivirus Patch manually, because manual removal is a cumbersome procedure, and it has to be performed very thoroughly. Automatic deletion of the rogue is much easier, because you do not have to find and get rid of malicious components of the rogue one by one. A legitimate antispyware tool runs all processes automatically, and you do not have to worry whether you will delete Windows Antivirus Patch completely or not. Thus, we strongly recommend using an antispyware tool in order to get rid of this malware.
UPDATE
Windows Antivirus Patch is a cunning Rogue.VirusDoctor family member, which causes such computer dysfunctions, as blocked running of most executables, inability to connect to Internet or access important Windows Tools (Registry Editor and Task Manager). These malfunctions may fool PC users that their computers are truthfully under an attack of Windows Antivirus Patch proclaimed infections; however, the real purpose of these symptoms is to disguise the fake antispyware and keep it safe from being deleted. Luckily, you can remove all of these dysfunctions by entering an activation code into the appropriate registration area. Do not forget that this will not remove Windows Antivirus Patch from your computer, and you will have to continue with either the complicated manual removal option or the installation of legal AV tools.
Activation key:
0W000-000B0-00T00-E0020
Please note some of the Windows Antivirus Patch fake notifications. This will help you identify and remove the bogus application, before any grave damage is done to your Windows system.
Recommended:
Activate Windows Antivirus Patch to get ultimate protection against Identity Theft, Viruses, Malware and other threats!
Warning! Identity theft attempt Detected
Hidden connection IP: 58.82.12.124
Target: Your passwords for sites
Error
Potential malware detected.
It is recommended to activate protection and perform a thorough system scan to remove the malware.
Also, be aware of these fake statements, found in Windows Antivirus Patch's purchase page:
• 30 Day Money Back Guarantee
• Verified by Visa
• MasterCard SecureCode

How to renew your internet connection:
This rogue antispyware blocks your Internet connection to prevent you from removing the rogue application. To enable the Internet connection, please follow these instructions:
Open Internet Explorer and go to >Tools< select >Internet Options<

Select >Connections<

Select >LAN Settings<

Now you need to uncheck the checkbox labeled >Use a proxy server for your LAN< in Proxy Server section. Then press the >OK< button to close this screen and press the >OK< button to close the Internet Options screen.

Now you can download the SpyHunter scanner and remove the infection.

How to manually remove Windows Antivirus Patch
Files associated with Windows Antivirus Patch infection:
%Desktop%\Windows Antivirus Patch.lnk
%CommonStartMenu%\Programs\Windows Antivirus Patch.lnk
%AppData%\result.db
%AppData%\Protector-[Random].exe
%AppData%\NPSWF32.dll
Protector-yblo.exe
Windows Antivirus Patch DLL's to remove:
%AppData%\NPSWF32.dll
Windows Antivirus Patch processes to kill:
%AppData%\Protector-[Random].exe
Remove Windows Antivirus Patch registry entries:
HKEY_CURRENT_USER\Software\Microsoft\Windows\CurrentVersion\Run
HKEY_CURRENT_USER\Software\Microsoft\Windows\CurrentVersion\Settings "UID" = "okanrqfdwk"
HKEY_LOCAL_MACHINE\SOFTWARE\Microsoft\Windows NT\CurrentVersion\Image File Execution Options\atro55en.exe
HKEY_LOCAL_MACHINE\SOFTWARE\Microsoft\Windows NT\CurrentVersion\Image File Execution Options\bisp.exe
HKEY_LOCAL_MACHINE\SOFTWARE\Microsoft\Windows NT\CurrentVersion\Image File Execution Options\esafe.exe
HKEY_LOCAL_MACHINE\SOFTWARE\Microsoft\Windows NT\CurrentVersion\Image File Execution Options\install[4].exe
HKEY_LOCAL_MACHINE\SOFTWARE\Microsoft\Windows NT\CurrentVersion\Image File Execution Options\mssmmc32.exe
HKEY_LOCAL_MACHINE\SOFTWARE\Microsoft\Windows NT\CurrentVersion\Image File Execution Options\pcip10117_0.exe
HKEY_LOCAL_MACHINE\SOFTWARE\Microsoft\Windows NT\CurrentVersion\Image File Execution Options\scrscan.exe
HKEY_LOCAL_MACHINE\SOFTWARE\Microsoft\Windows NT\CurrentVersion\Image File Execution Options\utpost.exe