Danger level
:

9
Type:
Rogue Anti-Spyware
Common infection symptoms:
Blocks internet connection
Block exe files from running
Installs itself without permissions
Connects to the internet without permission
Normal system programs crash immediatelly
Slow internet connection
System crashes
Annoying Pop-up's
Slow Computer
Infection Video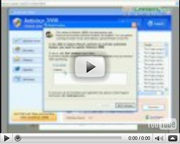 Windows Trouble Taker
If your computer is acting slowly without any obvious reason and Windows Trouble Taker computer scanner sends you various security messages one after the other, it is possible that your operating Windows system has been infected by Windows Trouble Taker, a sinister program, which mimics real Windows antispywares and has fooled thousands of PC users all across the globe. Windows Trouble Taker's creators know exactly what they are doing, and this rogue will stop at nothing until it either removes your system privileges or rips you off.
Windows Trouble Taker can get installed onto your computer without your knowledge or consent, and once this is done, Windows Trouble Taker will modify Windows start-up to allow malicious processes run automatically whenever you start your PC. The rogue will pretend to be a legitimate antivirus program, scaring you into believing that your computer is seriously infected, with the help of never ending pop-ups and other notifications. This way Windows Trouble Taker will push you into purchasing a full-version tool, which has no ability to protect and should be removed immediately. If you waste your money on Windows Trouble Taker's license you will only waste your good money, and your computer will become completely unprotected against any low or high risk malware.
Do yourself a favor and remove Windows Trouble Taker as soon as you can. If you cannot perform this manually, get yourself an antimalware program, which will delete Windows Trouble Taker from your system without in no time. Also, do not forget that even if you spend money on Windows Trouble Taker's useless tool and all infection's symptoms seem to disappear, it does not mean that the infectious files are gone. Moreover, there is no way to tell, whether these files will not instigate another infection, which will attempt to extract even more of your money!
UPDATE
The most disturbing thing about Windows Trouble Taker is that it blocks your Internet browser (whether it is Internet Explorer, Firefox or Chrome) instantly or sometimes within 15 to 30 seconds. This way Windows Trouble Taker successfully cuts you off from your information source, and renders the task of removing Windows Trouble Taker a lot harder.
Unfortunately, Internet connection is not the only thing Windows Trouble Taker blocks. It also does not allow you to run various programs, and blocks you from opening Windows Task Manager and Registry Editor. The latter two system tools are essential in manual rogue removal, so to put it simply, Windows Trouble Taker does everything it can to prolong its stay in your system.
However, even though this rogue is exceptionally frustrating, you can get your tools and your Internet connection for a time being. All you have to do is use this activation key to "register" Windows Trouble Taker:
0W000-000B0-00T00-E0020
Registered Windows Trouble Taker will behave as though you have purchased the full version of the program and it will no longer display the following fraudulent security messages:
Error
Keylogger activity detected. System information security is at risk.
It is recommended to activate protection and run a full system scan.
Error
Software without a digital signature detected.
Your system files are at risk. We strongly advise you to activate your protection.
Nevertheless, you have to act fast and do not wait until Windows Trouble Taker comes back. Do not attempt to destroy the rogue manually if you are not a computer expert. Rather than damaging your system even further, acquire a legitimate computer safeguard application that will delete Windows Trouble Taker from your computer without further ado.

How to renew your internet connection:
This rogue antispyware blocks your Internet connection to prevent you from removing the rogue application. To enable the Internet connection, please follow these instructions:
Open Internet Explorer and go to >Tools< select >Internet Options<

Select >Connections<

Select >LAN Settings<

Now you need to uncheck the checkbox labeled >Use a proxy server for your LAN< in Proxy Server section. Then press the >OK< button to close this screen and press the >OK< button to close the Internet Options screen.

Now you can download the SpyHunter scanner and remove the infection.

How to manually remove Windows Trouble Taker
Files associated with Windows Trouble Taker infection:
%AppData%\NPSWF32.dll
%AppData%\Protector-[Random].exe
%AppData%\result.db
%Desktop%\Windows Trouble Taker.lnk
%CommonStartMenu%\Programs\Windows Trouble Taker.lnk
Windows Trouble Taker DLL's to remove:
%AppData%\NPSWF32.dll
Windows Trouble Taker processes to kill:
%AppData%\Protector-[Random].exe
Remove Windows Trouble Taker registry entries:
HKEY_CURRENT_USER\Software\Microsoft\Windows\CurrentVersion\Run
HKEY_CURRENT_USER\Software\Microsoft\Windows\CurrentVersion\Settings "UID" = "okanrqfdwk"
HKEY_LOCAL_MACHINE\SOFTWARE\Microsoft\Windows NT\CurrentVersion\Image File Execution Options\atro55en.exe
HKEY_LOCAL_MACHINE\SOFTWARE\Microsoft\Windows NT\CurrentVersion\Image File Execution Options\bisp.exe
HKEY_LOCAL_MACHINE\SOFTWARE\Microsoft\Windows NT\CurrentVersion\Image File Execution Options\esafe.exe
HKEY_LOCAL_MACHINE\SOFTWARE\Microsoft\Windows NT\CurrentVersion\Image File Execution Options\install[4].exe
HKEY_LOCAL_MACHINE\SOFTWARE\Microsoft\Windows NT\CurrentVersion\Image File Execution Options\mssmmc32.exe
HKEY_LOCAL_MACHINE\SOFTWARE\Microsoft\Windows NT\CurrentVersion\Image File Execution Options\pcip10117_0.exe
HKEY_LOCAL_MACHINE\SOFTWARE\Microsoft\Windows NT\CurrentVersion\Image File Execution Options\scrscan.exe
HKEY_LOCAL_MACHINE\SOFTWARE\Microsoft\Windows NT\CurrentVersion\Image File Execution Options\utpost.exe