Danger level
:

9
Type:
Rogue Anti-Spyware
Common infection symptoms:
Blocks internet connection
Block exe files from running
Installs itself without permissions
Connects to the internet without permission
Normal system programs crash immediatelly
Slow internet connection
System crashes
Annoying Pop-up's
Slow Computer
Infection Video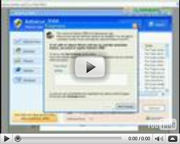 Windows Defending Center
Now it is more difficult than ever to separate real antispywares, from fake security programs, like Windows Defending Center, as legitimate and rogue tools have many visual similarities, and it may be tricky to recognize from first sight, which of them have security value and which are only after your money! If you take the slippery road of Windows Defending Center, before you know it, you will stand empty-handed and exposed to numerous malicious Trojans, adware, worms and other malware. Moreover, if you believe Windows Defending Center's credibility, you will be forced to pay for a useless security license, which will make you disclose your highly sensitive, personal information.
Once Windows Defending Center's hackers will find a security loophole and infiltrate your personal computer with the infection, you will experience various disturbing malfunctions, which Windows Defending Center hackers' implement to trick you into believing the fictitious threat, and hide malignant files from being detected and deleted. If you have already noticed any disturbing dysfunctions, you must have also been bombarded with never stopping pop-ups, alerts and other Windows Defending Center's security messages, notifying you of fake threats.
Whatever you do, ignore all fake notifications and do not pay attention to any purchase offers and recommendations generated by Windows Defending Center's scanners and alerts. If you purchase the licensed version of this bogus tool, you will acquire software, which will only remove its own warning messages, and will not protect you from real, hazardous Trojans and viruses. Who would want such software running in their computers? Simply install a trustworthy antispyware tool and remove Windows Defending Center as quick as possible, because only this will help you protect your system. For the future reference, act carefully when surfing on the net, because such malware as Windows Defending Center could be hiding anywhere!
UPDATE
As it has been mentioned above, Windows Defending Center will be sure to send you fake security notifications that include the following messages:
Warning
Firewall has blocked a program from accessing the Internet
C:\program files\internet explorer\iexplore.exe
is suspected to have infected your PC. This type of virus intercepts entered data and transmits them to a remote server.
Error
Attempt to modify registry key entries detected. Registry entry analysis is recommended.
Warning! Identity theft attempt Detected
Hidden connection IP: 58.82.12.124
Target: Your passwords for sites
If you want these messages to disappear, you should "register" Windows Defending Center with this activation key:
0W000-000B0-00T00-E0020
Not only will it make the fake security messages disappear, after the "activation", you will get some system tools back such as Windows Task Manager or Registry Editor. Windows Defending Center is very good a blocking those, because it tries to protect itself from being removed. "Registration" will also allow you to load certain executables and your Internet browser, since Windows Defending Center will already have successfully blocked these as well.
Nevertheless, getting your tools and programs back does not mean that Windows Defending Center disappears from your computer. The rogue is still there, and it will definitely come back to destroy your system if you simply leave it at it. Get yourself a reliable computer safeguard tool to remove Windows Defending Center for good, if you are not confident of your own malware removal skills, and make sure that no rogue trespasses into your system again.

How to renew your internet connection:
This rogue antispyware blocks your Internet connection to prevent you from removing the rogue application. To enable the Internet connection, please follow these instructions:
Open Internet Explorer and go to >Tools< select >Internet Options<

Select >Connections<

Select >LAN Settings<

Now you need to uncheck the checkbox labeled >Use a proxy server for your LAN< in Proxy Server section. Then press the >OK< button to close this screen and press the >OK< button to close the Internet Options screen.

Now you can download the SpyHunter scanner and remove the infection.

How to manually remove Windows Defending Center
Files associated with Windows Defending Center infection:
%CommonStartMenu%\Programs\Windows Defending Center.lnk
%Desktop%\Windows Defending Center.lnk
%AppData%\result.db
%AppData%\Protector-[Random].exe
%AppData%\NPSWF32.dll
Windows Defending Center DLL's to remove:
%AppData%\NPSWF32.dll
Windows Defending Center processes to kill:
%AppData%\Protector-[Random].exe
Remove Windows Defending Center registry entries:
HKEY_CURRENT_USER\Software\Microsoft\Windows\CurrentVersion\Run
HKEY_CURRENT_USER\Software\Microsoft\Windows\CurrentVersion\Settings "UID" = "okanrqfdwk"
HKEY_LOCAL_MACHINE\SOFTWARE\Microsoft\Windows NT\CurrentVersion\Image File Execution Options\atro55en.exe
HKEY_LOCAL_MACHINE\SOFTWARE\Microsoft\Windows NT\CurrentVersion\Image File Execution Options\bisp.exe
HKEY_LOCAL_MACHINE\SOFTWARE\Microsoft\Windows NT\CurrentVersion\Image File Execution Options\esafe.exe
HKEY_LOCAL_MACHINE\SOFTWARE\Microsoft\Windows NT\CurrentVersion\Image File Execution Options\install[4].exe
HKEY_LOCAL_MACHINE\SOFTWARE\Microsoft\Windows NT\CurrentVersion\Image File Execution Options\mssmmc32.exe
HKEY_LOCAL_MACHINE\SOFTWARE\Microsoft\Windows NT\CurrentVersion\Image File Execution Options\pcip10117_0.exe
HKEY_LOCAL_MACHINE\SOFTWARE\Microsoft\Windows NT\CurrentVersion\Image File Execution Options\scrscan.exe
HKEY_LOCAL_MACHINE\SOFTWARE\Microsoft\Windows NT\CurrentVersion\Image File Execution Options\utpost.exe