Danger level
:

9
Type:
Rogue Anti-Spyware
Common infection symptoms:
Blocks internet connection
Block exe files from running
Installs itself without permissions
Connects to the internet without permission
Normal system programs crash immediatelly
Slow internet connection
System crashes
Annoying Pop-up's
Slow Computer
Infection Video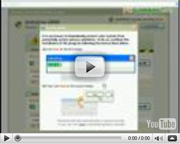 Windows Guardian Angel
The newest rogue antispyware application Windows Guardian Angel is capable of attacking a countless number of PC users, who can infect their Windows systems simply by acting carelessly around the internet. The bogus program travels through various security loopholes, such as bundled downloads from unreliable sources, or spam email attachments. It is also possible that Windows Guardian Angel comes via a Trojan, which is secretly infecting your system with malware. This security tool is completely fake and will not provide any beneficial services, so remove Windows Guardian Angel immediately, to protect your system from its sinister schemes.
When Windows Guardian Angel is downloaded and installed on a computer, it immediately affects your system, which slows down, and a fake computer scanner starts running, counting fictitious threats. All discovered Trojans and worms are non-existent in your PC, and you should not worry about them. You should also ignore various pop-ups or recommendations, because they are fake too! Windows Guardian Angel creators want you to believe that the infection in your Windows system is real, because that way it will become much easier for them to trick you into paying for Windows Guardian Angel's full version, which is completely useless. Moreover, if you pay money for this bogus service you could easily become a target for further schemes, using your personal details collected during the purchase.
Windows Guardian Angel is a malignant program, which will have no positive effect on your system's security, and will expose you to identity theft risk. Remove Windows Guardian Angel at once, because only this will delete the infection from your Windows system. Do not waste money on useless and possibly dangerous tools, and invest it into an effectual antispyware, which will remove Windows Guardian Angel, and protect you in the future.
UPDATE
When you are infected with Windows Guardian Angel you are bound to receive the following fake security notifications:
Error
Attempt to modify registry key entries detected. Registry entry analysis is recommended.
Warning! Identity theft attempt Detected
Hidden connection IP: 58.82.12.124
Target: Your passwords for sites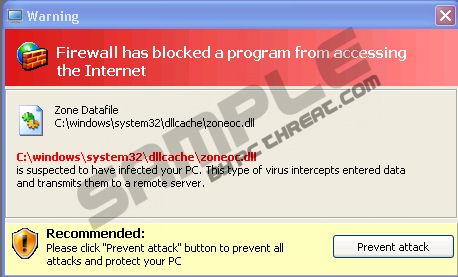 These messages are common to most of the rogues from the Rogue.VirusDoctor family, including Windows Personal Doctor, Windows Personal Detective, Windows Trojans Sleuth and others. Needless to say, that the symptoms of Windows Guardian Angel's infection are also very similar to those of the previous versions of this rogue.
Windows Guardian Angel has something that you will definitely find very frustrating - block namely, it's ability to block executables. Unless you remove it, the rogue does not allow you to load certain programs, claiming that they are infected and must be closed for the good of the rest of your system. Windows Guardian Angel also does not allow you to open Registry Editor and Windows Task Manager. These utilities are blocked, because Windows Guardian Angel needs to remain in your system for as long as possible.
However, you can counter it by entering this activation key into Windows Guardian Angel's activation window:
0W000-000B0-00T00-E0020
The rogue will act as if it really has been "registered" and this is when you have to terminate Windows Guardian Angel on your or invest in a security tool that will remove Windows Guardian Angel for you automatically.

How to renew your internet connection:
This rogue antispyware blocks your Internet connection to prevent you from removing the rogue application. To enable the Internet connection, please follow these instructions:
Open Internet Explorer and go to >Tools< select >Internet Options<

Select >Connections<

Select >LAN Settings<

Now you need to uncheck the checkbox labeled >Use a proxy server for your LAN< in Proxy Server section. Then press the >OK< button to close this screen and press the >OK< button to close the Internet Options screen.

Now you can download the SpyHunter scanner and remove the infection.

How to manually remove Windows Guardian Angel
Files associated with Windows Guardian Angel infection:
%Desktop%\Windows Guardian Angel.lnk
%CommonStartMenu%\Programs\Windows Guardian Angel.lnk
%AppData%\result.db
%AppData%\Protector-[Random].exe
%AppData%\NPSWF32.dll
Windows Guardian Angel DLL's to remove:
%AppData%\NPSWF32.dll
Windows Guardian Angel processes to kill:
%AppData%\Protector-[Random].exe
Remove Windows Guardian Angel registry entries:
HKEY_CURRENT_USER\Software\Microsoft\Windows\CurrentVersion\Internet Settings "WarnOnHTTPSToHTTPRedirect" = 0
HKEY_CURRENT_USER\Software\Microsoft\Windows\CurrentVersion\Policies\System "DisableRegedit" = 0
HKEY_CURRENT_USER\Software\Microsoft\Windows\CurrentVersion\Policies\System "DisableRegistryTools" = 0
HKEY_CURRENT_USER\Software\Microsoft\Windows\CurrentVersion\Policies\System "DisableTaskMgr" = 0
HKEY_CURRENT_USER\Software\Microsoft\Windows\CurrentVersion\Run "Inspector"
HKEY_CURRENT_USER\Software\Microsoft\Windows\CurrentVersion\Settings "net" = 2012-3-5_1
HKEY_LOCAL_MACHINE\SOFTWARE\Microsoft\Internet Explorer\Main\FeatureControl\FEATURE_ERROR_PAGE_BYPASS_ZONE_CHECK_FOR_HTTPS_KB954312
HKEY_LOCAL_MACHINE\SOFTWARE\Microsoft\Windows NT\CurrentVersion\Image
HKEY_LOCAL_MACHINE\SOFTWARE\Microsoft\Windows NT\CurrentVersion\Image File Execution Options\antivirus.exe
HKEY_LOCAL_MACHINE\SOFTWARE\Microsoft\Windows NT\CurrentVersion\Image File Execution Options\autoupdate.exe