Danger level
:

9
Type:
Rogue Anti-Spyware
Common infection symptoms:
Blocks internet connection
Block exe files from running
Installs itself without permissions
Connects to the internet without permission
Slow internet connection
System crashes
Annoying Pop-up's
Slow Computer
Infection Video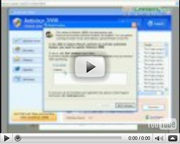 Windows Health Keeper
If you have noticed Windows Health Keeper running in your system, do not think that this program has anything to do with your computers protection! In fact, the fake antispyware tool is exactly the reason why you need AV tools in the first place, as this bogus application will pretend to be a legitimate tool and will make you think that your system is infected when in reality, Windows Health Keeper might be the only malware active in your PC. So do not wait and remove Windows Health Keeper, before it invades your privacy and exposes your system to further infections.
You can catch Windows Health Keeper via various security cracks, such as online scanners, black hat SEO or social engineering scams, bundled downloads, malicious Trojans, and many other loopholes that hackers keep applying for their fraudulent intentions. And once Windows Health Keeper starts running in your PC, an uncouth computer scanner will start processing your computer's infections. Do not worry, because none of the Windows Health Keeper scanner reports or various notifications popping up on your screen represent the true state of your Windows security, and since there is no way for you to remove these annoying alerts, ignoring them is the only option you have got. However, if you ignore Windows Health Keeper altogether for any longer, this will not solve the problem and will only make your PC more vulnerable to other malware.
Windows Health Keeper is a dangerous application, which will only mimic a legitimate tool to make you believe its credibility and will push you into buying its bogus full version. Needless to say, this tool is completely useless in your system, because its only purpose is to get your money, so remove Windows Health Keeper before it misleads you with deceitful lies. To delete the infection, purchase a legitimate antispyware program, because this way you will acquire full-time protection for your system and your personal information.
UPDATE
Once Windows Health Keeper infiltrates your personal computer, it can cause severe Windows system malfunctions:
• Restricted access to Task Manager and Registry Editor
• Disabled access to Internet connection
• Blocked running of executable files
Because of these restrictions, it will become extremely difficult to detect and remove Windows Health Keeper from the system. Additionally, you will be bombarded with multiple security notifications, which you will not be able to remove from your screen. See a few examples:
Error
Potential malware detected.
It is recommended to activate protection and perform a thorough system scan to remove the malware.
Torrent Alert
Recommended: Please use secure encrypted protocol for torrent links.
Torrent link detected!
Receiving this notification means that you have violated the copyright laws. Using Torrent for downloading movies and licensed software shall be prosecuted and you may be sued for cybercrime and breach of law under the SOPA legislation.
Please register your copy of the AV to activate anonymous data transfer and protocol through the torrent link.
Warning
Firewall has blocked a program from accessing the Internet.
Windows Media Player Resources
C:\Windows\system32\dllcache\wmploc.dll
C:\Windows\system32\dllcache\wmploc.dll is suspected to have infected your PC. This type of virus intercepts entered data and transmits them to a remote server.
If you have already been deceived by cyber criminals behind the deceitful Windows Health Keeper and other Rogue.VirusDoctor family fake antispywares (Windows No-Risk Center or Windows Antihazard Solution), do not dismiss the incident and inform your bank immediately, because your bank account details and other sensitive details are now available to hackers and their associates, who could remove all of your savings for their own malicious aims. Moreover, even if you have been fooled, it does not mean that Windows Health Keeper is gone, and you still need to delete it from your system!
If you are still struggling with obnoxious pop-ups and alerts, we recommend using a license number, which will remove these symptoms and will allow you to start infection's removal procedures.
License number: 0W000-000B0-00T00-E0020

How to renew your internet connection:
This rogue antispyware blocks your Internet connection to prevent you from removing the rogue application. To enable the Internet connection, please follow these instructions:
Open Internet Explorer and go to >Tools< select >Internet Options<

Select >Connections<

Select >LAN Settings<

Now you need to uncheck the checkbox labeled >Use a proxy server for your LAN< in Proxy Server section. Then press the >OK< button to close this screen and press the >OK< button to close the Internet Options screen.

Now you can download the SpyHunter scanner and remove the infection.

How to manually remove Windows Health Keeper
Files associated with Windows Health Keeper infection:
%AppData%\NPSWF32.dll
%AppData%\Protector-[Random].exe
%AppData%\result.db
%CommonStartMenu%\Programs\Windows Health Keeper.lnk
%Desktop%\Windows Health Keeper.lnk
Windows Health Keeper DLL's to remove:
%AppData%\NPSWF32.dll
Windows Health Keeper processes to kill:
%AppData%\Protector-[Random].exe
Remove Windows Health Keeper registry entries:
HKEY_CURRENT_USER\Software\Microsoft\Windows\CurrentVersion\Internet Settings "WarnOnHTTPSToHTTPRedirect" = 0
HKEY_CURRENT_USER\Software\Microsoft\Windows\CurrentVersion\Policies\System "DisableRegedit" = 0
HKEY_CURRENT_USER\Software\Microsoft\Windows\CurrentVersion\Policies\System "DisableRegistryTools" = 0
HKEY_CURRENT_USER\Software\Microsoft\Windows\CurrentVersion\Policies\System "DisableTaskMgr" = 0
HKEY_CURRENT_USER\Software\Microsoft\Windows\CurrentVersion\Run "Inspector"
HKEY_CURRENT_USER\Software\Microsoft\Windows\CurrentVersion\Settings "net" = 2012-3-5_1
HKEY_LOCAL_MACHINE\SOFTWARE\Microsoft\Internet Explorer\Main\FeatureControl\FEATURE_ERROR_PAGE_BYPASS_ZONE_CHECK_FOR_HTTPS_KB954312
HKEY_LOCAL_MACHINE\SOFTWARE\Microsoft\Windows NT\CurrentVersion\Image
HKEY_LOCAL_MACHINE\SOFTWARE\Microsoft\Windows NT\CurrentVersion\Image File Execution Options\antivirus.exe
HKEY_LOCAL_MACHINE\SOFTWARE\Microsoft\Windows NT\CurrentVersion\Image File Execution Options\autoupdate.exe