Danger level
:

9
Type:
Rogue Anti-Spyware
Common infection symptoms:
Blocks internet connection
Block exe files from running
Installs itself without permissions
Connects to the internet without permission
Normal system programs crash immediatelly
Slow internet connection
System crashes
Annoying Pop-up's
Slow Computer
Infection Video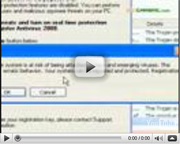 Windows No-Risk Center
No matter how hard the computer security specialists try to tackle down the distribution of rogue antispyware, such applications as Windows No-Risk Center still infect thousands of users around the globe. True to its nature, Windows No-Risk Center poses as a reliable computer program that can protect you from various threats. Unfortunately, it is a dangerous threat itself, and before your computer gets damaged beyond repair, you need to get rid of Windows No-Risk Center.
This rogue can find its way to your system via fake online malware scanners, hacked websites, social engineering and other ways of distribution. You have to be especially careful when you receive messages on social websites from people you don't know, asking you to follow the link they have posted. That link usually contains the infection that automatically installs Windows No-Risk Center and then you have to brace yourself against the wearisome battle with the rogue. You might want to consider changing your password on the social website as well.
When you deal with Windows No-Risk Center, do not pay attention to the scan results and the fake security notifications received from this rogue. Everything is a downright lie and you must remove Windows No-Risk Center before it swindled you out of your money and crippled your system. Consider investing in a legitimate computer safeguard tool to protect your system against similar attacks in the future. Do all it takes to get rid of Windows No-Risk Center.
UPDATE
Windows No-Risk Center certainly is not a newbie in the field. You have to understand how important it is to remove the rogue, because Windows No-Risk Center is a direct clone of Windows Antihazard Solution, Windows Managing System, Windows Risk Minimizer and other dangerous computer threats from the Rogue.Virus Doctor family.
Sometimes it might be hard to even think about deleting it, keeping in mind the galore of fake security notifications the rogue bombards you with. Then you should use the following activation key:
0W000-000B0-00T00-E0020
Click the "Activate Ultimate Protection" button at the top-left corner and enter the code into the registration window. Windows No-Risk Center will be overridden, and you will no longer see these fake messages invade your screen:
Warning! Identity theft attempt Detected
Hidden connection IP: 58.82.12.124
Target: Your passwords for sites
Warning
Firewall has blocked a program from accessing the Internet
C:\program files\internet explorer\iexplore.exe
is suspected to have infected your PC. This type of virus intercepts entered data and transmits them to a remote server.
Error
Keylogger activity detected. System information security is at risk.
It is recommended to activate protection and run a full system scan.
Your Windows Task Manager and Registry Editor should also work again, since Windows No-Risk Center is known to block these two utilities in order to avoid removal. However, using the activation key does not mean that Windows No-Risk Center is gone. The rogue is only sedated for a time being, and you need to terminate it for good in order to avoid further complications.
If you have no idea how to remove Windows No-Risk Center on your own, feel free to invest in a reliable antimalware product that will delete the rogue and all of its components in no time. Do all it takes to protect your computer from similar threats.

How to renew your internet connection:
This rogue antispyware blocks your Internet connection to prevent you from removing the rogue application. To enable the Internet connection, please follow these instructions:
Open Internet Explorer and go to >Tools< select >Internet Options<

Select >Connections<

Select >LAN Settings<

Now you need to uncheck the checkbox labeled >Use a proxy server for your LAN< in Proxy Server section. Then press the >OK< button to close this screen and press the >OK< button to close the Internet Options screen.

Now you can download the SpyHunter scanner and remove the infection.

How to manually remove Windows No-Risk Center
Files associated with Windows No-Risk Center infection:
%AppData%\NPSWF32.dll
%AppData%\Protector-[Random].exe
%AppData%\result.db
%CommonStartMenu%\Programs\Windows No-Risk Center.lnk
%Desktop%\Windows No-Risk Center.lnk
Windows No-Risk Center DLL's to remove:
%AppData%\NPSWF32.dll
Windows No-Risk Center processes to kill:
%AppData%\Protector-[Random].exe
Remove Windows No-Risk Center registry entries:
HKEY_CURRENT_USER\Software\Microsoft\Windows\CurrentVersion\Internet Settings "WarnOnHTTPSToHTTPRedirect" = 0
HKEY_CURRENT_USER\Software\Microsoft\Windows\CurrentVersion\Policies\System "DisableRegedit" = 0
HKEY_CURRENT_USER\Software\Microsoft\Windows\CurrentVersion\Policies\System "DisableRegistryTools" = 0
HKEY_CURRENT_USER\Software\Microsoft\Windows\CurrentVersion\Policies\System "DisableTaskMgr" = 0
HKEY_CURRENT_USER\Software\Microsoft\Windows\CurrentVersion\Run "Inspector"
HKEY_CURRENT_USER\Software\Microsoft\Windows\CurrentVersion\Settings "net" = 2012-3-5_1
HKEY_LOCAL_MACHINE\SOFTWARE\Microsoft\Internet Explorer\Main\FeatureControl\FEATURE_ERROR_PAGE_BYPASS_ZONE_CHECK_FOR_HTTPS_KB954312
HKEY_LOCAL_MACHINE\SOFTWARE\Microsoft\Windows NT\CurrentVersion\Image
HKEY_LOCAL_MACHINE\SOFTWARE\Microsoft\Windows NT\CurrentVersion\Image File Execution Options\antivirus.exe
HKEY_LOCAL_MACHINE\SOFTWARE\Microsoft\Windows NT\CurrentVersion\Image File Execution Options\autoupdate.exe