Danger level
:

9
Type:
Rogue Anti-Spyware
Common infection symptoms:
Block exe files from running
Installs itself without permissions
Connects to the internet without permission
Normal system programs crash immediatelly
Slow internet connection
System crashes
Annoying Pop-up's
Slow Computer
Infection Video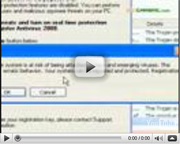 Windows Threats Destroyer
What would you call someone who collects your data and profits from you by fraud? A thief? Well, Windows Threats Destroyer is the realest of them all! This obscene application is the clone of such Rogue.VirusDoctor family members as Windows Firewall Constructor, Windows Stability Guard, and many others, and it can easily make you believe its veracity. If you look at Windows Threats Destroyer's interface, it is simple to trust that the application is real; especially because of its Windows Security Center and Firewall imitations. But if you embrace the rogue before realizing its intentions, you will become an easy target to cyber criminals. Therefore, to avoid the time-consuming problems and risks, remove Windows Threats Destroyer from your PC.
Windows Threats Destroyer has various means of infiltration, and once this sinister application starts running on your PC, it starts acting as a genuine application, and if you treat it like one, here is what you are facing. In the first stage of the scheme, you will be convinced that your system is under a serious threat. A fake Windows Threats Destroyer scanner will inform you about Trojans and worms infecting your computer, and you will be bombarded with a number of bogus notifications and alerts (see examples bellow). Windows Threats Destroyer will also prevent you from accessing Windows Registry and Task Manager, and most important executable files will be suspended from running.
Warning
Firewall has blocked a program from accessing the Internet.
Windows Media Player Resources
C:\Windows\system32\dllcache\wmploc.dll
C:\Windows\system32\dllcache\wmploc.dll is suspected to have infected your PC. This type of virus intercepts entered data and transmits them to a remote server.
Error
Keylogger activity detected. System information security is at risk.
It is recommended to activate protection and run a full system scan.
Warning! Virus Detected
Threat detected: FTP Server
Infected file: C:\Windows\System32\dllcache\wmploc.dll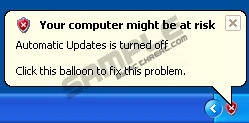 Once Windows Threats Destroyer will fool you with the fake severity of an infection, you will be directed to various security warnings and recommendations, urging you protect your system with Windows Threats Destroyer's licensed version. You should not spend money on this product, but if you do, you will have wasted your money on something useless. And even though the infection's symptoms will be gone, the bogus application should not be kept on your system, because it could become exposed to additional infections.
Windows Threats Destroyer clearly is a fake antispyware program, which will make you believe non-existent threats running on your PC, and that way it will push you to pay for a tool that will never serve you. If you want to regain access to your Windows components, and want your PC to start operating as usual, remove Windows Threats Destroyer and its infected files with the help of a legitimate antispyware. Do not wait and install it immediately, before your system gets irreparable damage.

How to manually remove Windows Threats Destroyer
Files associated with Windows Threats Destroyer infection:
%AppData%Protector-[Random].exe
%AppData%MicrosoftInternet ExplorerQuick LaunchWindows Threats Destroyer.lnk
%Desktop%Windows Threats Destroyer.lnk
%StartMenu%Windows Threats Destroyer.lnk
Windows Threats Destroyer processes to kill:
%AppData%Protector-[Random].exe
Remove Windows Threats Destroyer registry entries:
HKCU\Software\Microsoft\Windows\CurrentVersion\Run "Windows Threats Destroyer" "%CommonAppData%\[random]\[random].exe" /s /d