Danger level
:

9
Type:
Rogue Anti-Spyware
Common infection symptoms:
Block exe files from running
Installs itself without permissions
Connects to the internet without permission
Slow internet connection
System crashes
Annoying Pop-up's
Slow Computer
Infection Video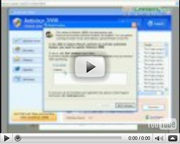 Windows Firewall Constructor
Are you an active Windows user? Do you browse, download and email on a daily basis? Then Windows Firewall Constructor might be waiting for you behind every virtual corner. This malicious application pretends to be a real antispyware tool, which is ready to protect you from all malware. Stop right there! Windows Firewall Constructor is not a legitimate tool and will not produce any useful services. As a matter of fact, if you ignore it, or worse, pay for its full version, your system will become vulnerable to other harmful infections, and you will risk your sensitive information to be used for unknown malicious intentions. The only way to prevent these dreadful incidents is to remove Windows Firewall Constructor from your computer!
Hackers, behind Windows Firewall Constructor and other Rogue.VirusDoctor family clones, know many ways to trick you into letting the rogue into your Windows system. One of those ways is a fake online scanner, which will announce various threats attacking your PC with a flashy online message. If you believe it for one second, you might prompt a setup installation of the fake Windows Firewall Constructor. Once you run this file, your computer immediately gets infected, and under this action, your operating system will start manifesting severe dysfunctions. You will notice restricted access to your Task Manager and Registry Editor, and most essential executable files will keep aborting. Moreover, you will be flooded with spurious notifications:
Error
Software without a digital signature detected.
Your system files are at risk. We strongly advise you to activate your protection.
Error
Potential malware detected.
It is recommended to activate protection and perform a thorough system scan to remove the malware.
Error
Keylogger activity detected. System information security is at risk.
It is recommended to activate protection and run a full system scan.

Do not believe this fake information, because it is simulated to coerce you into buying the useless, full version of Windows Firewall Constructor. Also, do not expect the infection to be gone by tomorrow, and remove Windows Firewall Constructor right away. Only this way you will be covered from identity theft and your Windows files will stay unharmed. Note that if you have been fooled by this malware, you need to inform the bank, and choose the best way to protect yourself and your assets from the possibility of further schemes. Outsmart Windows Firewall Constructor, its creators and the whole Rogue.VirusDoctor family.

How to manually remove Windows Firewall Constructor
Files associated with Windows Firewall Constructor infection:
%Desktop%\Windows Firewall Constructor.lnk
%CommonStartMenu%\Programs\Windows Firewall Constructor.lnk
%AppData%\result.db
%AppData%\Protector-[Random].exe
%AppData%\NPSWF32.dll
Windows Firewall Constructor DLL's to remove:
%AppData%\NPSWF32.dll
Windows Firewall Constructor processes to kill:
%AppData%\Protector-[Random].exe
Remove Windows Firewall Constructor registry entries:
HKEY_CURRENT_USER\Software\Microsoft\Windows\CurrentVersion\Internet Settings "WarnOnHTTPSToHTTPRedirect" = 0
HKEY_CURRENT_USER\Software\Microsoft\Windows\CurrentVersion\Policies\System "DisableRegedit" = 0
HKEY_CURRENT_USER\Software\Microsoft\Windows\CurrentVersion\Policies\System "DisableRegistryTools" = 0
HKEY_CURRENT_USER\Software\Microsoft\Windows\CurrentVersion\Policies\System "DisableTaskMgr" = 0
HKEY_CURRENT_USER\Software\Microsoft\Windows\CurrentVersion\Run "Inspector"
HKEY_CURRENT_USER\Software\Microsoft\Windows\CurrentVersion\Settings "net" = 2012-2-29_2
HKEY_CURRENT_USER\Software\Microsoft\Windows\CurrentVersion\Settings "UID" = "dbbqyjinfs"
HKEY_LOCAL_MACHINE\SOFTWARE\Microsoft\Internet Explorer\Main\FeatureControl\FEATURE_ERROR_PAGE_BYPASS_ZONE_CHECK_FOR_HTTPS_KB954312 "iexplore.exe"
HKEY_LOCAL_MACHINE\SOFTWARE\Microsoft\Windows NT\CurrentVersion\Image File Execution Options\auto-protect.nav80try.exe
HKEY_LOCAL_MACHINE\SOFTWARE\Microsoft\Windows NT\CurrentVersion\Image File Execution Options\bootwarn.exe
HKEY_LOCAL_MACHINE\SOFTWARE\Microsoft\Windows NT\CurrentVersion\Image File Execution Options\ethereal.exe
HKEY_LOCAL_MACHINE\SOFTWARE\Microsoft\Windows NT\CurrentVersion\Image File Execution Options\McSACore.exe
HKEY_LOCAL_MACHINE\SOFTWARE\Microsoft\Windows NT\CurrentVersion\Image File Execution Options\PC_Antispyware2010.exe
HKEY_LOCAL_MACHINE\SOFTWARE\Microsoft\Windows NT\CurrentVersion\Image File Execution Options\ss3edit.exe
HKEY_LOCAL_MACHINE\SOFTWARE\Microsoft\Windows NT\CurrentVersion\Image File Execution Options\wupdt.exe