Danger level
:

9
Type:
Rogue Anti-Spyware
Common infection symptoms:
Blocks internet connection
Block exe files from running
Installs itself without permissions
Connects to the internet without permission
Slow internet connection
System crashes
Annoying Pop-up's
Slow Computer
Infection Video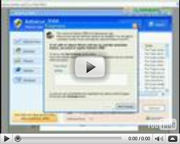 Windows Shield Tool
Windows Shield Tool is yet another malicious program trying to trick you into paying money for its useless software. It mimics a hazardous infection in your Windows system, and alerts you with an avalanche of threats to make you believe its authenticity. Windows Shield Tool belongs to the infamous Rogue.VirusDoctor family of fake antispywares, and has been generated to trick PC users into paying money for something they do not need. Therefore, you need to remove Windows Shield Tool as soon as you identify it active in your operating system. Only this will protect you from fraud, and will allow you to run your Windows normally.

Windows Shield Tool and its clones Windows Telemetry Center, Windows Performance Catalyst, Windows Smart Partner, etc., are known for their fast uprise. Hijackers produce clones without making any changes to the malware's interface, so despite different names, all rogues have the same physical appearance, and the criminals behind Rogue.VirusDoctor can save time and make a quick profit.
Windows Shield Tool has many ways to enter you computer, and it could be hiding in bundled-up downloads or hijacked links. Therefore, it is important to evaluate your networking activities and avoid any suspicious applications, offering you free services. Even if Windows Shield Tool is already in your system, it does not mean that malicious attack is over, as the rogue is capable of detecting security vulnerabilities for other malware to invade.
You will notice that Windows Shield Tool is in your system as you will lose control over your Task Manager, and your Registry will be modified, which will cause computer's dysfunctions. The fake antispyware will also stop you from running executable files, which will aggravate the removal process. You will also notice pop-ups and alerts appearing on your screen, threatening you with bogus infection:
Warning! Identity theft attempt detected
Hidden connection ip:
Target: Your bank account details.
Your IP: 127.0.0.1

Warning! Spambot detected!
Attention! A spambot is sending viruses from your e-mail has been detected on your PC.
Yes, protect my PC and remove spambot now (Recommended)
Warning! Virus Detected
Threat detected: FTP Server
Infected file: C:\Windows\System32\dllcache\wmploc.dll
Do not fall for these ridiculous notifications, and recognize Windows Shield Tool as the only malicious threat active in your PC. All of these symptoms are created to persuade you that your Windows system is infected, and you should pay money for a full version Windows Shield Tool product.
Do not think that Windows Shield Tool will disappear from your computer on its own. It will never do that! In fact, if you ignore the rogue, it will cause more and more damage until your PC becomes inoperable. Do not wait and delete Windows Shield Tool right away, using a legitimate antispyware, or proceed manually. In case of the later choice, we give you an activation key that will help with the removal processes:
U2FD-S2LA-H4KA-UEPB

How to manually remove Windows Shield Tool
Files associated with Windows Shield Tool infection:
%commonprograms%\Windows Shield Tool.lnk
%desktopdir%\Windows Shield Tool.lnk
%appdata%\Inspector-[Random].exe
%appdata%\npswf32.dll
Windows Shield Tool DLL's to remove:
%appdata%\npswf32.dll
Windows Shield Tool processes to kill:
%appdata%\Inspector-[Random].exe
Remove Windows Shield Tool registry entries:
HKCU\Software\Microsoft\Windows\CurrentVersion\Run!Inspector