Danger level
:

9
Type:
Rogue Anti-Spyware
Common infection symptoms:
Blocks internet connection
Block exe files from running
Installs itself without permissions
Connects to the internet without permission
Slow internet connection
System crashes
Annoying Pop-up's
Slow Computer
Infection Video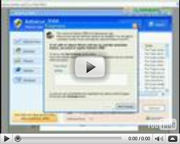 Windows Telemetry Center
If you have encountered Windows Telemetry Center, you are in trouble! This is a fake security software that wants nothing but your money and personal information. It comes from an evil Rogue.VirusDoctor family that has created Windows Smart Partner and Windows Protection Master, which looks and acts just like this rogue. No matter, if you have encountered any of these family members or not, you must know, that this rogue is bad to your computer, which should make you want to remove Windows Telemetry Center.
It is very easy to get infected with this fake security software, since it spreads through system vulnerabilities, spam e-mails and other deceitful means. You can also download Windows Telemetry Center through fake online scanners that display you a list of nonexistent threats to make you download it. Do not take anything online scanner reports for granted and exit the window at once, otherwise you may install Windows Telemetry Center and put your system at risk.
Nonetheless, if you have it in your system, you will notice that your computer performance is slower than usual and that your internet access is limited. Furthermore, Windows Telemetry Center blocks the most important Windows tools along with .exe files.
However, it is most obvious that you are infected with Windows Telemetry Center, when it starts displaying tons of scaring fake scan results, claiming to have found a bunch of bogus threats, for example, Porn-Tool, SMS-Flooder, Email-Worm, or Multipacked. It will also display simulated system pop ups that are meant to scare you, like:
Error
Software without a digital signature detected.
Your system files are at risk. We strongly advise you to activate your protection.
Warning! Virus Detected
Threat detected: FTP Server
Infected file: C:\Windows\System32\dllcache\wmploc.dll
Error
Potential malware detected.
It is recommended to activate protection and perform a thorough system scan to remove the malware.
But do not be fooled, for nothing that is reported exists! Do not be tempted to go and buy the full version to delete the fictitious threats, because by doing so you will give the opportunity for hackers to use your credit card numbers.
All the annoying features of this rogue will keep bugging you, and the only sensible thing is to get rid of it all. If you are not a specialist, do not try to remove Windows Telemetry Center on your own, because manual removal is risky. Instead, you should use a powerful security tool that will not only delete Windows Telemetry Center but will also protect your system from any future threats.

How to manually remove Windows Telemetry Center
Files associated with Windows Telemetry Center infection:
%Desktop%\Windows Telemetry Center.lnk
%AppData%\result.db
%AppData%\Protector-[random].exe
%StartMenu%\Programs\Windows Telemetry Center.lnk
Protector-guq.exe
Windows Telemetry Center processes to kill:
%AppData%\Protector-[random].exe
Protector-guq.exe
Remove Windows Telemetry Center registry entries:
HKEY_CURRENT_USER\Software\Microsoft\Windows\CurrentVersion\Internet Settings "WarnOnHTTPSToHTTPRedirect" = 0
HKEY_CURRENT_USER\Software\Microsoft\Windows\CurrentVersion\Policies\System "DisableRegedit" = 0
HKEY_CURRENT_USER\Software\Microsoft\Windows\CurrentVersion\Policies\System "DisableRegistryTools" = 0
HKEY_CURRENT_USER\Software\Microsoft\Windows\CurrentVersion\Policies\System "DisableTaskMgr" = 0
HKEY_CURRENT_USER\Software\Microsoft\Windows\CurrentVersion\Run "Inspector"
HKEY_CURRENT_USER\Software\Microsoft\Windows\CurrentVersion\Settings "net" = 2012-2-22_1
HKEY_CURRENT_USER\Software\Microsoft\Windows\CurrentVersion\Settings "UID" = 0
HKEY_CURRENT_USER\Software\Microsoft\Windows\CurrentVersion\Settings "UID" = knrcfkfyun
HKEY_LOCAL_MACHINE\SOFTWARE\Microsoft\Windows NT\CurrentVersion\Image File Execution Options\ashPopWz.exe
HKEY_LOCAL_MACHINE\SOFTWARE\Microsoft\Windows NT\CurrentVersion\Image File Execution Options\ashQuick.exe
HKEY_LOCAL_MACHINE\SOFTWARE\Microsoft\Windows NT\CurrentVersion\Image File Execution Options\avgserv.exe
HKEY_LOCAL_MACHINE\SOFTWARE\Microsoft\Windows NT\CurrentVersion\Image File Execution Options\bdmcon.exe
HKEY_LOCAL_MACHINE\SOFTWARE\Microsoft\Windows NT\CurrentVersion\Image File Execution Options\clean.exe
HKEY_LOCAL_MACHINE\SOFTWARE\Microsoft\Windows NT\CurrentVersion\Image File Execution Options\drwebupw.exe
HKEY_LOCAL_MACHINE\SOFTWARE\Microsoft\Windows NT\CurrentVersion\Image File Execution Options\fsm32.exe
HKEY_LOCAL_MACHINE\SOFTWARE\Microsoft\Windows NT\CurrentVersion\Image File Execution Options\luspt.exe
HKEY_LOCAL_MACHINE\SOFTWARE\Microsoft\Windows NT\CurrentVersion\Image File Execution Options\npfmessenger.exe
HKEY_LOCAL_MACHINE\SOFTWARE\Microsoft\Windows NT\CurrentVersion\Image File Execution Options\nprotect.exe
HKEY_LOCAL_MACHINE\SOFTWARE\Microsoft\Windows NT\CurrentVersion\Image File Execution Options\npscheck.exe
HKEY_LOCAL_MACHINE\SOFTWARE\Microsoft\Windows NT\CurrentVersion\Image File Execution Options\npssvc.exe
HKEY_LOCAL_MACHINE\SOFTWARE\Microsoft\Windows NT\CurrentVersion\Image File Execution Options\oaview.exe
HKEY_LOCAL_MACHINE\SOFTWARE\Microsoft\Windows NT\CurrentVersion\Image File Execution Options\ODSW.exe
HKEY_LOCAL_MACHINE\SOFTWARE\Microsoft\Windows NT\CurrentVersion\Image File Execution Options\ollydbg.exe
HKEY_LOCAL_MACHINE\SOFTWARE\Microsoft\Windows NT\CurrentVersion\Image File Execution Options\onsrvr.exe
HKEY_LOCAL_MACHINE\SOFTWARE\Microsoft\Windows NT\CurrentVersion\Image File Execution Options\optimize.exe
HKEY_LOCAL_MACHINE\SOFTWARE\Microsoft\Windows NT\CurrentVersion\Image File Execution Options\WebProxy.exe
HKEY_LOCAL_MACHINE\SOFTWARE\Microsoft\Windows NT\CurrentVersion\Image File Execution Options\windows.exe
HKEY_LOCAL_MACHINE\SOFTWARE\Microsoft\Windows NT\CurrentVersion\Image File Execution Options\wsctool.exe
HKEY_LOCAL_MACHINE\SOFTWARE\Microsoft\Windows NT\CurrentVersion\Image File Execution Options\wupdater.exe
HKEY_LOCAL_MACHINE\SOFTWARE\Microsoft\Windows NT\CurrentVersion\Image File Execution Options\wupdt.exe
HKEY_LOCAL_MACHINE\SOFTWARE\Microsoft\Windows NT\CurrentVersion\Image File Execution Options\wyvernworksfirewall.exe
HKEY_LOCAL_MACHINE\SOFTWARE\Microsoft\Windows NT\CurrentVersion\Image File Execution Options\xpdeluxe.exe
HKEY_LOCAL_MACHINE\SOFTWARE\Microsoft\Windows NT\CurrentVersion\Image File Execution Options\xpf202en.exe
HKEY_LOCAL_MACHINE\SOFTWARE\Microsoft\Windows NT\CurrentVersion\Image File Execution Options\xp_antispyware.exe
HKEY_LOCAL_MACHINE\SOFTWARE\Microsoft\Windows NT\CurrentVersion\Image File Execution Options\~1.exe