Danger level
:

9
Type:
Rogue Anti-Spyware
Common infection symptoms:
Blocks internet connection
Block exe files from running
Installs itself without permissions
Connects to the internet without permission
Slow internet connection
System crashes
Annoying Pop-up's
Slow Computer
Infection Video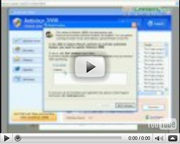 Windows Smart Partner
Another onslaught of rogues seems to be on the way as Windows Smart Partner comes equipped with everything that can bring down your computer. This rogue is a clone of Windows Smart Warden, Windows Protection Master and Windows Functionality Checker. Based on the fact that Windows Smart Partner's interface looks just like the one of its predecessors it would be logical to say that Windows Smart Partner is able damage your computer just as any other rogue that came before it.
When you get infected with Windows Smart Partner it is definite that you will experience and onslaught of fake security notifications, such as:
Warning! Virus Detected
Threat detected: FTP Server
Infected file: C:\Windows\System32\dllcache\wmploc.dll
Error
Software without a digital signature detected.
Your system files are at risk. We strongly advise you to activate your protection.
Error
Potential malware detected.
It is recommended to activate protection and perform a thorough system scan to remove the malware.
Windows Smart Partner is also known to block your executables and Windows Task Manager. This way it tries to prevent you from deleting the rogue. Windows Smart Partner slows down your computer and then blames it all on non-existent infections. You can see the list of the supposed "viruses" right after Windows Smart Partner performs a full system "scan", but you should not trust it.
Believing in everything Windows Smart Partner has to say can lead to devastating consequences. The main reason why Windows Smart Partner is at your computer is money. As a rogue, Windows Smart Partner wants to push you into purchasing a useless program. It wants you to think that the only way to get your computer back to normal is buying the full version of Windows Smart Partner. However, if you do, you will reveal your banking information to a third party and your account will be robbed in no time.
Hence, do what is best for you and your computer – remove Windows Smart Partner using a reliable computer safety program. It is possible to terminate the rogue manually, but if your knowledge in computers is minimal it is best to leave the Windows Smart Partner removal to an antimalware program of choice.

How to manually remove Windows Smart Partner
Files associated with Windows Smart Partner infection:
%commonprograms%\Windows Smart Partner.lnk
%desktopdir%\Windows Smart Partner.lnk
%appdata%\Inspector-[random].exe
%appdata%\npswf32.dll
Windows Smart Partner DLL's to remove:
%appdata%\npswf32.dll
Windows Smart Partner processes to kill:
%appdata%\Inspector-[random].exe
Remove Windows Smart Partner registry entries:
HKCU\Software\Microsoft\Windows\CurrentVersion\Run!Inspector