Danger level
:

9
Type:
Rogue Anti-Spyware
Common infection symptoms:
Blocks internet connection
Block exe files from running
Installs itself without permissions
Connects to the internet without permission
Slow internet connection
System crashes
Annoying Pop-up's
Slow Computer
Infection Video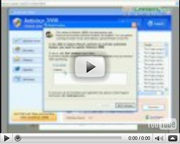 Windows Smart Warden
When Windows Smart Warden tells you that it is there to save you from cyber criminals, you should never believe it. Windows Smart Warden is a rogue program that is there to rip you off, making you to pay for a program that cannot live up to its promises. If you refuse to pay for the program, it will continue slowing down your computer processes to the point that you will no longer be able to run your computer. However, even if you pay for Windows Smart Warden, the fake security notifications will seize popping up only for a time being. Before you know it Windows Smart Warden will be back with all of its annoying symptoms and once again you will be forced to pay for the program. That is, of course, if your system will still be alive by that time.
Due to the fact that the rogue is such a dangerous computer threat, you must terminate Windows Smart Warden before it inflicts serious damage to your computer. You obviously follow the manual removal instructions, because it is always possible to remove the threat on your own. Nevertheless, if you are not sure of your computing skills, you'd better leave dealing with the rogue for a professional antimalware program, because you might accidentally make changes to your system that can lead to really bad consequences. With a computer safeguard program, you can remove Windows Smart Warden very fast, and it consequently protects your from similar attacks in the future.
UPDATE
It has been researched that Windows Smart Warden belongs to the Rogue.VirusDoctor family. The rogue antispyware is an identical clone of recent rogues Windows Functionality Checker, Windows Performance Catalyst, Windows Protection Master, and others alike. The quickly changing name and persistent interface is a sign that this rogue family is all about the money. Its energetic attack is generated to trick more users, collect more sensitive information and eventually make more money. So whatever you do, do not spend a dime on it and remove Windows Smart Warden at once!
If Windows Smart Warden infects a computer, a fake scanner starts working and informs you of numerous bogus alerts and warnings (examples bellow). This rogue antispyware is able to restrict your Windows components, can block your networking access and slow down PC processes. It even imitates Windows Security and informs you of serious danger to your system. All of this is created to fool you and make you believe that you will not be able to get out of this tricky situation, unless you buy the full version of Windows Smart Warden. Warning! All of this information is completely fake and you should remove Windows Smart Warden before it convinces you to pay money for something you do not need.
Do not give in, and do not disclose your personal information that third parties could use to profit from you! Remove Windows Smart Warden with a powerful antispyware tool, or proceed manually, if you are experienced with Windows System.
Bellow you can see some of the fake messages Windows Smart Warden will send you:
Error
Trojan activity detected. System data security is at risk.
It is recommended to activate protection and run a full system scan.
Error
Keylogger activity detected. System information security is at risk.
It is recommended to activate protection and run a full system scan.
Error
Potential malware detected.
It is recommended to activate protection and perform a thorough system scan to remove the malware.

How to manually remove Windows Smart Warden
Files associated with Windows Smart Warden infection:
%commonprograms%\Windows Smart Warden.lnk
%desktopdir%\Windows Smart Warden.lnk
%appdata%\Inspector-[random].exe
%appdata%\npswf32.dll
Windows Smart Warden DLL's to remove:
%appdata%\npswf32.dll
Windows Smart Warden processes to kill:
%appdata%\Inspector-[random].exe
Remove Windows Smart Warden registry entries:
HKCU\Software\Microsoft\Windows\CurrentVersion\Run!Inspector