Danger level
:

9
Type:
Rogue Anti-Spyware
Common infection symptoms:
Block exe files from running
Installs itself without permissions
Changes background
Connects to the internet without permission
Slow internet connection
System crashes
Cant change my homepage
Annoying Pop-up's
Slow Computer
Infection Video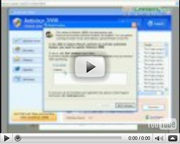 Antivirus Protection 2012
Antivirus Protection 2012 looks and acts like an antivirus program, but it is definitely not a beneficial program. Not by a long shot. It is a malicious rogue that comes from a huge family of computer threats that copy the appearance of legitimate computer security programs and then slither into the systems of unsuspecting users with intention to bring them down. What is more, Antivirus Protection 2012 wants nothing else but your money, and it will stop at nothing before it does what is has been created for.
You might ask how it is possible for a simple program to steal your money. Well, the answer is simple, it tricks the users into paying for the full version of Antivirus Protection 2012 (which does not even exist in the first place), and during the purchase a user exposes his financial information to the third party. When the user fills in the blanks with his credit card number, expiration date and the CVV2 code, this information is delivered to the creators of Antivirus Protection 2012, and they can easily use that to perform illegal financial operations, little by little stealing your money.
Therefore you need to remove Antivirus Protection 2012 from your computer before it slows down your system performance to the point you can no longer operate your machine. If you have no idea how to do it on your own, invest in a good computer security tool that will delete Antivirus Protection 2012 for you automatically.
UPDATE
It has been confirmed that Antivirus Protection 2012 does slow down your computer in case of a prolonged infection. It also falsely informs you about the lack of Firewall, and urges you to turn it on, although if you do, it would redirect you to the Antivirus Protection 2012's purchase page.
The biggest advantage that Antivirus Protection 2012 has against you is that it appears unexpectedly - the installation occurs without your knowledge, and the rogue alters your registry that allows Antivirus Protection 2012's scan to jump into action each time you boot your PC. The malicious nature of the rogue should be enough to convince you that you need to terminate Antivirus Protection 2012 immediately.
UPDATE 02.03.2012
It has been researched that Antivirus Protection 2012 infection is caused by malicious software files AntivirusProtection2012.exe (Trojan.Agent/Gen ScamScan), securityhelper.exe, and securitymanager.exe (%AppData%\AntivirusProtection). The later infection's file is extremely dangerous as it copies system files, and is capable of resisting security tools' detection. It has also been found that Antivirus Protection 2012 blocks some executable files. This is a notification you would get, when attempting to run excel.exe:
Antivirus Protection 2012
The application excel.exe was launched successfully but it was forced to shut down due to security reasons. This application infected by a malicious software program which might present damage for the PC. It is highly recommended to make a full scan of your computer to exterminate the malicious programs from it.
Other Antivirus Protection 2012 notifications:
Security Center
Unauthorized remote connection!
Your system is making an unauthorized personal data transfer to a remote computer!
Antivirus Protection 2012
Your computer is being used as spamming machine. You can get sued for spam. Your computer WIL BE DISCONNECTED FORM INTERNET BECAUSE SPAMMING OTHER PCs.
System critical warning!
You have been infected by a proxy-relay trojan server with new and danger "SpamBots".
You have a computer with a virus that sends spam.
This is a mass-mailing worm with backdoor thus allowing un-authorized access to the infected system.
It spreads by mass-mailing itself to e-mail addresses harvested from the local computer or by querying on-line search engines such as google.com.
The IP address that YOU are getting from Internet Service Provider (ISP) for YOU personal computer is on some major blacklist.
Your computer has been used to send a huge amount of junk e-mail messages during the last days.
You IP will be marked in the Police log file as mass-mailing spam assist.
Upgrading to the full version Antivirus Protection 2012 it will eliminate the majority of Spam attempts.
Click here to Get License Key now.
Highly experienced Windows users can attempt to remove Antivirus Protection 2012, with the help of an activation code bellow. Warning! Registering with the rogue will only get rid of the annoying symptoms, but will not remove Antivirus Protection 2012 from your computer!
Activation code:
LIC-00A5-3F5G-BHA5-KJB8-579F-CVH9-M935-QW45-89M5-19AB

How to manually remove Antivirus Protection 2012
Files associated with Antivirus Protection 2012 infection:
securitymanager.exe
securityhelper.exe
AntivirusProtection2012.exe
%desktop%antivirus protection.lnk
%startmenu%programsantivirus protectionantivirus protection.lnk
%appdata%antivirus protectionantivirusprotection2012.exe
%appdata%antivirus protectionsecuritymanager.exe
Antivirus Protection 2012 processes to kill:
securitymanager.exe
securityhelper.exe
AntivirusProtection2012.exe
%appdata%antivirus protectionantivirusprotection2012.exe
%appdata%antivirus protectionsecuritymanager.exe
Remove Antivirus Protection 2012 registry entries:
Antivirus Protection
HKCU\Software\Microsoft\Windows\CurrentVersion\Run!Inspector