Danger level
:

9
Type:
Rogue Anti-Spyware
Common infection symptoms:
Blocks internet connection
Block exe files from running
Installs itself without permissions
Connects to the internet without permission
Normal system programs crash immediatelly
Slow internet connection
System crashes
Annoying Pop-up's
Slow Computer
Infection Video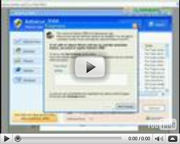 Security Scanner
Even though this program comes forth offering you a protection from malicious computer threats Security Scanner is nothing more than a rogue antispyware program that is there to rip you off. Security Scanner is not a new player in the field, because it is from the same family as Security Shield and MS Removal Tool, the latter of which has made a lot of users miserable last spring. The necessity of an immediate removal of Security Scanner is more than obvious; otherwise you might be up for a dreadful battle.
Just like all rogues out there, Security Scanner gets into your computer without your permission and then makes a mess, conveniently blaming it all on such non-existent parasites as Rogue:Win32/Defmid, Worm.win32.netsky, Win32/Zotob and others. You can encounter all those names in the list of the "detections" Security Scanner provides you with after the full system "scan". Needless to say, that the scan is not real, and it only wants to win your trust, so that you would click on that "Register" button at the top of the interface and spend your money buying a completely worthless product.
You can, however, click on the "Register" button and "activate" Security Scanner using the following code:
64C665BE-4DE7-423B-A6B6-BC0172B25DF2
With the rogue "activated" you will no longer have to suffer these messages:
Security Scanner Warning
Spyware.IEMonster process is found. This is virus that is trying to send your passwords from Internet browser (Explorer, Mozilla Firefox, Outlook & others) for the third-parties.
Click here to protect your data with Security Scanner.
Security Scanner Warning
Harmful software have been detected at your PC.
Click here to deactivate it.
Security Scanner Warning
Security Scanner has found viruses at your system.
We highly recommend to get license for Security Scanner to remove harmful software now.
Nevertheless, just because you can't see the messages anymore it doesn't mean that Security Scanner has disappeared. It might pop up any time, asking you to pay for the full license via its website (yoursoftwaresupp.com) or a purchase page, leaving you absolutely frustrated.
If you want to avoid this, you have to remove Security Scanner from your computer at once. The files that you need to get rid of are presented below this description, but if you don't want to muddle along with that, you can terminate Security Scanner automatically with a reliable antimalware tool. Whatever you choose, protect your computer at all costs.

How to renew your internet connection:
This rogue antispyware blocks your Internet connection to prevent you from removing the rogue application. To enable the Internet connection, please follow these instructions:
Open Internet Explorer and go to >Tools< select >Internet Options<

Select >Connections<

Select >LAN Settings<

Now you need to uncheck the checkbox labeled >Use a proxy server for your LAN< in Proxy Server section. Then press the >OK< button to close this screen and press the >OK< button to close the Internet Options screen.

Now you can download the SpyHunter scanner and remove the infection.

How to manually remove Security Scanner
Files associated with Security Scanner infection:
%LocalAppData%\[random].exe
Security Scanner processes to kill:
%LocalAppData%\[random].exe
Remove Security Scanner registry entries:
HKEY_CURRENT_USER\Software\Microsoft\Windows\CurrentVersion\RunOnce "[random]