Danger level
:

8
Type:
Rogue Anti-Spyware
Common infection symptoms:
Blocks internet connection
Block exe files from running
Installs itself without permissions
Connects to the internet without permission
Normal system programs crash immediatelly
Slow internet connection
System crashes
Annoying Pop-up's
Infection Video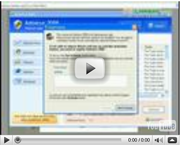 Internet Security
Internet Security comes forth claiming that it has been "designed to protect", or so it says on its subtitle. Unfortunately, other programs that are known to have been "designed to protect" include Privacy Protection, Malware Protection, Advanced Security Tool 2010 and others. All of these programs are so-called rogue antispyware which means that Internet Security is yet another fake application on a mission to rip you off. Even though this rogue looks very sophisticated, it is nothing but a scam, designed to swindle unsuspecting users out of their money.
This rogue always arrives without your knowledge and permission, and you will only notice Internet Security when the program launches a fake system scan. During the scan it detects a great number of malware, such as W32.Blaster.Worm, Backdoor.Win32.Scrab.p or Email-Worm.Brontok. Even though these parasites are not made up, they are not there in your computer. And even if you are suffering from a Trojan infection, there is no way that Internet Security could detect that, because it simply does not have ability to. All it does is lying to you about the condition of your computer. Everything can be illustrated by one message from the rogue's screen that says:
Warning. Your PC might be at risk. Activate the software to protect it. Get full time protection now.
You can surely activate the software, but not in the way Internet Security expects you to. In order to "activate" the program Internet Security wants to you pay up to $59.95 or $88.95 with your credit card. That would obviously lead to money loss. However, you can use this serial number to "register" and outsmart the rogue:
Y86REW-T75FD5-U9VBF4A
After the "activation" Internet Security will calm down and stop sending you various fake security alert messages, such as, for example:
Security Warning
Malicious program has been detected. Click here to protect your computer.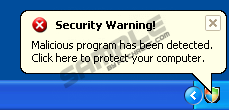 Firewall Warning
Hidden file transfers to remote host has been detected.
has detected a leak of your files through the Internet. We strongly recommend that you block the attack immediately.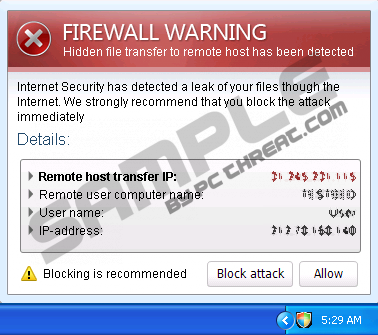 Take notice, that the absence of messages and the "registration" of the program does not mean that the rogue has disappeared. You have to get yourself a reliable antispyware program and remove Internet Security from your computer as fast as you can. Do not wait before it is too late, because the longer this rogue remains in your system, the more damage it can inflict.

How to renew your internet connection:
This rogue antispyware blocks your Internet connection to prevent you from removing the rogue application. To enable the Internet connection, please follow these instructions:
Open Internet Explorer and go to >Tools< select >Internet Options<

Select >Connections<

Select >LAN Settings<

Now you need to uncheck the checkbox labeled >Use a proxy server for your LAN< in Proxy Server section. Then press the >OK< button to close this screen and press the >OK< button to close the Internet Options screen.

Now you can download the SpyHunter scanner and remove the infection.

How to manually remove Internet Security
Files associated with Internet Security infection:
Internet Security.lnk
isecurity.exe
ISff6_322.exe
ISfc9_152.exe
ISf6c_289.exe
ISf54_302.exe
ISf05_2204.exe
ISec4_179.exe
ISeb6_289.exe
ISdff_179.exe
ISdd0_302.exe
ISdb1_289.exe
ISda9_263.exe
ISd63_2164.exe
IScbe_2214.exe
ISca7_2214.exe
ISc89_2150.exe
ISc44_2211.exe
ISbd1_2194.exe
ISbbd_2121.exe
ISb09_2224.exe
ISaa8_2214.exe
ISa6f_2204.exe
ISa3b_2112.exe
ISa11_290.exe
IS97b_2214.exe
IS8eb_2164.exe
IS8e4_284.exe
IS8da_2211.exe
IS8d4_2075.exe
IS8ca_2154.exe
IS890_302.exe
IS870_2159.exe
IS830_2050.exe
IS823_302.exe
IS81f_2050.exe
IS80d_2228.exe
IS7c2_328.exe
IS77c_302.exe
IS765_2121.exe
IS760_302.exe
IS71f_2180.exe
IS71c_2121.exe
IS706_2204.exe
IS6ec_2075.exe
IS6c5_2211.exe
IS653_2211.exe
IS5fd_2116.exe
IS5d0_2114.exe
IS5ab_2129.exe
IS53e_2164.exe
IS519_2112.exe
IS484_302.exe
IS431_2229.exe
IS406_2214.exe
IS400_2214.exe
IS3e4_284.exe
IS3d1_179.exe
IS392_2164.exe
IS37d_2121.exe
IS27f_2150.exe
IS1bf_2211.exe
IS14f_2214.exe
IS10a_302.exe
IS0fa_2214.exe
IS0f9_195.exe
IS0df_2121.exe
IS063_2112.exe
IS015_2121.exe
InternetSecurity.exe
%appdata%\isecurity.exe
Internet Security processes to kill:
isecurity.exe
ISff6_322.exe
ISfc9_152.exe
ISf6c_289.exe
ISf54_302.exe
ISf05_2204.exe
ISec4_179.exe
ISeb6_289.exe
ISdff_179.exe
ISdd0_302.exe
ISdb1_289.exe
ISda9_263.exe
ISd63_2164.exe
IScbe_2214.exe
ISca7_2214.exe
ISc89_2150.exe
ISc44_2211.exe
ISbd1_2194.exe
ISbbd_2121.exe
ISb09_2224.exe
ISaa8_2214.exe
ISa6f_2204.exe
ISa3b_2112.exe
ISa11_290.exe
IS97b_2214.exe
IS8eb_2164.exe
IS8e4_284.exe
IS8da_2211.exe
IS8d4_2075.exe
IS8ca_2154.exe
IS890_302.exe
IS870_2159.exe
IS830_2050.exe
IS823_302.exe
IS81f_2050.exe
IS80d_2228.exe
IS7c2_328.exe
IS77c_302.exe
IS765_2121.exe
IS760_302.exe
IS71f_2180.exe
IS71c_2121.exe
IS706_2204.exe
IS6ec_2075.exe
IS6c5_2211.exe
IS653_2211.exe
IS5fd_2116.exe
IS5d0_2114.exe
IS5ab_2129.exe
IS53e_2164.exe
IS519_2112.exe
IS484_302.exe
IS431_2229.exe
IS406_2214.exe
IS400_2214.exe
IS3e4_284.exe
IS3d1_179.exe
IS392_2164.exe
IS37d_2121.exe
IS27f_2150.exe
IS1bf_2211.exe
IS14f_2214.exe
IS10a_302.exe
IS0fa_2214.exe
IS0f9_195.exe
IS0df_2121.exe
IS063_2112.exe
IS015_2121.exe
InternetSecurity.exe
%appdata%\isecurity.exe
Remove Internet Security registry entries:
HKLM\Software\Microsoft\Windows\CurrentVersion\Run\Internet Security