Danger level
:

9
Type:
Rogue Anti-Spyware
Common infection symptoms:
Block exe files from running
Installs itself without permissions
Connects to the internet without permission
Slow internet connection
System crashes
Annoying Pop-up's
Slow Computer
Infection Video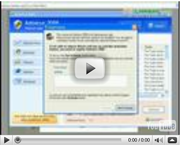 Smart Anti-Malware Protection
A new family of rogues is rearing its nasty head this February and it's called Rogue.VirusDoctor. The newest addition to the bunch is Smart Anti-Malware Protection. You might have encountered the previous versions of this rogue – Antivirus Smart Protection and Malware Protection Center. Needless to say, that Smart Anti-Malware Protection is no less dangerous than its predecessors and it you happen to have this infection, then you are up for a fight. Even though this program claims to be a good antivirus tool, Smart Anti-Malware Protection can live up neither to its name nor to its promises.

The main difference between the older clones and Smart Anti-Malware Protection is that its interface is full of mix-mash between French and English. The main tabs are still in English, but the main messages that try to persuade innocent users to by the full version of the program are presented in French. For example:
Recommendé: Activer Smart Anti-Malware Protection pour avoir la protection maximale contre le Vol d'Itentié, les Virus, les Logiciels malveillants et les autres menaces!
It implies that the creators of these rogues are about to target not only the English-speaking markets, and Smart Anti-Malware Protection might be their first test. However, if that is so, their efforts seem to be rather erratic, because in the scan window the settings are still in English while the malware descriptions are presented in French. The consistency is obviously missing.
Nevertheless, that does not mean that Smart Anti-Malware Protection should not be taken seriously. This program will slow down your system performance; blaming it on random harmless files it had generated itself upon the installation. You will also be spammed with numerous fake security alert pop-ups, that will inform you about potentially harmful programs residing in your computer, saying that you must get rid of them at once, using Smart Anti-Malware Protection. For example:
System Alert
Smart Anti-Malware Protection has detected potentially harmful software in your system. It is strongly recommended that you register Smart Anti-Malware Protection to remove all found threats immediately.
System Alert
Potentially harmful programs have been detected in your system and need to be dealt with immediately. Click here to remove them using Smart Anti-Malware Protection.
Unfortunately, that would include exposing your credit card information to the cyber criminals, and you definitely do not want that. You have to remove Smart Anti-Malware Protection from your computer and to start with, use this activation key to "register" the program:
U2FD-S2LA-H4KA-UEPB
After the "registration", fake alert notifications will disappear, and it will be a lot easier to proceed with the removal. If you cannot terminate the program on your, be sure to invest in a reliable antimalware tool.

How to manually remove Smart Anti-Malware Protection
Files associated with Smart Anti-Malware Protection infection:
bho.dll
wsearch.exe
nbt.exe
kqpq.exe
mama.exe
Guffins Installer(69825b24).exe
firefox.dll
svchost.exe
us.exe
53.exe
AcroIEHelpe205.dll
Updating System Now.exe
czu1sgadva.exe
tncsedbh.dll
windefender.exe
AbadisoftCleanVirus.exe
Smart Anti-Malware Protection.lnk
SA454.exe
%AppData%\Smart Anti-Malware Protection\ScanDisk_.exe
%AppData%\Smart Anti-Malware Protection\Instructions.ini
%CommonAppData%\[random]\[random].cfg
%CommonAppData%\[random]\ISG.ico
%CommonAppData%\[random]\[random].exe
%AppData%\Microsoft\Internet Explorer\Quick Launch\Smart Anti-Malware Protection.lnk
%Desktop%\Smart Anti-Malware Protection.lnk
%StartMenu%\Smart Anti-Malware Protection.lnk
%Programs%\Antivirus Smart Protection.lnk
Smart Anti-Malware Protection DLL's to remove:
bho.dll
firefox.dll
AcroIEHelpe205.dll
tncsedbh.dll
Smart Anti-Malware Protection processes to kill:
wsearch.exe
nbt.exe
kqpq.exe
mama.exe
Guffins Installer(69825b24).exe
svchost.exe
us.exe
53.exe
Updating System Now.exe
czu1sgadva.exe
windefender.exe
AbadisoftCleanVirus.exe
SA454.exe
%AppData%\Smart Anti-Malware Protection\ScanDisk_.exe
%CommonAppData%\[random]\[random].exe
Remove Smart Anti-Malware Protection registry entries:
HKCU\Software\Microsoft\Windows\CurrentVersion\Run "Smart Anti-Malware Protection" "%CommonAppData%\[random]\[random].exe" /s /d